Philanthropy
Give
Campaign Committee
Steve Beshear served as the 61st Governor of Kentucky from 2007-2015. He also served as Attorney General from 1979 to 1983,Lieutenant Governor from 1983 to 1987and was a member of the Kentucky House of Representatives from 1974 to 1979.
As Governor, he expanded the Medicaid program under the Affordable Care Act and launched the Kentucky Health Benefit Exchange, benefiting over 500,000 Kentuckians. These actions together reduced the state's uninsured rate from over 20% to 8% and ensured that for the first time in history every Kentuckian would have access to affordable health insurance. Beshear also successfully brought Kentucky through the historic recession by making Kentucky a leader in job creation. Under his leadership, Kentucky's unemployment rate dropped from 10.7% to 4.9%, and the state set export records four years in a row. In all, his administration announced almost 2,300 new and expansion projects that created $19.3 billion in investment and more than 87,000 jobs when full employment is attained. The economic turnaround culminated in 2014 and 2015 by Kentucky winning Site Selection magazine's coveted Governor's Cup, meaning Kentucky finished first in the nation two years in a row in economic development per capita.
In addition, during Governor Beshear's administration Kentucky became a national leader in education reform. Beshear successfully raised Kentucky's dropout age from 16 to 18 years old and moved the state into the top ten states in the country in high school graduation rates. Under his leadership, Kentucky's college/career readiness rate rose from 32 percent to 64 percent. As a result of his efforts, he was named Education Governor of the Year by the National Education Association.
Governor Beshear holds a bachelor's degree from the University of Kentucky, where he was a member of Phi Beta Kappa, and a law degree from the University of Kentucky College of Law, where he served as an editor for the Kentucky Law Journal.
He is the author of People Over Politics, a book about how to make our broken system of government work again. He served as a Menschel Senior Leadership Fellow at the Harvard School of Public Health and as a Visiting Fellow at the Harvard Kennedy School Institute of Politics in 2017. Additionally, he served as a Visiting Scholar at the University of Kentucky College of Public Health in 2018.
Governor Beshear and his wife, Jane K. Beshear, Kentucky's former First Lady, reside in Lexington, Kentucky. They have two sons, Jeff, an equine veterinarian, and Andy, Kentucky's 63rd Governor, and three grandchildren.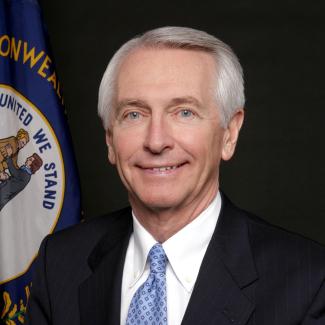 James W. Holsinger, Jr., MD, PhD
James W. Holsinger Jr., MD. PhD, MACP serves as the Chancellor Emeritus of the University of Kentucky Medical Center and as Professor Emeritus of Health Management and Policy at the College of Public Health. He has formerly served as Under Secretary for Health in the US Department of Veterans Affairs and as Kentucky Secretary of Health and Family Services.