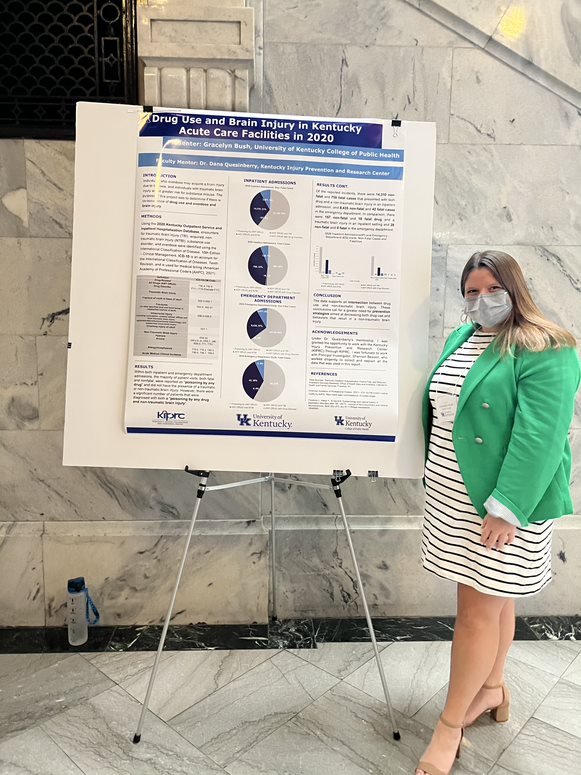 Public Health student Grace Bush represents UK with research presentation to Kentucky legislators
"The data support an intersection between drug use and non-traumatic brain injury." That is the key takeaway of a message University of Kentucky (UK) student Grace Bush delivered to Kentucky legislators at the State Capitol in early March.
Bush's moment at the seat of government in Frankfort was one additional step in the College of Public Health (CPH) undergraduate's personal mission to conduct research that increases our understanding of brain injury.
For the Owensboro, Ky., native, the journey started early as she experienced a traumatic brain injury in an accident as an infant. She went through intensive rehabilitation that exposed her to many facets of health care, as seen through the lens of an impressionable adolescent patient. Although she recovered fully while still a young child, Bush grew up with that experience at the core of her worldview.
"It wasn't a huge part of my life, but it is a huge part of my story," Bush says.
Bush knew she wanted to pursue a career where she could champion public health in her community and beyond. After beginning studies at UK in 2019, she found her path within CPH's Bachelor of Public Health program. There, Bush says, she has learned to view public health research, education, and policy as essential tools to prevent, treat, and eliminate threats to community health and safety.
Faculty mentor and independent research opportunity
Through Bush's undergraduate studies, she met Dana Quesinberry, JD, DrPH, an assistant professor in CPH's Department of Health Management & Policy and a researcher with the Kentucky Injury Prevention and Research Center (KIPRC).
Bush shared with Quesinberry that she was interested in traumatic brain injury (TBI) studies, while Quesinberry introduced Bush to KIPRC research into the known connection between TBI and an increased risk for substance abuse.
"KIPRC houses the Kentucky Traumatic Brain Injury Registry," says Quesinberry. "We are always looking for new opportunities to use the registry data to improve the lives of Kentuckians with TBI."
The faculty member and student both were interested in a possible association between drug use and non-traumatic brain injury and discussed how a review of existing data might be revealing.
With Quesinberry as her faculty advisor and mentor, Bush embarked on a research project during the Fall 2021 semester while enrolled in CPH-395, an undergraduate independent research course. Quesinberry notes, "Undergraduate students can make meaningful contributions to research. Early investigators are energetic and curious. Directing that curiosity in an applied scientific fashion allows students to have meaningful early career experiences."
Bush says she had to navigate medical coding practices to determine the data set that would be available to analyze. After initially trying to limit the data to confirmed cases of patients presenting with both brain injury and substance abuse, she recognized "that was going to turn into a different research project." Both TBI and substance use are complex conditions that involve multiple types of services for which medical coding for reimbursement is complicated. So, "we were as inclusive as possible in the codes used to identify TBI and substance use," Bush says of the data she reviewed.
Her study culminated in a comprehensive, 24-page report: Drug Use and Brain Injury in Kentucky Acute Care Facilities in 2020. "We ended up finding that, in Kentucky acute care facilities, there was a strong correlation between abuse and nontraumatic brain injury." Bush notes "this was a question that hadn't been looked at, certainly not in the state of Kentucky."
Bush is enthusiastic about her opportunity to conduct independent research while still an undergraduate, and grateful for the resources made available to her.
"Dr. Quesinberry was my primary mentor. All the research I did was under her mentorship. She was my faculty-adjacent to KIPRC. She introduced me to Shannon Beaven," who manages the Traumatic Brain Injury Registry. "She pulled so much of the research for me and presented it in a way that was accessible to me. I hope to work with them in the future," Bush says.
Quesinberry praises her mentee. "Grace has been wonderful to work with," she says. "She came to KIPRC with a research idea that we were able to work collaboratively on with her to refine."
And Bush is not finished. Her report suggests "more research is merited" based on the study's initial findings. While she is pleased with the study's outcomes and grateful for KIPRC's help that facilitated a graduate and post-Master's/PhD level of research, she acknowledges the limitations of unfunded research projects. She hopes KIPRC can follow up with a funded research study that considers a larger data set than the 2020 medical records from her study. "And I want to be involved," Bush volunteers.
Reaching lawmakers through Posters at the Capitol
As her CPH-395 independent study concluded in the fall, Bush was encouraged to submit her research for inclusion in Posters at the Capitol. Organizers of the annual program say Posters at the Capitol connects scholarly, research, and creative projects conducted by students at Kentucky's state-funded universities with the legislators who are responsible for crafting higher education policy in the Commonwealth.
Bush knew that, if selected as one of UK's 10 entries, her research would reach the leaders who make decisions about medical research funding, health care, and drug policies. With that opportunity to share her findings, applying for the program was an easy choice. She followed the submission guidelines and awaited the outcome of the competitive selection process.
In December 2021, she learned her application had been selected. To meet the program requirements, she condensed her comprehensive 4,400-word report and reformatted it to be presented graphically on a poster measuring four feet by three feet. UK's Office of Undergraduate Research (OUR) was instrumental in the process, guiding Bush and her fellow poster presenters through the process, publishing the posters, and facilitating event logistics. (See Bush's poster: Drug Use and Brain Injury in Kentucky Acute Care Facilities in 2020)
Bush is proud to have been selected to represent her school.
"UK is the flagship for research amongst participating schools. I was excited because one of my favorite things about UK is we have so many departments that lead in research and lead in the state. My work with KIPRC has been so important to me as a student," Bush shares. She also appreciated the opportunity to interact with other students and event attendees: "My fellow presenters were all incredible."
The poster presentations were scheduled for March 3. By unfortunate timing, an urgent legislative budget session that day limited the time most lawmakers could attend the Capitol event. But Bush expects to follow up with legislators who expressed interest in her research.
A future in public health
Bush, who is an Honors junior in CPH's bachelor of public health (BPH) program, has decided to pursue a special joint undergraduate and graduate accelerated program. The "plus-one" program allows degree seekers to extend their studies by one academic year, resulting in a dual awarding of bachelor's and master's degrees in Public Health in a five-year studentship. She anticipates completing the combined program in 2024.
Bush's next educational target is a physician's assistant (PA) program. Her long-term career ambition is to be a patient care provider and public health champion who implements public health practices into medical care, focusing on patient interaction and health literacy. "My goal is to be an understanding and empathetic provider," she says, based on "my own strong foundation of experience [as a patient], with incredible providers who could explain what was going on."
But before those next steps, Bush is focused on her research. "This research project was the deciding factor for me deciding to enter into the 'plus-one' program. I'll be looking to pick back up on research as I look towards master's studies. I hope KIPRC keeps going on this research. And I hope it impacts policy in the Kentucky legislature."
See also: CPH students gain hands-on research experience with KIPRC