MHA
Master of Health Adminsitration
Alumni Council
Recent UK MHA Alumni that work directly with the program to provide student support, professional development, and input on the current trends and competency needs in the industry.
Represent positions and career paths as our current student career goals
Provide real-time feedback directly to the Program
Support with interview preparation, fellowships, and internships
Assist with validation of the competency model and curriculum
Provide inter-professional education offerings that reflect current industry needs
Direct Access!
Alums are in Lexington as the students complete onboarding
Direct and consistent access to healthcare leaders as they grow professionally
Students can reach out to seek advice, insights, or for help practicing needed skills such as negotiation, interviews, and resume building
Connections
Alumni Council Meets monthly online and then once a year in person
Sub-committees meet to support:

Success Preparation: Interview Skills Series
DEI Integration taskforce
Mentoring Program

Joint UK MHA Board of Advisors/Alumni Council: Once a year in Lexington

Mentoring Luncheon and Networking with all students
Feedback Loop
Feedback is shared with Program Leadership and faculty to support om-going process improvement
Current employer feedback assures competencies and course content is relevant
Support in preparing students for internships and post-graduate placements
Collaboration with the UK MHA Board of Advisors gives our recent alums direct access to executives and supports their professional development
Interested in Joining?
Contact the MHA Program Director, Maureen C Jones, PhD, at Dr.MJ@uky.edu.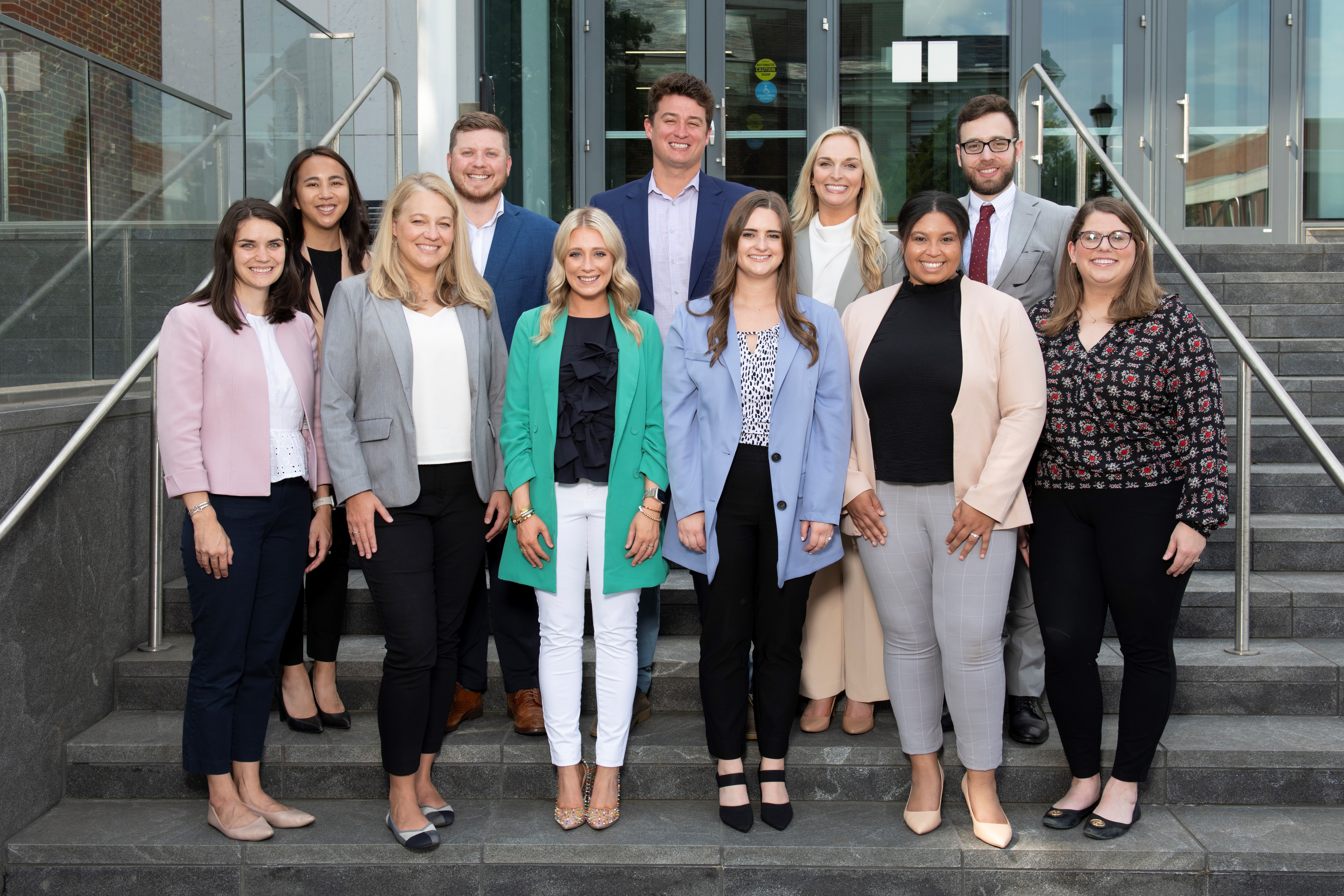 2021-2022 Council Goals: Short and Long Term
(In collaboration with the Program)
Support the development of the MHA application interview process
Support the development of a new student onboarding program
Collaborate with the MHS Student Association and develop a professional development program with a focus on diversity and inclusion
Develop an alumni mentoring match program
Explore internship and post-graduate placements
Provide input on a new four-course series for leader development that tracks with student milestone development
Angel Ho is the Sr Steward of Strategic Planning, Data & Analytics at Cincinnati Children's Hospital Medical Center. In this role, she collaborates with institution-wide teams to identify opportunities and ensure initiative strategic alignment and feasibility.
During her time in the MHA program, she worked as a graduate assistant at UK HealthCare and Baptist Health Lexington. She completed her administrative internship at Duke University Health System and her fellowship at the Medical University of South Carolina (MUSC). During her time at MUSC, Angel's projects included mergers and acquisitions, system integrations, system-wide budget initiatives, and Covid-19 response plans.
Angel graduated from the University of Kentucky with her bachelor's degree and Master of Health Administration in 2018. She is involved in several service groups throughout Cincinnati, including organizations that target human trafficking, support patients and families affected by pediatric oncology, and mental health awareness.
Blake Freeman is the Manager of the Surgical Services Business Office at Norton Audubon Hospital, an adult hospital a part of Norton Healthcare. In this role he is responsible for business initiatives within the surgical services departments and will work collectively with the leadership team, surgeons, and staff in regards to business operations and process improvement. He was born in Palm Harbor, FL and has lived in Kentucky since 2010.
Blake obtained his Masters of Health Administration from the University of Kentucky as well as his Bachelor of Science in biology. As an undergrad, he was a varsity member of the Swim & Dive team.
While pursuing his graduate degree, Blake completed an internship at Norton Healthcare in Clinical Effectiveness & Quality Management, and the Norton Medical Group. During the internships, Blake worked on projects involving clinical rooming standardization, MyNortonChart eCheck-In functionality, and clinic leader goal deployment. Prior to his internships, he spent three years working with lululemon athletica where he focused on community-based consumerism, volume growth, and team development.
Blake completed an Administrative Fellowship with Norton Medical Group and was intimately involved in projects related to Covid-19 emergency preparedness, provider engagement, enhancing leadership competency assessments, leading NMG's Clinic Goal deployment, and implementing healthfinch, a medication refill request protocol software across Primary Care.
Blake's professional interests include service line operations, strategic planning, and patient consumerism/engagement. Outside of the office, Blake enjoys exploring the Commonwealth, finding the next great book, and cheering on the Wildcats!
Growing up in Mattoon, IL, Brianna loved being active in the community and spending time with family and friends. After graduating from the University of South Florida with a Bachelor of Science in Biomedical Sciences and a Bachelor of Science in Public Health, she wanted to improve health care delivery and speak up for the underserved by obtaining a Master of Health Administration. Brianna earned her Master of Health Administration from the University of Kentucky.
Upon completion of her first year of graduate school, Brianna worked as an administrative intern with UNC Health, Faculty Physicians Operations on developing a new provider onboarding program. This experience allowed Brianna to find her strengths and passions within academic medicine. Brianna also served as a Facility Operations and Management Graduate Assistant with Campus Recreation and Wellness at the University of Kentucky.
Currently, as a First-Year Administrative Fellow at Barnes-Jewish Hospital in St. Louis, Missouri, Brianna enjoys learning from leaders and frontline staff through leadership rounding and shadowing on the units. She is incredibly humbled by the many different opportunities made available to her in the fellowship such as shadowing in the OR, attending leadership meetings, shadowing with public safety, and working on various projects throughout BJC. She cannot wait to continue learning in the Administrative Fellowship.
Outside of work, she enjoys hiking, reading, journaling, traveling, watching/playing sports, and spending time with friends and family.
Cara Metts is the Practice Manger with Our Lady of the Lake Physician Group in Baton Rouge, LA. The group she manages serves both inpatient and outpatient and has a total of 60 providers. Cara graduated from UK with a degree in Public Heath in 2019 and an MHA in 2021. During her time in the MHA program, she worked as a Teaching Assistant for the College of Public Health for both CPH 201 and CPH 440. In addition, I worked for UK HealthCare during the Covid-19 pandemic, where I assisted with employee childcare plans, daily screening operations, and the employee hotline. I completed my summer internship at Shriners in Lexington and worked on several different projects.
Casey Brackett is the Assistant Director of Operations for Markey Cancer Center at UK Healthcare. In this role, she supports a variety of work – overseeing quality, accreditations, process improvement and program development initiatives.
Prior to this role, Casey spent over 5 years at Rush University Medical Center in Chicago, IL. She started as an administrative fellow and was ultimately the Director of Clinical Innovation for Rush's Cancer Center. While at Rush, she served as administrative fellowship director for the executive office and as an instructor for the Department of Health Systems Management at Rush University, co-teaching a course titled Leadership in a Changing Health System.
Casey is a graduate of the University of Kentucky where she earned her Bachelor of Science degree in Biology, and her Master degree in Healthcare Administration. Outside of work, she enjoys spending time with her family and friends, being outside, and cheering on UK athletics.
Jennifer LeGoubin is a UK MHA Alumni from the class of 2021. She currently works for UCHealth Southern Region in Colorado Springs. She began an intern under the COO of the region. She was quickly promoted to work as a Project Manager under Operations Administration. Her projects included working with vendors, operations staff, and nursing staff to accomplish common goals and objectives. Recently, she was given the opportunity to become a Project Manager under Community and Government Relations. Her passion and reason for going into healthcare were always to help people in the community and now under this new position, she is able to fulfill my goals. Her current service activities include working with an underserved groups in her community that experience food insecurity working with local food banks and people of the community to bring better access to healthy foods.
Lucas Brooks is a 2019 graduate of the UK Masters of Health Administration Program. He currently serves as the Director of System Integration & Government Programs at Appalachian Regional Healthcare where he leads ARH's Alternate Payment Model Programs such as their newly formed ACO and other financial initiatives. Prior to this role, Lucas was the Assistant Administrator for Barbourville ARH where he led ancillary services for the hospital and day to day inpatient operations. He began his career at ARH as an intern during the MHA program.
Following graduation from the UK MHA program, Lucas completing an administrative fellowship at UNC Health prior to returning to Appalachian Regional Healthcare. Lucas is originally from Pineville, KY and received his undergraduate degree in Economics & Finance and Politics from Centre College where he was a 4 year starter for the tennis team.
Larrin Collins, is the current Assistant Director for Ambulatory Administration at UK HealthCare. In his current role he oversees enterprise operations in the outpatient setting, related to Outreach, Clinical Operations, and new clinic developments.
Larrin, is a graduate of the University of Kentucky's Master of Health Administration program, where he received the Outstanding Leadership Award in 2019. Upon graduation from UKs MHA program, Larrin, accepted an Administrative Fellowship in the Office of the CEO at MUSC Health, in Charleston, SC. Following his fellowship, he accepted a job as an Internal Consultant for the Office of the CEO at MUSC Health, and oversaw Programmatic Management of partnerships in Innovation, Performance, Professional Development, Affiliations, and Integration Management. During his time in Charleston, Larrin also served as an Adjunct Faculty Member for the Medical University of South Carolina. Larrin, is an active member of the American College of Healthcare Executives and the Health Care Financial Management Association.
Growing up in underserved Eastern Kentucky, Larrin developed a passion for expanding healthcare across the Commonwealth of Kentucky; a mission he continues to focus on.
Maggie Owens, MHA is currently at Vanderbilt Psychiatric Hospital in Nashville, as the Administrative Director for Partial Hospitalization and Intensive Outpatient Services. In this role, Maggie assumes administrative oversight of the PHP/IOP functions, with concentration on daily operations and strategic business growth initiatives. Maggie previously worked at Rush University Medical Center in Chicago, and completed a 2-year Administrative Fellowship at UK HealthCare in Lexington. Maggie earned both her B.A. in Health Communication and MHA in Health Administration from University of Kentucky. She previously served as the MHA Student Association President while in the MHA Program and enjoys mentoring aspiring Healthcare Administrators.
The youngest of three, Majd grew up in Aleppo, Syria holding both the Syrian and US citizenships. He began his higher education journey in the School of Pharmacy at the University of Aleppo. Upon moving to Lexington with his family, Majd received his Bachelor of Biology and attended both the Master of Health Administration and Physician Assistant programs at the University of Kentucky. The move to Lexington was due to having an already established social support system in the area comprised of family and friends, and as the days passed on, Kentucky became his new home, and its people became his people. It is not so often that one finds kindness and compassion so prevalent across a large community like the one Majd discovered in the Bluegrass State. These virtues make giving back a joy that is rewarding on so many levels. Majd is passionate about improving healthcare delivery and quality in America and applying it globally. In 2011, he worked as a hospital and community pharmacy manager in his family-owned pharmacies in Aleppo and in 2017, joined Baptist Health Lexington in the Patient Experience Department as an intern working with a group of dedicated people to enhance the standards and quality of care. In 2018, he worked as a financial analyst at Bluegrass Care Navigators. Majd serves on several local and state boards and committees in Kentucky one being the local health department in Fayette County. He is also involved with state chapters of ACHE and MGMA. His love for healthcare manifested itself when he joined the board of Surgery on Sunday, a charity that provides outpatient surgeries free of cost to eligible patients. His focus is on healthcare management as he aspires to become a hospital administrator who can lead real change in a troubled healthcare environment. Majd is currently a Patient Safety Fellow at the VA Medical Center in Lexington working on process and quality improvement initiatives to advance the quality of care our veterans receive. His life revolves around his faith which was strengthened because of the raging war and as the days brought with them the loss of loved ones. He recently joined his local Parish Council at St Andrews Orthodox Church. He also enjoys jet skiing, exercising, and being around family and friends. They provide the energy and support that are essential to dream and aspire.
Joanne Imbert, originally from New York City, attended the university of Kentucky from 2011-2017 on a full athletic scholarship. During that time, she completed an undergraduate degree in Business Management & Marketing, and a graduate degree in Healthcare Administration.
Joanne went on to complete a 2-year fellowship at Ascension St. Vincent in Indianapolis, Indiana. Post fellowship, Joanne landed a program management position within the Direct to Employer service line, and then a National Operations Manager for Ascension National Care Management Program; her current role. In her free time, Joanne works in ministry, teaches violin and piano, and loves to craft.
Reynalda Davis is an alumna of the UK MHA Program. She is an agile servant leader with over 7 years of healthcare leadership experience which includes driving, monitoring, and leading strategic initiatives worth greater than $70 million of at-risk revenue critical to organizational vision within value-based care. She is an influential decision-maker that consistently motivates direct reports and matrixed teams to deliver solutions and serves as a DEI practitioner with customized culturally competent initiatives that align within community needs.
Kayla Wilfong is a graduate of the BPH program (2018) and the MHA program (2020). During her time at the College of Public Health, she worked as an intern at UK HealthCare and as a Graduate Assistant for the BPH program. Following graduation from the MHA program, Kayla took an Administrative Fellowship position at St. Elizabeth Healthcare in Edgewood, KY. Upon completion of the fellowship program, she accepted a position as the Coordinator of Strategic Initiatives for St. Elizabeth's Heart & Vascular Institute. Outside of work, Kayla dedicates her time to the American Heart Association of Greater Cincinnati and their various community efforts. She also enjoys traveling, spending time with her family and watching UK sports.
Logan Bryer is an alumnus of the University of Kentucky's MHA program class of 2020. Prior to completing his masters, he earned my bachelor's degree of Clinical Leadership and Management from the University of Kentucky while competing for the Track and Field team. Post-graduation, he accepted an Administrative Fellowship with Henry Ford Health System in the office of the System Vice President and Chief Operating Officer. After his fellowship, he accepted a permanent role with the system as the Manager of Business Development and Operations in our Community Care Service Division. He currently manages 300+ contracted relationships with external employers providing comprehensive services to manage the overall health and health costs of their employee population. In addition, he developed and now oversees operations for the system's Executive Health program. I have a passion for innovative care delivery models and expanding outreach into our communities.
Rithvi Melanta received her Bachelor of Science degree in Chemistry from Butler University. She completed her graduate studies at University of Kentucky where she received a Master of Health Administration (MHA) with a concentration in Patient Safety and Quality.
While at University of Kentucky, Rithvi acquired work experience in Perioperative Services and the Enterprise Patient Safety & Quality Office at UK HealthCare in Lexington, Kentucky. In addition, Rithvi completed her Administrative Fellowship in Durham, North Carolina at Duke University Hospital, with a focus in Women's and Children's Services.
Rithvi recently moved to Jacksonville, FL and currently serves as an Operations Manager of Hospital Operations at Mayo Clinic. In this capacity, she supports the Division of Hospital Medicine, Department of Critical Care Medicine, and Department of Emergency Medicine.
Kristen is a Clinical Operations Director for UK Ambulatory Services. She currently oversees UK's Primary Care Clinics in Lexington, Georgetown, Hazard, and Hindman, KY. Kristen has 18 years of experience in both primary and specialty care operations in private, corporate, and academic settings. She earned a Master's Degree in Healthcare Administration from the University of Kentucky, is a member of the American College of Healthcare Executives and the Kentucky Medical Group Management Association.
Natalie Cooper is the Market Manager of Oncology Support Services at CHI Saint Joseph Health. She received her Masters of Health Administration from the University of Kentucky in May of 2020 while working as a Strategy project manager at CHI Saint Joseph Health. Natalie is responsible for the daily support operations of the Oncology service line and works closely with those around her to ensure that the cancer center's patients are the top priority.
Kayla Kraske is the 2nd Year System Administrative Fellow at Norton Healthcare. She was born and raised in Louisville, KY, and started at Norton Healthcare in 2020.
Kayla obtained her Master of Health Administration at the University of Kentucky as well as her Bachelor of Science in Kinesiology. While pursuing her graduate degree, Kayla completed an internship with Norton Healthcare in Clinical Effectiveness. As a fellow, she has worked on projects in various areas including transport, billing, orthopedics, cardiology, and health policy. Her notable projects include leading the management of a system-wide initiative around firearm safety, leading the business proposal for a medical respite facility for patients experiencing homelessness, and developing a streamlined process for patients presenting to the ED with chest pain. Kayla has also gained operational leadership experience through hiring over 80 interns over the past 2 years and planning, managing, and leading the Norton Healthcare Summer Internship Program.
Kayla's professional interests include health policy, clinical effectiveness, and service line leadership. Outside of the office Kayla enjoys spending time with friends and family, playing trivia, and cheering on the Kentucky Wildcats!
Kaylee Gaspard graduated from the University of Kentucky MHA program in 2017- prior to and since graduating she has worked for Baptist Healthcare System, Inc. in a variety of roles, including her most recent role as System Finance Manager for Baptist Health Research. She is passionate about healthcare and values the fact her work can positively impact patients and their families alike. In her spare time, she enjoys riding her Peloton, improvement projects on a newly purchased home with her husband Steve and anxiously awaits for her newest family member to arrive, an Irishdoodle named Boogie in February 2022.