MHA
Master of Health Administration
Board of Advisors
Board of Advisors Critical for Student Career Growth
The UK MHA Program is supported by executive healthcare leaders whose experience matched the students in the program. This group is a mix of working professionals, alumni, and industry leaders with the main goal of elevating the MHA program to the highest levels of integrity, academic quality, and professional experiences for our students.
MHA Board of Advisors serves a critical role in Program on-going process improvement by providing feedback on:
Relevant healthcare competencies and curriculum needs
Networking opportunities

Professional opportunities: internships, fellowship, post-graduate placements (healthcare consulting and more)
Direct Access - The Board of Advisors is integrated into Program activities
Interview Prep Coaching: Board members serve as coaches for second-year students as they prepare for fellowship and placement interviews
Resume and Cover Letter refinement
Fellowship and internships support
Professional Development activities
Connections
Three meetings a year: two online and one in-person during onboarding
Sub-committees support Program needs
Joint meeting with UK MHA Alumni Council once a year
Interested in Joining? 
Contact the MHA Program Director, Maureen C Jones, PhD, at Dr.MJ@uky.edu.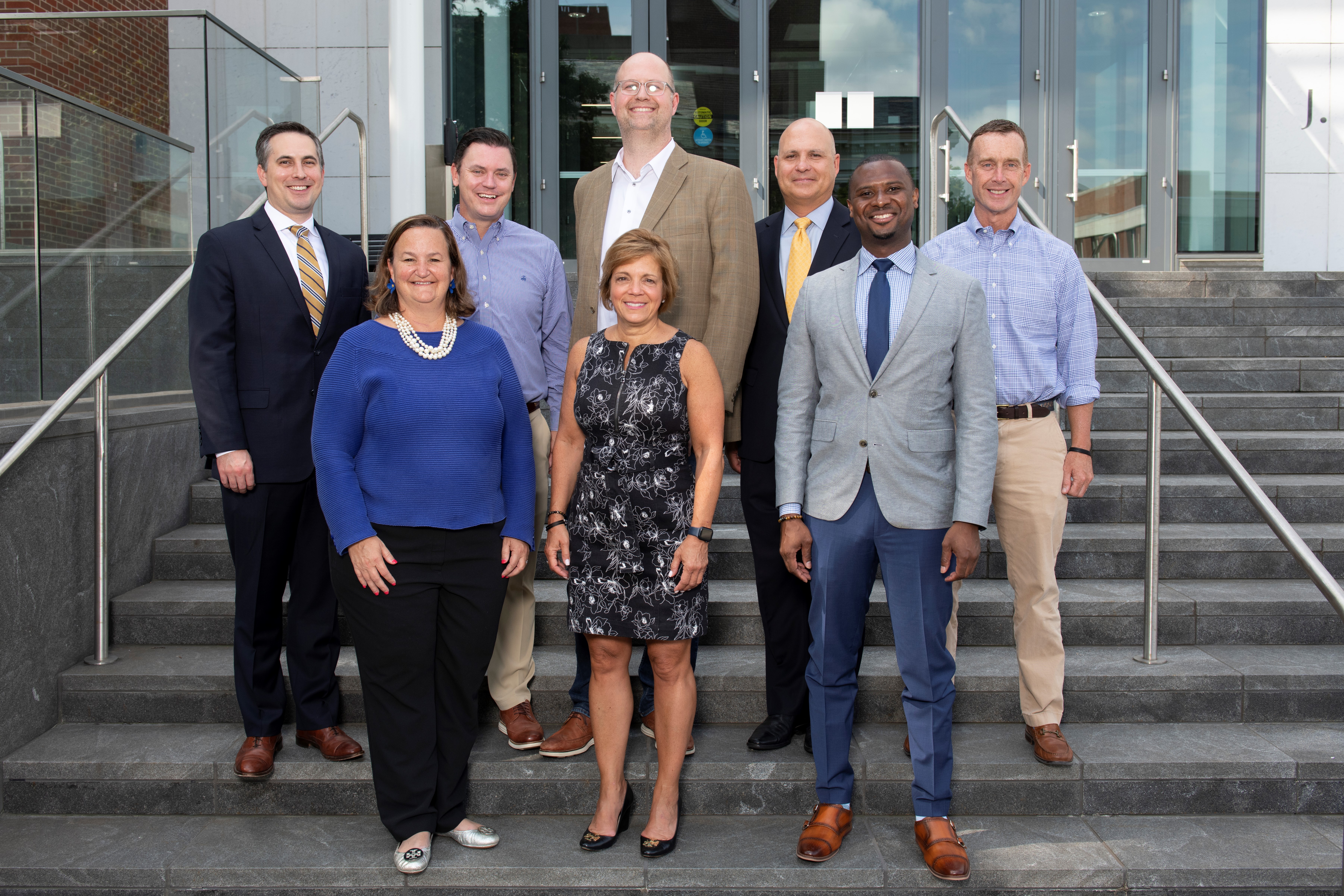 Board of Advisors Projects
Fall Project
Interview Coaching - each Board member worked one-on-one with a 2nd-year student to build presentation and communication skills. They met multiple times to give feedback and improve proficiency.
Spring Project
Course by Course reviews in collaboration with faculty and program leadership - checking topics and deliverables against industry needs for early careerists.
Long-Term Project
ACHE & NAHSE Conference Support - the board is working with the Alumni Council to develop fundraising to support students attending conferences.
Direct Access - The Board of Advisors is integrated into Program activities
Interview Prep Coaching: Board members serve as coaches for second-year students as they prepare for fellowship and placement interviews
Resume and Cover Letter refinement
Fellowship and internships support
Professional Development activities
Annual Connections
Three meetings a year: two online and one in-person during onboarding to connect with students, meet mentees
Subcommittees support Program needs
Joint meeting with UK MHA Alumni Council once a year
Want to Give Back? Think this is a Good Fit?
Scott Watkins
Scott Watkins began his current role in January 2017 after serving as system vice president, operations, since April 2004. Prior to that, he served in operational roles at Norton Audubon Hospital and Norton Women's & Children's Hospital.
Watkins began his professional career in 1992 with Eskew & Gresham in Louisville. After earning his certified public accountant (CPA) designation in 1995, he moved to Nashville, Tennessee, to begin his health care career with Columbia/HCA, then the largest hospital company in the United States.
In 1997, Watkins returned to Louisville to work for Audubon Hospital. A year later, Norton Healthcare bought the hospital from Columbia/HCA, and he accepted a position with Norton Healthcare. He has had the opportunity to work at the facility level and system level during his time at Norton Healthcare. He enjoys getting to make a difference in his hometown and is extremely grateful to be part of the Norton Healthcare family.
Watkins holds a Bachelor of Science degree in business administration with a concentration in accounting from the University of Louisville and a Master of Business Administration degree from Bellarmine University in Louisville. He is licensed as a CPA in Kentucky.
Watkins, who is a native of Oldham County, Kentucky, and his wife, Pam, have three children, Madison, Jackson and Luke. He serves as a board member for Christian Academy of Louisville and the Kentucky Derby Festival and is an elder at Northeast Christian Church in Louisville.
Grayling Dwayne Yarbrough
Grayling Dwayne Yarbrough serves as Executive Director of Employer Solutions at Banner Health, a role he began in August 2019. In this role he is charged with executive leadership of Banner Employer Solutions, the direct-to-employer division of Banner Health. This division delivers A La Carte healthcare services to employers, with the goal of improving the access and value of healthcare services consumed by their employee populations. Previously, he held various administrative management positions within CHRISTUS Health in population health. As Director, Population Health, he served as Director of two Accountable Care Organizations and Clinically Integrated Networks; with responsibility for board governance, provider network management, and organizational performance and operations.
Ammon Richard Fillmore
Ammon Fillmore's legal practice focuses on where data and technology meet healthcare. Ammon has extensive experience advising on privacy, security, and operational matters including emerging issues around information blocking, data rights and use cases, interoperability, and technology licensing and contracting. Prior to joining AdventHealth as the Associate Chief Legal Officer, Ammon was the General Counsel and Privacy Officer at the Indiana Health Information Exchange and a shareholder with the Health Information Technology and Security Group with the law firm Hall Render. Ammon earned his Juris Doctor and Masters of Health Administration from the University of Iowa where he also spent time working for the U.S. Attorney's Office in Fairbanks, Alaska, and the Kameda Medical Center in Kamogawa City, Japan. Outside the office, Ammon enjoys hiking, road cycling, whitewater kayaking as well as competing in and coaching epee fencing.
Hannah D. Little
Hannah Little is a hospital administrator who currently serves as the Associate Chief for Administration for Pulmonary, Critical Care, and Infectious Diseases Medicine at the University of North Carolina, Chapel Hill. Her prior work includes risk adjustment data validation for the Centers for Medicare and Medicaid Services, administration and project management at the Johns Hopkins Hospital, and quality and process improvement at the Al-Jazeera Hospital in Riyadh, Saudi Arabia. While completing her Master of Health Administration at the University of Kentucky, Hannah worked at UK HealthCare helping coordinate the management transition of Eastern State Hospital. She also holds a bachelor's degree in economics from McGill University and is currently pursuing a doctorate in public health from the Johns Hopkins Bloomberg School of Public Health.
Janine Delorme Nowatzky
Janine Delorme Nowatzky is President of Inside Rx, a wholly-owned subsidiary of Express Scripts. Through its discount card, Inside Rx delivers affordable, predictable and simple access to prescription medications for millions of uninsured and underinsured consumers. Since its inception in 2017, Inside Rx has saved consumers >$5B on prescription medications.
In this role, Janine is responsible for business strategy, finance, product, operations and marketing. She leads a team of 15 people, and has overall responsibility for key partnerships with large retail pharmacies, pharmaceutical manufacturers, employers, health plans and other business to business partners, including GoodRx and Amazon.
Janine has 20+ years of experience in pharmacy benefits at Express Scripts, one of the nation's leading pharmacy benefits management companies serving over 112M Americans. Express Scripts is part of Evernorth Health, a wholly owned subsidiary of Cigna Corporation.
Janine holds a BA degree from Montclair State University; and an MHA from Pennsylvania State University. Janine lives in northern New Jersey and has two sons.
Amanda E. Sokan
Amanda Sokan is CO-Program Director, COPH Phoenix Programs, Assistant Professor in the Department of Public Health Practice & Translational Science, Mel and Enid Zuckerman College of Public Health, University of Arizona, and Research Assistant Professor, Geriatrics, COM-Phoenix.  She holds a Ph.D. in Gerontology and Masters in Healthcare Administration from the University of Kentucky and a law degree (LL.B) from the University of Buckingham, England.
Her professional experience includes faculty positions and administrative appointments in both Gerontology and Health Administration, program evaluation, consultancy work on aging issues, personnel management/development, and workplace culture. Her interests straddle the nexus of gerontology, healthcare, and law, including elder rights and justice, elder abuse and mistreatment, cultural competence, LGBTQ+ aging, long-term care, aging and healthcare navigation, health promotion and well-being, provider relationships, and workforce planning and development. Sokan considers herself an applied gerontologist.
John Phillips
John Phillips serves as Chief Operating Officer of Tower Hill Insurance Group. John joined Tower Hill in the summer of 2020, after 15 years at UK Healthcare serving in various administrative roles. John's last role at UKHC was Vice President of Ambulatory Services, a role he began in early 2016. In this position, Phillips is charged with overseeing various clinic locations across Kentucky generating over 1,000,000 visits annually.
Previously, Phillips was associate vice president for behavioral health services and the chief administrative officer in charge of Eastern State Hospital. He played a key role in opening and transitioning into the new Eastern State Hospital when UK HealthCare assumed management responsibilities in 2013. Prior to that, he held various administrative management positions within UK Healthcare as service line director for Kentucky Neuroscience Institute and Orthopedics, as well as, Director Facility Transition for UK Healthcare, responsible for leading and facilitating the operational transition into UK Healthcare's replacement hospital.
Phillips has over 20 years of healthcare operations experience working with investor-owned community hospitals and academic medical centers.  He received his MHA from Virginia Commonwealth University/Medical College of Virginia and a bachelor of health science degree from Clemson University. 
Cecelia Yeary
Cecelia Yeary serves as the Vice President of Cardiovascular and Oncology Services and Clinical Support services at Baptist Health Lexington. She maintains operational oversight for Cardiovascular and Oncology services related to operational and quality performance and patient experience. She also has operational oversight for Core support areas including Pharmacy, Rehab, Radiology, Laboratory, and Security.
Yeary previously served in multiple leadership roles at UK HealthCare including her role as a Hospital Operations Integration Director with oversight of Healthcare Security, Workplace Violence Prevention, Facilities Management, and Facilities Planning. Yeary continued to lead strategic efforts for Perioperative Services, Gastroenterology, and led the Endoscopy procedural scheduling team.
Prior to, her experience includes serving as the Administrative Director for Digestive Health Services focusing on strategic growth and operations within the Division of Gastroenterology and Endoscopy. She spent four years in patient experience before completing the Administrative Fellowship at UK HealthCare. Yeary served as the Preceptor for the UK HealthCare Administrative Fellowship and is on the Board of Advisors for the University of Kentucky MHA Program.
Originally from Lebanon, Ohio, Yeary is a graduate of the University of Kentucky for both her Bachelors and Master of Healthcare Administration (MHA).
Katherine S. Love
Kathy Love serves as the President of Saint Joseph East, a 217 bed community hospital in Lexington, Kentucky. Prior to assuming her current role, Love served as Vice President and Chief Strategy Officer for CHI Saint Joseph Health. With over 20 years of service to the advancement of healthcare services in the Commonwealth, she oversees operations, growth and strategic development at Saint Joseph East. Additionally, Love provides executive leadership for oncology services for the health system within it's partnership with the Cleveland Clinic Taussig Cancer Center. Previous to her roles with Saint Joseph, she served as a Hospital CEO for two facilities in Central Kentucky owned by LifePoint Health. In 2012, Love was named the CEO of the Year for the corporation.
Kathy currently serves as Chair of the Board of Directors of GreenHouse 17. She is a member of the board of directors of Bluegrass Regional Imaging and Continuing Care Hospital. Love served as the Chair of the Go Red Campaign for the American Heart Association in 2021 and is a graduate of the Leadership Kentucky Class of 2020. Passionate about mentoring future healthcare leaders, Love serves as a member of the advisory board of the University of Kentucky MHA program in the College of Public Health.
Love is a graduate of Roanoke College and holds a Masters in Healthcare Administration from Virginia Commonwealth University. She resides in Lexington, Kentucky with her husband Allen and their two daughters Virginia and Crosby. She is an exuberant fan of the UK Wildcats and a dedicated soccer mom who spends most evenings and weekends on the sidelines of her daughter's teams.
Robert L. Edwards, DrPH, MBA
Rob Edwards serves the University of Kentucky's academic medical center, UK HealthCare, as the chief strategy & business development officer. In this role he is responsible for acquisitions, clinical contracting & partnerships, health policy, brand and digital strategy, clinical contracting and leading on other strategic opportunities.
Previously, Rob served in various positions appointed by Kentucky's Governor in the Cabinet for Health & Family Services, including chief of staff, budget director and legislative director. He earned his doctor of public health from the UK College of Public Health, his Master of Business Administration from the University of Louisville and undergraduate degree from Centre College.
Mark Bowman, MHA, LNHA
Mark Bowman is a Navy veteran and proudly serves as the Executive Director of the Kentucky Department of Veterans Affairs, Office of Kentucky Veterans Centers since 2014. He is responsible for the operations of the Commonwealth's four State Veterans Homes and the planning and construction of a fifth in Bowling Green Kentucky.
Mark received his Bachelor Degree in Science at the University of Kentucky in 1990 and his Master of Health Administration Degree from the University of Kentucky in 1995. During his thirty plus year career, he has served as facility administrator, Director of Operations and President of a private sector long-term care company in Central Kentucky. He has been a licensed administrator since 1992.
From 1997 to 2008, Mark served as an adjunct professor at the University of Kentucky, teaching long-term care classes to both undergraduate and graduate students.
Mark is the past president of the National Association of State Veterans Homes and currently serves as the 2nd Vice Chair of Kentucky Association of Health Care Facilities, the American Health Care Association state affiliate.