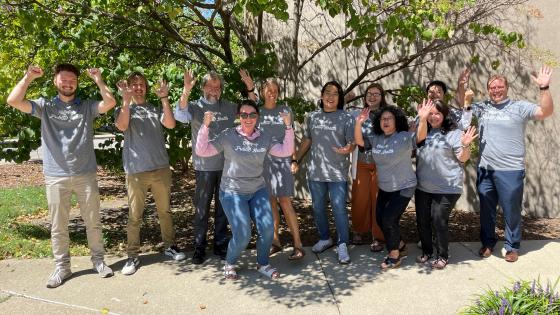 UK's College of Public Health
Pump It Up
Inaugural Celebration!
Welcome to the first inaugural "Pump It Up" celebration event at the College of Public Health! We are inviting all of our College's faculty, staff, and students, along with friends, family, local alumni, and other community partners, to come together to connect and celebrate with your public health community, a place where you belong. At this event, you will experience a new appreciation for becoming a pumped-up public health champion.
Event Specifics
Date: Thursday September 1st
Time: 4:30 – 6:30 p.m.
Location: Gatton Student Center, Grand Ballroom A/B, 160 Ave of Champions, Lexington, KY 40508
Food and Refreshments: Of course!
Attire: Casual
Parking: Cornerstone Garage (PS #5) with entrance and exit on both South Limestone and on Upper Street
Program
Meet and greet with your fellow students, along with the College's faculty and staff, and The Wildcat mascot
Get a free "You Belong Here" T-shirt and wear it proudly in our hero group photo
Hear from special guest speakers including: Dr. Crystal Miller, Dr. Steven Stack and Dr. Heather Bush
Participate in the historic "Pump Handle" oath tradition, delivered by Dr. James Holsinger, and receive your certificate in to the Alpha chapter of the Pump Handle society
Win fun raffle prizes, play cornhole, enjoy refreshments, put your signature on why public health, take pictures and share on social media using #pumpitup
Leave, pumped up!
The Pump Handle Story
In the early 1800's, John Snow, M.D., a historical figure in epidemiology, provided one of the earliest examples of using epidemiologic methods to identify risk for disease and recommend preventive action. On August 31, 1854, London experienced a recurrent epidemic of cholera and Snow suspected water from the Broad Street pump as the source of disease.
Removal of this handle prevented additional cholera deaths, supporting Snow's theory that cholera was a waterborne, contagious disease. Snow's studies and the removal of the pump handle became a model for modern epidemiology and is considered to be the symbol of when public health started.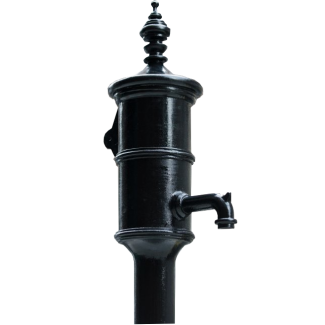 Speaker - Dr. Heather Bush
Dr. Heather M. Bush is the Acting Dean, and former Chair of the Department of Biostatistics.
Dr. Bush also serves as the Kate Spade & Company Endowed Professor in the Center for Research on Violence Against Women and as co-director of the Biostatistics, Epidemiology, and Research Design Facility in the UK Center for Clinical and Translational Science. Bush is also a prior recipient of the Dean's Outstanding Teaching Performance Award, the Golden Apple Award for Outstanding Teaching, and the Provost's Outstanding Teaching Award.
Named University Research Professor for 2018-19, Bush focuses her scholarly work on vulnerable populations, as she examines issues of women's health, the impacts of sexual violence on health, and the prevention of sexual violence. As an investigator, she works to promote the engagement of populations typically underrepresented in research.
She also prioritizes collaboration, describing herself as "a team scientist with an overall goal of transforming approaches to scientific inquiry by engaging as an active partner in research teams dedicated to making a difference in the health of populations."
Bush is currently partnering with investigators at KIPRC to (1) translate bystander-based training to promote harm reduction in college populations and (2) develop a novel surveillance system for maternal mortality and morbidity that incorporates injury related to sexual violence, substance use, and mental health. Prior to her faculty appointment, she served as a senior biostatistician in industry.
Speaker - Dr. Crystal Miller
Dr. Crystal Miller has been the Public Health Director for the WEDCO District Health Department for 15 years. Dr. Miller's tenure has been focused on sustainability efforts for public health in the counties WEDCO serves. WEDCO was awarded Public Health National Accreditation in 2019 under her direction and leadership. She is involved at the national and state level, having served on the Kentucky Health Departments Association Executive Committee for many years as well as the National Association of County and City Health Officials Board of Directors. She is a graduate of the National Public Health Leadership Institute. Dr. Miller is passionate about advancing public health in the areas of leadership, training, research, and policy development.
She has a deep passion for leadership and believes whole heartedly that the answer to success in any business is a strong team with an unstoppable culture. She has her own coaching business helping service based businesses elevate and build individuals into dynamic and high performing teams. 
In her spare time, she spends her time with her family. She has two sons who are actively involved in sports. She loves UK sports and spends as much time as possible at the lake during the summer. She is passionate about living a healthy lifestyle and enjoys working out, reading and traveling.
Dr. Miller's education includes a Bachelor of Arts degree in Elementary Education, a Master's of Public Health, as well as a Doctorate of Public Health, all from the University of Kentucky.
Speaker - Dr. James W. Holsinger, Jr.
James W. Holsinger, Jr., M.D., Ph.D., following his retirement on August 31, 2017, serves as Chancellor-emeritus, Wethington Chair-emeritus, and Professor-emeritus of Preventive Medicine at the University of Kentucky. He served for 26 years in the Department of Veterans Affairs, retiring on July 13, 1994. His VA career culminated in his appointment by the President of the United States as Undersecretary for Health in the Department of Veterans Affairs from 1990 to 1993.
From 1994 to 2003, he served as Chancellor of the University of Kentucky Medical Center and as Secretary of the Kentucky Cabinet for Health and Family Services for two years following his appointment by Governor Ernie Fletcher on December 9, 2003.
Dr. Holsinger served for over 31 years in the United States Army Reserve, with his Reserve career culminating with his assignment to the Joint Staff during the Persian Gulf War as Assistant Director for Logistics J-4 for medical Readiness in 1989, and his promotion to Major General in 1990. Dr. Holsinger retired from the United States Army Reserve in 1993.
Speaker - Dr. Steven J. Stack
Steven J. Stack, MD, MBA, FACEP was appointed commissioner of the Kentucky Department for Public Health by Gov. Andy Beshear in February, 2020. He resides in Lexington, Ky and is a board-certified emergency physician.
For more than 20 years Dr. Stack has been a leader in the medical profession. He has served on boards of directors and in senior leadership roles for numerous geographic and specialty medical societies. In 2006, he became the first emergency physician ever elected to the American Medical Association (AMA) board of trustees, subsequently serving as board chair and in 2015-2016 as the youngest AMA president since 1854.
Dr. Stack has served as medical director of multiple emergency departments, including Saint Joseph East, Lexington, Saint Joseph Mt. Sterling, KY and Baptist Memorial Hospital, Memphis, Tenn. He has more than 18 years of emergency medicine administrative and clinical practice experience in Kentucky, Ohio and Tennessee.
In 2018, Dr. Stack joined The University of Tennessee Haslam College of Business as adjunct professor. In this role, he lectures on healthcare policy and the mechanics of advocacy to physicians in the physician executive MBA program and to both physician and non-physician healthcare leaders enrolled in executive education programs.
Dr. Stack has focused experience in health information technology (IT). A nationally recognized advocate, he bridges bedside care with governmental policy and has served on numerous federal advisory committees for the Office of the National Coordinator for Health Information Technology from 2010 -2016. Additionally, he served from 2012 - 2016 as board member and secretary of eHealth Initiative, a Washington, DC-based non-profit association improving health care through the advancement of health IT.
His other areas of expertise include emergency department and hospital management, health system reform, physician licensure and regulation and healthcare anti-trust issues. Dr. Stack has extensive experience in policymaking and advocacy at federal, state and county levels and before legislative bodies and executive branch regulatory agencies. He also is a skilled public spokesperson and longtime advocate for universal access to affordable and high quality healthcare.
Meet the Wildcat!
Meet and take a picture with the official University of Kentucky mascot, Wildcat, who proudly serves as a friendly ambassador for the University and Big Blue Nation.
Event Location
The Gatton Student Center's Grand Ballroom, Ballrooms A & B.
This is the second floor of the building.
The Grand Ballroom is highlighted in light blue on the map.
Bill Gatton Student Center