Graduate Certificate in
Global Health
Expansion in global communication, travel and trade has increased the need for clinical and public health professionals who understand health issues that transcend national and continental borders. The Graduate Certificate in Global Health is designed to prepare students to meet the growing demand for international, interdisciplinary skills in areas such as disease and injury prevention, health care, and other health-related disciplines.
Applicants for admission to the Graduate Certificate in Global Health must be approved for admission by the certificate director, who shall notify the Graduate School in writing of the student's admission.
Application Process
Following Graduate School deadlines, all application materials must be received at least one month before the semester you plan to begin your coursework. Students already enrolled in a graduate degree program may apply at any time.
Pre-approved Certificate courses that have already been completed may count towards the curriculum requirements. Requests to include these courses are made on the application.
Students must apply to the UK Graduate School. Graduate School application deadlines and forms may be obtained through their website at: http://gradschool.uky.edu/.
International students must have a minimum IELTS score of 6.5.
Admission to or award of a graduate certificate does not guarantee admission to a degree program in the same or any other discipline.
To Apply, go to the link below & follow the official process in ApplyYourself. Other requirements that must be attached for the certificate application:
Official transcripts are required for undergraduate and graduate work from universities other than the University of Kentucky. A GPA of 3.0 is required for admission

In your personal statement in the Graduate School application, please write an essay that addresses the following points. Please note that your essay length should not exceed 500 words: describe (a) your reason(s) for interest in the Graduate Certificate in Global Health, (b) your career goals in relation to Global Health and (c) the specific topic in Global Health in which you are most interested. Describe any work experience relevant to Global Health.
Curriculum
The Graduate Certificate in Global Health requires completion of 15 regular course hours (generally 5 classes), with an option to participate in a Global Internship for 3 credit hours (1 class).
Courses must include topics related to global health from a medical, cultural, geographical, sociological, or other perspective.
One course are required (3 credit hours):
CPH 776 Introduction to Global Public Health
The other 4 courses (12 credit hours) are electives:
Elective must be from the following list: (or approved by the certificate director)
Elective Courses (all 3 credit hours)
CPH 605 (selective) Epidemiology
CPH 790 (selective) Water, Sanitation and Health
CPH 612 (selective) Infectious Disease Epidemiology
CPH 711 (selective) Chronic Disease Epidemiology
CPH 645 (selective) Food Systems, Malnutrition, and Public Health
CPH 648 (selective) Eliminating Health Disparities
CPH 561 (selective) Insects affecting Human and Animal Health
CPH 709 (selective) Global Health Internship
Internship (Optional 3 credit hours – CPH 709)
The internship requires at least a 4-week internship abroad, in or related to a resource-poor or resource-limited setting. It also requires a mentor both at UK and locally. The internship course is CPH 709.
Course Learning Objectives: The internship will provide an opportunity for students to participate in a health-related activity, project or program in a resource-limited setting in a foreign country. This will allow students in the Global Health Certificate Program to acquire direct international experience with relevant, current global health issues, and to integrate and apply knowledge and skills learned in their coursework.
The minimum duration of the internship will be 4 weeks and it will count as 3 credit hours (replacing one course on campus). Each internship will be unique, depending on the student's background and interest, as well as on the needs and resources of the location where it is conducted. The main activity and setting of the internship can range from providing primary or specialty direct patient care in a hospital, outpatient or other type of medical setting (for students in clinical disciplines); prevention, community health or health education activities in schools, neighborhood meetings or other venues; collection of environmental samples from water, soil, food, etc. For students in the colleges of Medicine, Nursing, Dentistry, Pharmacy and Health Sciences, the internship may take the form of a rotation.
Internship placements will require completion of an application to be submitted to and reviewed by the certificate director, Dr. Keck. The internship application shall include a proposed work plan, with activity and learning objectives, and a mentorship plan which should include a UK-Global Health associate faculty supervisor and a local, qualified mentor or supervisor in the host location.
Approval of the internship application will also include consideration of the student's background, interests and language capabilities. In addition to the field experience, before traveling the student will complete pre-departure orientation and preparation requirements of the International Center for students studying or working abroad. Upon returning to the U.S., the student must report on the internship experience in the form of a written report, an oral, open presentation or other format, and be approved by the UK-Global Health supervisor, for the completion of the internship.
**Funding for travel and living expenses will be the responsibility of the student. The certificate director and associated faculty may assist in pursuing travel funds from available sources, such as fellowships, travel awards and financial aid towards study or practice abroad.**
Shoulder to Shoulder Global Brigade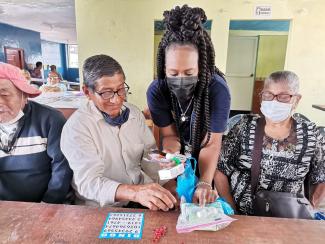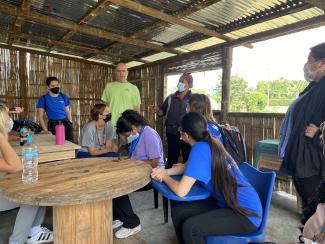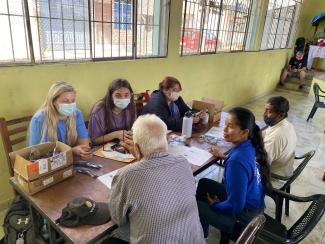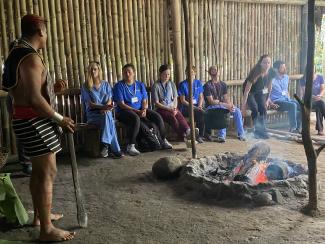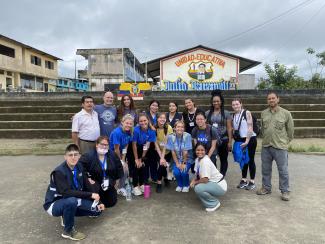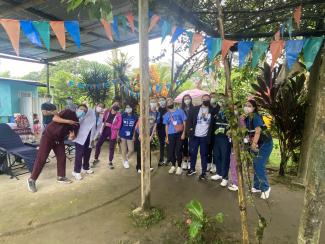 Global Health Academics Page
See the Graduate Certificate in Global Health on UK's Academic Exploration Tool.