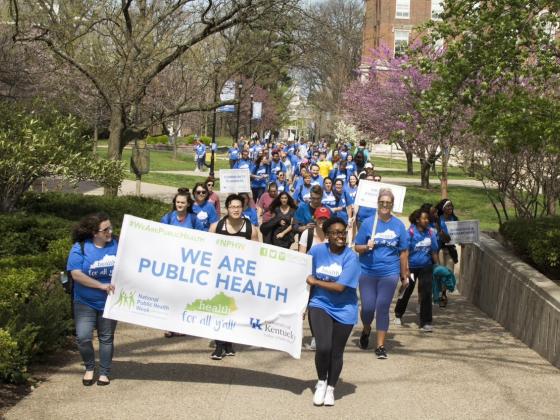 About
Welcome to the College of Public Health!
In 2004, the University of Kentucky established the College of Public Health to develop transformative solutions to health challenges through teaching, research and service efforts. Located in Lexington, Kentucky, we take seriously our public health responsibility to all communities and individuals in the Commonwealth of Kentucky.
Our state is at the epicenter in some of the major public health challenges. With that in mind, we are dedicated to transforming and assisting in the creation of a healthier community, state, and world for everyone.
Our vision is to be the catalyst and leader of positive change for population health. Our mission is to develop health champions, conduct multidisciplinary and applied research, and collaborate with partners to improve health in Kentucky and beyond.
Quality Academic Programs. This is evident by our accreditation by the Council on Education for Public Health (CEPH) and Commission on Accreditation of Healthcare Management Education (CAHME), as well as membership in the Association of Schools & Programs of Public Health (ASPPH), to offer a suite of bachelor's, master's, and doctoral level programs.
Successful Students. We strive to build an environment (and community) where students feel connected, challenged, and appreciated.
Engaging Faculty and Staff. We encourage, support, and invest in our faculty and staff to solve the important public health problems that plague our state, the region, and the nation.
Diversity of Thought. We are committed to a culture of diversity, equity, inclusion among our entire community.
Practice Community. This is evident with some of our collaborations which include the Centers for Disease Control and Prevention, National Institutes of Health, Kentucky Department for Public Health, Lexington-Fayette County Health Department, Kentucky Public Health Association, and the Kentucky Health Department Association.
Science and Research. Our faculty engage in a robust portfolio of research activities and guide millions of dollars annually in collaborative projects, with funding sources ranging from NIH and CDC, to the Robert Wood Johnson Foundation. This extramural funding provides numerous opportunities for students to participate in ground-breaking research.
These guiding principles have helped us make significant progress and investments into our academic portfolio, meaningful research and service goals.