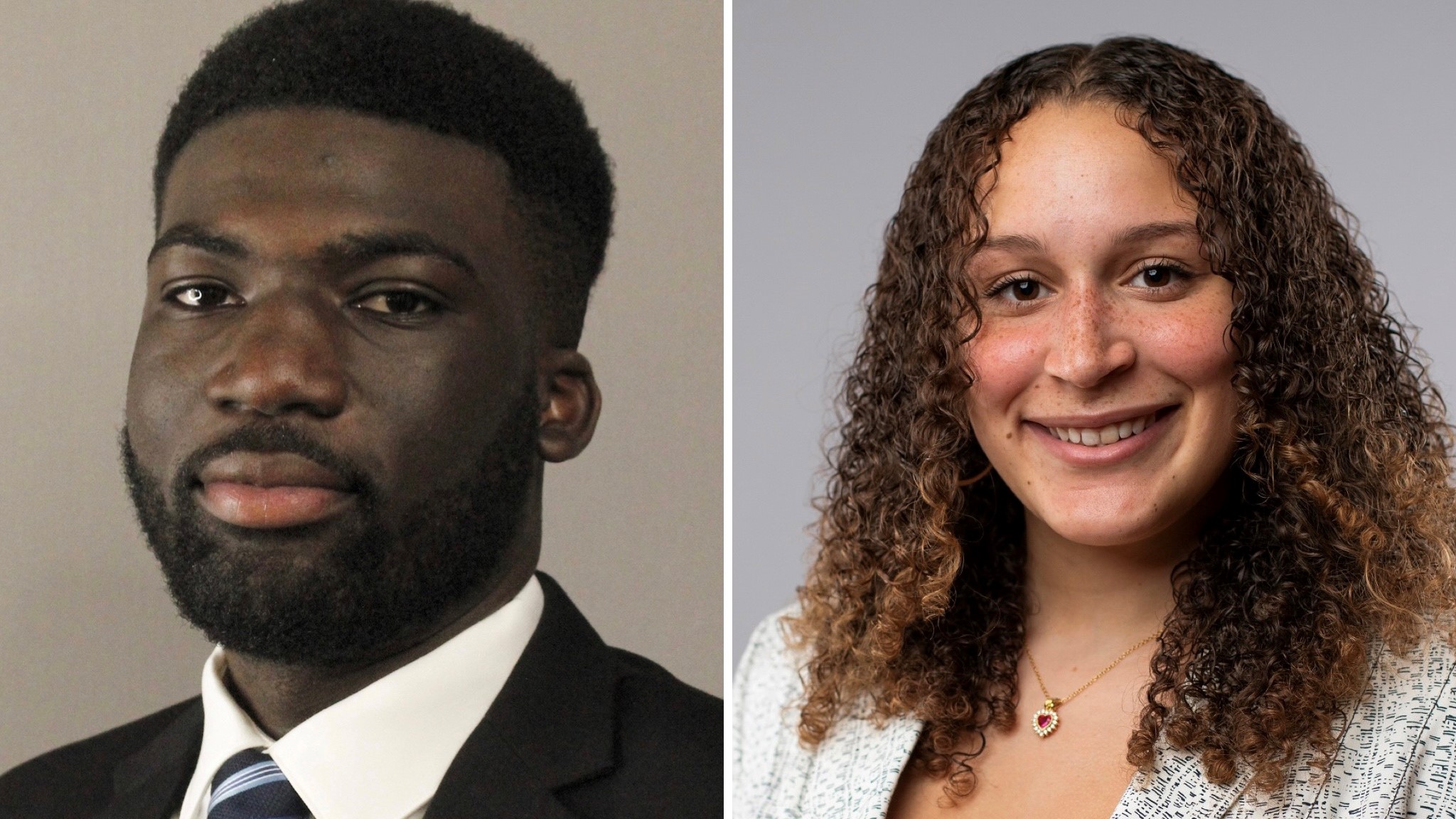 Two CPH students selected for the African American Research Training Scholars program
UK College of Public Health (CPH) students Christopher Otieno and Ashley Wright have been accepted to the Spinal Cord and Brain Injury Research Center (SCoBIRC) African American Research Training Scholars (AARTS) program, an opportunity to receive up to 12 months of funded research training in neurotrauma at the University of Kentucky's College of Medicine.
Recognizing that Black faculty and students are heavily underrepresented in the field of neuroscience, the AARTS program was established to enhance the pipeline. SCoBIRC has earmarked $25,000 to fund five yearly research training awards for qualified African American undergraduate students in neurotrauma research through the AARTS program.
The $5,000 scholarship provides a generous summer stipend of $3,000 per student and an additional $2,000 to attend a national meeting to present their research project, network with their peers, and increase opportunities for furthering their careers. The program is funded by support from the Kentucky Spinal Cord and Brain Injury Research Trust, which provides funds specifically for trainees.
Christopher Otieno (pictured left), originally from Richmond, Kentucky, is a rising senior in the Bachelor of Public Health (BPH) program, along with a minor in communication. Christopher has also been accepted into the Accelerated Bachelor of Public Health/Master of Public Health 4+1 program with a concentration in epidemiology.
"In public health you have the chance to impact entire communities and I feel that is where I can have the biggest positive impact in people lives," says Christopher. "I was motivated to apply for the AARTS program so I can further explore research that I am passionate about and gain knowledge that will help me in my future career in public health."
In the future, Christopher looks to become an epidemiologist and investigate health issues by analyzing data to improve the health of the public.
Originally from Louisville, Kentucky, Ashley Wright (pictured right) is a current senior at CPH and is currently enrolled in the Accelerated Bachelor of Public Health/Master of Public Health 4+1 program with a concentration in environmental science.
"I decided to pursue my education in public health because I wanted to be in a position where I could help as many people as I can, and I felt that public health was the best field to do that," says Ashley. "I applied for the AARTS program because this is a wonderful opportunity to expand my research knowledge, network, and be mentored by some of the best in the field."
The objective of Ashley's research project is to identify how organizations that provide oral healthcare services interact with other health and human services systems. In addition, collect data on these safety-net organizations and to identify their involvement with their high-need patients.
Ashley's future career goal is to work for the Environmental Protection Agency (EPA) and make a significant impact in the environmental justice community. Ashley is also considering getting a Ph.D. and opening a school.
Christopher's and Ashley's faculty mentors will be Dr. Rachel Hogg-Graham, assistant professor, and Dr. Richard Ingram, associate professor, in the Health Management & Policy department at the UK College of Public Health.
The AARTS program considers qualified students from all majors. Qualifications include a minimum overall grade point average of 3.0, declared major in a STEM discipline and the commitment of a faculty mentor conducting research on neurotrauma. Students are also encouraged to consider discussing this funding opportunity with faculty conducting research on traumatic brain and spinal cord injury.
To learn more about the SCoBIRC's African American Research Training Scholars Program (AARTS), click here.