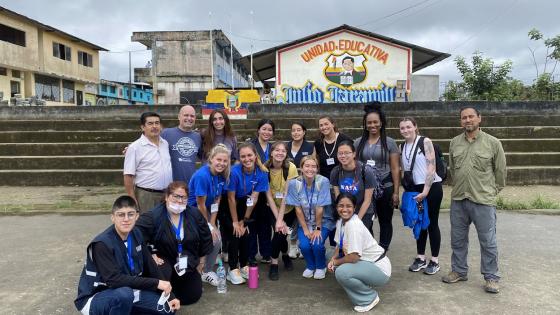 The College of
Public Health
Making the world a healthier place for everyone!
Undergraduate Degree
Positively impact the health of people and communities.
The only accredited Bachelor of Public Health in Kentucky.
Graduate Degrees & Certificates
Become an expert scholar, practitioner, and leader in public health.
A suite of professional programs offering a range of possibilities.
Imagine a world where every community has a passion, purpose, and pathway for a healthier life.
Our story begins with our students. Many of our students have witnessed an event, situation, circumstance in their communities and asked, "What can I do to help make a positive change?" They want to help populations of people, but not sure where to start. They found that public health was the answer!
What is public health? It is activating health as a pathway for social change. It is preventing disease, prolonging life, and promoting health for everyone. Simply put, our people want to change the world and leave it healthier for the next generation.
We are in the communities establishing food programs for kids and families; researching to prevent vehicle injuries in older adults with cognitive decline; preventing alcohol and substance abuse in college students; preventing overdose deaths; addressing social determinants of health from access to education to environment; helping people safely recover and restore their lives after catastrophic weather, and more.
Our team of public health ambassadors and champions are all making positive, equitable, and redefining change in order to make our communities healthier, safer, and stronger. Does this speak to you? Then you belong here!