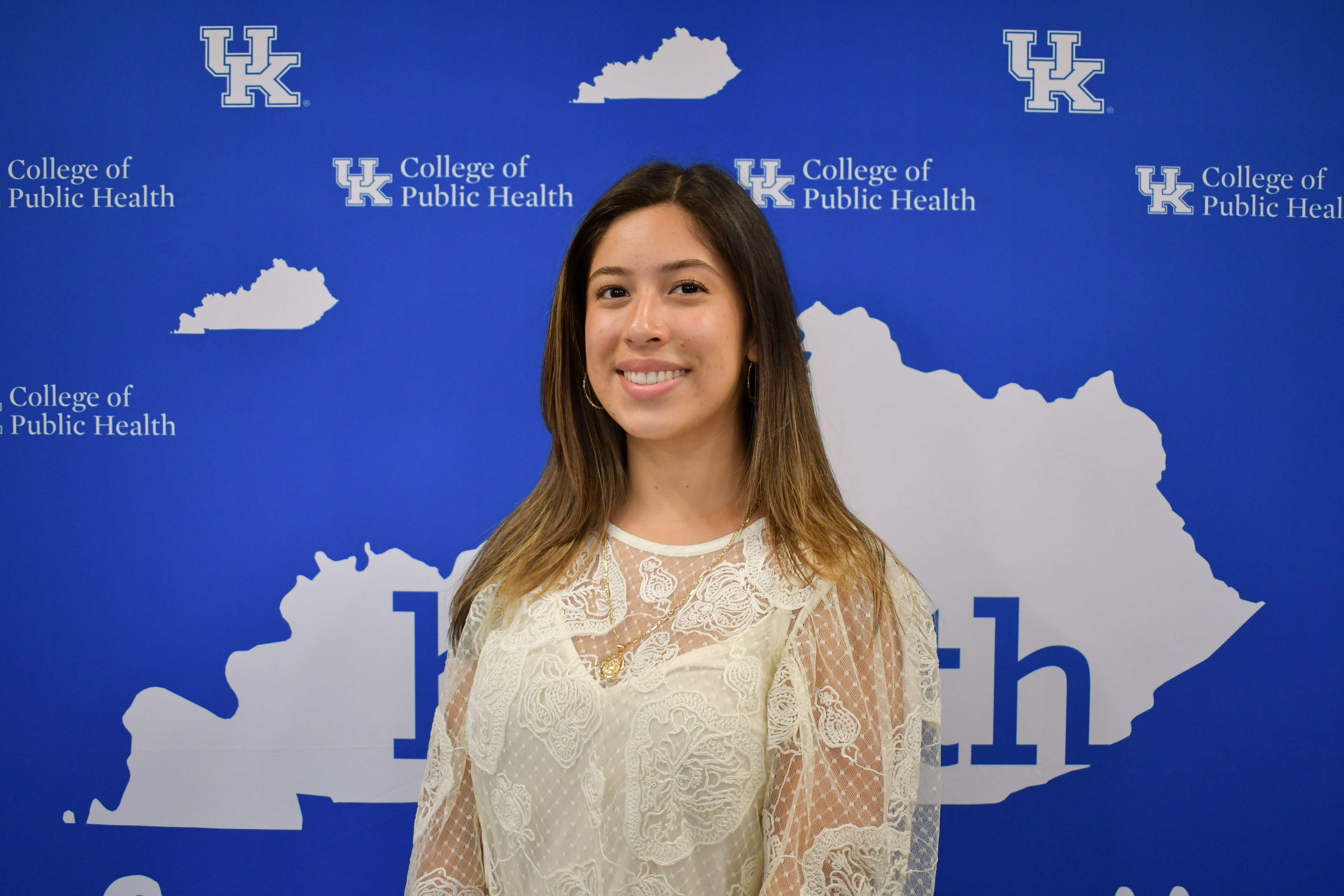 CPH grad student draws inspiration from her family
To commemorate Hispanic Heritage Month the University of Kentucky College of Public Health (CPH) is featuring Hispanic individuals from the College throughout the month.   
As CPH graduate student Vanessa Diaz works toward her Master of Public Health degree, she draws inspiration from her family. 
The first-generation college student was born in Lexington, but her family constantly moved between Kentucky and Mexico until they settled in Lexington when she was seven. The dedication from her family to provide more opportunities did not go unnoticed.  
"My inspiration is my family, from my parents to my grandparents, because they have worked so hard for each generation to have a better future," she said. 
Vanessa has continued her family's legacy of a better future by pursuing higher education. She earned her Bachelor of Public Health degree in May. 
Vanessa was initially drawn to public health because of the focus on community.  
"We look at improving the health of not just one person, but a whole population. This is what brings real change," she shared.   
Her favorite aspect of public health is the passion and focus on serving underserved communities. 
"We place emphasis on underserved communities facing the most disparities because these are the people that are in real need of our services," Vanessa said.  
As an undergrad, Vanessa was able to find her passion within public health with the help of her mentor, Sarah Cprek, MPH, PhD, Assistant Professor in the Department of Health, Behavior, & Society and Director of Undergraduate Studies for the Bachelor of Public Health program.   
"My professor, Dr. Sarah Cprek, introduced me to Adverse Childhood Experiences (ACEs) and that's when I really found my passion within public health," Vanessa said.  
Vanessa said she plans to pursue her passion by working with kids, specifically minority populations, and developing programs and interventions that help to mitigate ACEs in order to prevent negative health outcomes later in their adult life. She is set to graduate in May 2025. 
"I came into college as a very shy student that avoided speaking up in class and I am now a very involved student, enough to hold active leadership roles within the university," she said. 
Vanessa is the vice-president of Hay Que Hablar, a student led Spanish speaking organization on campus, and is a CPH student ambassador.  
"I am no longer intimidated to do things out of my comfort zone such as public speaking and peer mentoring; I take on new experiences hoping to always learn something new from them," she added.  
Vanessa's advice for any first-generation college student or minority student, "It might seem impossible to graduate from a university like UK, but I'm here to tell you that it is not. Yes, it is difficult, not just in the sense that classes are difficult, but simply learning your way around campus and looking for the resources you need as either a first generation or minority student or both, but there are resources available; as well as people that want to genuinely see you succeed and help you navigate this new chapter." 
Vanessa also said that coming into a new culture presents challenges, but she added, "it has been more of a sense of pride that even though there are not many people that look like me in the room, I know I am setting an example for others that we can take up those spaces as well."  
To learn more about our programs, people, and passion for public health, visit cph.uky.edu.