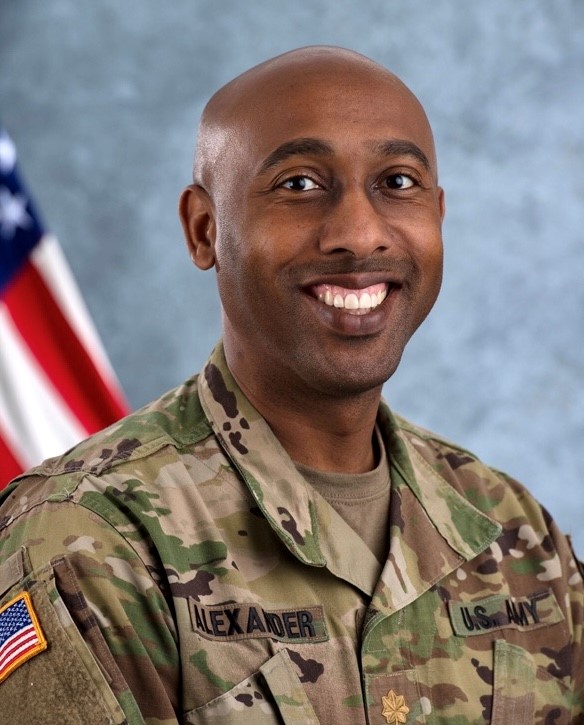 Department Chief, Ahmad Alexander Champions Public Health in the U.S. Army
Alumnus Major Ahmad Alexander graduated from the Master of Public Health (MPH) program in 2018 and currently serves as the Chief of the William Beaumont Army Medical Center (WBAMC) Department of Public Health in the U.S. Army.  
Located at Ft. Bliss in El Paso, Texas, WBAMC is a preeminent military health care delivery operation and one of the largest and most complex health care institutions in the world. 
Growing up in a small town in Vacherie, Louisiana, Maj. Alexander's childhood influencers included his older brother and sister, who both served in the military–U.S. Army and U.S. Air Force, respectively. 
"I looked up to both of them and they influenced my military journey," he says. "I knew that I wanted to serve my country and decided to enlist in the Army during my senior year in high school." 
Serving in the Louisiana Army National Guard for eight years, from 1997-2005, as a unit supply specialist, Ahmad moved up the junior-enlisted ranks from Private to Specialist.  
He graduated from Nicholls State University with an undergraduate degree in Communicative Disorders in 2006. He then received his doctorate in audiology from Louisiana Tech University in 2010. 
"In the military, audiology falls under public health which used to be called preventive medicine," says Maj. Alexander. "This was my first opportunity to help others be healthier by managing their disorders related to hearing, balance, and other neural systems." 
For several years, Ahmad expanded his professional experiences in audiology at the Southwestern Ear, Nose and Throat Clinic (New Mexico), West Texas Rehabilitation Center (Texas), Reynolds Army Community Hospital (Oklahoma), Vilseck Army Health Clinic (Germany), and the U.S. Army's Public Health Center (Maryland). 
In 2016, the Army provided Maj. Alexander with an opportunity to expand his education in public health. 
"I applied and was accepted to several schools to get my MPH," he says. "I chose the University of Kentucky because I felt a good rapport. They were interested in me just as much as I was interested in them. While being stationed in Germany at the time, the collaboration and communication between the students and the faculty really stood out for me." 
In 2020, two years after graduating with his MPH degree from the University of Kentucky's College of Public Health, Maj. Alexander took his advanced education and was tapped as the next Chief of Public Health for the U.S. Army at WBAMC. 
Maj. Alexander oversees approximately 100 staff members across eight programs: Army Hearing, Army Public Health Nursing (APHN), Army Wellness Center (AWC), Environmental Health, Health Physics, Industrial Hygiene, Occupational Health, and Senior Leader Sustainment. Each of these programs is managed by a program chief, who reports directly to Maj. Alexander. 
Maj. Alexander leads as the public health subject matter expert (SME) for a beneficiary population greater than 130,000 spanning across a training area of 550 square miles to include Fort Bliss, Texas (FBTX) garrison, White Sands Missile Range, Base Camp Dona Ana, Base Camp McGregor, Base Camp Oro Grande, and Base Camp Westbrook. 
Overseeing a budget of $6.5 million, Maj. Alexander and his team supply force health protection (FHP) guidance for the 1st Armored Division (1AD) and FBTX tenet units to ensure a medically ready force. He also serves as the alternate public health emergency officer (APHEO) for the FBTX footprint. 
"Growing up in a small town and now leading the public health efforts for a community of this size is certainly a stark contrast," says Maj. Alexander. "In order to properly serve our population, we rely on collaboration. Our team works with the state and city health departments. Networking and knowing your resources are essential." 
Maj. Alexander recognizes that sometimes there can be a perceived difference in the mission of public health for civilian populations versus military. To him, the goal is still the same. 
"It is still all about protecting the health of the community and the people that we serve," he says. "It is about putting people first, and that includes everyone. When the final troops came out of Afghanistan, our base housed approximately 10,000 Afghans. We did not refer to them as refugees. We called them our 'guests' and we made sure that their living conditions meet our public health standards." 
In his duty and role on base, Maj. Alexander believes that being a health champion is about protecting people's health, their mental health, and work/life balance; and understanding that family matters, and that we must get to know the person behind the uniform, their rank, and position.  
"Once we do that, we can come together, collaborate, and be champions for entire populations," says Maj. Alexander. "We must look at people as people, and not just numbers." 
For Black History Month, Maj. Alexander says this represents freedom, culture, and history.
"Freedom from bondage, physically and mentally, and freedom to be true to who you are — the freedom to be you," says Maj. Alexander. "It's a representation of who you are. Your beliefs, values, morals, traditions, language, and more. It's knowing where one comes from, and helps our current generation to be more grateful for where we are and where we're headed."