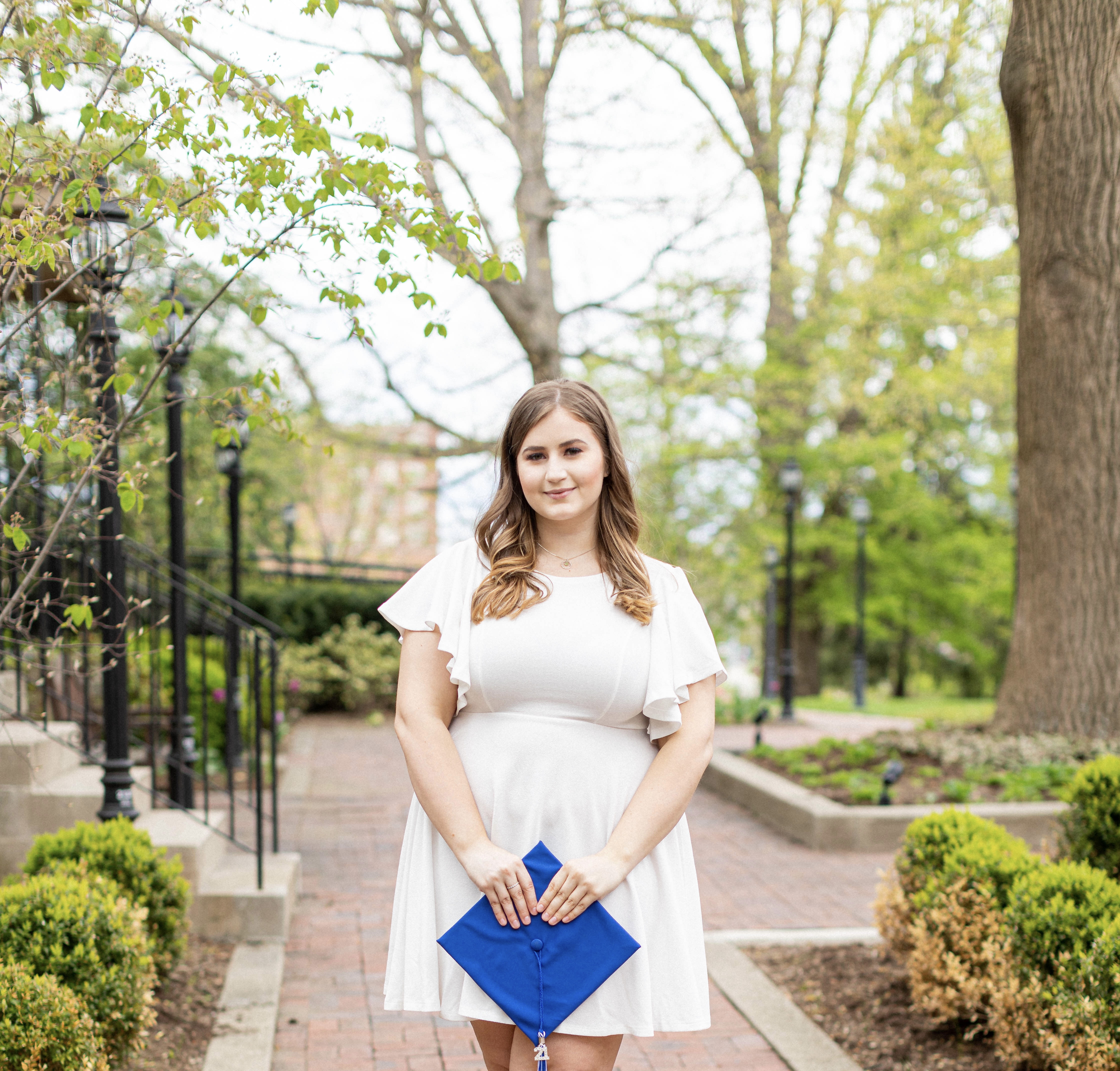 First-Generation Success Story: Kelsey Gatton
Meet Kelsey Gatton, a first-generation undergraduate student and current employee at the University of Kentucky. Kelsey is a current student in the Master of Public Health (MPH) program and full-time staff member in the Health Management and Policy (HMP) department at the College of Public Health (CPH).  
Kelsey completed her Bachelor of Public Health (BPH) and Bachelor of Health Sciences (BHS) in Spring 2021 at the University of Kentucky's College of Public Health and College of Health Sciences.  
As a first-generation student, Kelsey has assumed many leadership roles and opportunities to learn, study, and work within Kentucky and beyond which include: 
Cultivating Cats Alumni Mentor, 
Secretary of Leading Women of Tomorrow, 
College of Health Sciences Ambassador, 
Founding Member of Forte Women Business Leaders - UK Chapter, 
EMPOWER Women's Leadership Program, 
Student Health Advisory Council (SHAC) Member,  
Member of Healthcare Administration Student Association,  
Study Abroad: Health & Healthcare in Paris, France, emphasizing public policy and health behavior effects on public health, 
Study Abroad: Sexuality & Sexual Health in Amsterdam, Netherlands, emphasizing public policy and cultural influences on health outcomes, and  
Research roles and independent studies with Dr. Brandi White (CHS), Dr. Julia Costich (CPH), Dr. Martha Riddell (CPH), and Dr. Rachel Hogg-Graham (CPH). 
"There are endless opportunities for students at the University of Kentucky," says Kelsey. "You just have to know where to look and who to ask!" 
What are some common challenges that first-generation students experience? 
"Financial. Navigating the various resources to fund your education is challenging. Most of these are not centrally located and require a lot of research, inquiry, and grit. 

Contact the UK Student Financial Aid and Scholarships office. They are very resourceful, knowledgeable, and can help you explore all your financial resources including scholarships. Explore community foundations in your hometown and ask your college representatives if there any departmental or college scholarships to apply for. 
Belonging. It's difficult to come into a large university with no expectation of what is to come. You may have questions that seem silly or like common sense - but common sense is taught and first-gen students do not have this opportunity.  

A great place to start is exploring the student organizations at BBNvolved and filtering by what you are interested in." 
What are some special traits or unique abilities that first-generation students bring? 
"A fresh perspective. They can make the experience their own as they don't have expectations of what it should be. This can also improve current programs and activities that first-gen students might become a part of or lead like student government, clubs, and more. 

Ability to persevere. While not ideal, first-gen students develop the essential skill of self-sufficiency by finding things out on their own." 
What is your best advice for prospective first-generation students as they consider where to attend college? 
"Do your research and ask questions. The best way to make the most of your experience is to figure out everything available to you. UK has great resources for almost anything such as tutors, technology support, food assistance, self-defense training, KORU mindfulness programs, mental health counseling, fun events to make things and connect with others, tuition aid for full-time employees, and seminars for things you may be interested in.  

Ask professors if they need research help or explain your interests and ask if they know anywhere you can expand on those interests is excellent. Always be curious and eager to improve your experience." 
What resources would you recommend for first-generation students at UK?  
"Get involved – go to every meeting and event of interest, join clubs that interest you, take classes that fulfill you. Seek advice from other students, professors, and resources like the Career Center for any advice on majors/future pathways. 

Become an ambassador of your college, work part-time or full-time jobs on campus, and take advantage of other helpful resources like: 
Subscribe to any and all mailing lists for events and tips like the UK Research Office, Martin Luther King (MLK) Center, UKNow, and more."