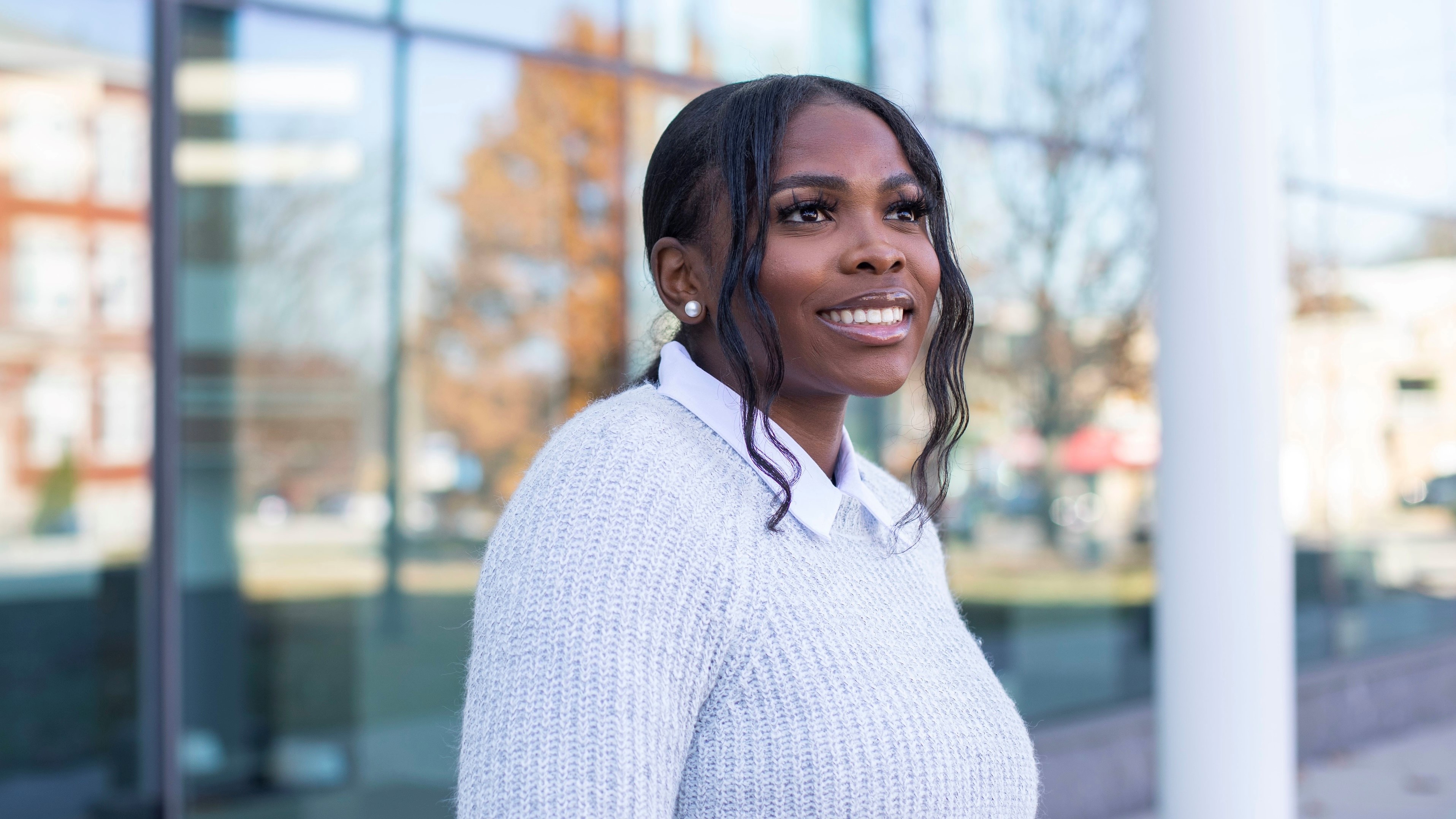 Meet Daniela Nakinoja, Lyman T. Johnson Torch Bearer Award Recipient
Ambitious, goal-oriented, determined, helpful, empathetic. These are just a few words that family and friends use to describe Bachelor of Public Health (BPH) student, Daniela Nakinoja. These words often describe many public health leaders, but how public health found Daniela started with her family.
Daniela Nakinoja is the 2021/22 recipient of the Lyman T. Johnson Torch Bearer Award on behalf of the University of Kentucky's College of Public Health. Each college at UK chooses an African American student whose academic achievement and ability to impact the lives of others reflects the spirt of Lyman T. Johnson, who was a civil right pioneer and the first African American student to attend the University of Kentucky in 1949.
Daniela Nakinoja was born in the Democratic Republic of the Congo, a culture infused with religion, history, and rich tradition. After fleeing the Congo at age 5 as a refugee and living in several towns in South Africa, Daniela and her family eventually found their home in Lexington, Kentucky.
Family is extremely important to Daniela, and after her grandmother was diagnosed with cancer, it changed her perspective on life and shaped her experiences going forward. During her grandmother's treatment, doctors discovered the cancer was hereditary and that her immediate female family were all at an increased risk for the disease. This is what initially inspired Daniela to major in biology and pre-med at the University of Kentucky.
In her biology classes, however, she found that studying cells did not inspire her or ignite her passion for helping others. "This is when public health found me," says Daniela. "I wanted to get the knowledge and training to help my family, and my community. I want to represent them. I wanted a program that would allow me to act. I found what I was looking for at the University of Kentucky's College of Public Health."
After public health found Daniela, she then found herself helping others. Daniela uses her unique experiences, skills, and perspective to meet and address the needs of others in the community.
Daniela currently works at Wild Health, where she helps with COVID-19 testing and at volunteers at Kentucky Refugee Ministries to assist with language and translation barriers. In addition to her academic work and community outreach, Daniela has worked with the UK Student Government as a coordinator for DEI and has been an active member in other student organizations, such as the African Student Association and Black Student Union.
Fulfilling the mission of being a "health champion," Daniela has already set some aspirational goals for herself. This past summer, she participated in the University of Kentucky's Markey Cancer Center Strong Scholars program — a program that fosters diversity in cancer research.
Looking forward, Daniela still has her sights set on medical school and becoming a leader in global health after graduation. "I want to bridge the gap between prevention methods programs and providing healthcare to those in need," says Daniela. "It's what happens behind the scenes that matters the most, the little things, that have the most impact in people's lives."
In response to the recognition of the Lyman T. Johnson award, Daniella feels validated. "I've previously experienced not being seen, heard, or acknowledged," says Daniela. "My family didn't go to college, but always hoped that I would make it. I now feel that confirmation and I know that makes my family enormously proud."
Daniela hopes that her story will inspire more students to pursue an education and career in public health.
Daniela's advice, "So many want to help, but don't know how. Sometimes, out of fear or just not knowing where to start. You do not need to have it all figured out. Give yourself the opportunity to gain different perspectives. Put yourself in places where you can learn. Ask questions. Be inquisitive. Give yourself the opportunity to have a self-discovery."
Daniela is graduating in Spring of 2022 with her Bachelor's in Public Health (BPH) from the University of Kentucky's College of Public Health. The Lyman T. Johnson Awards Ceremony banquet is slated for October 2022. More information about this event can be found here.