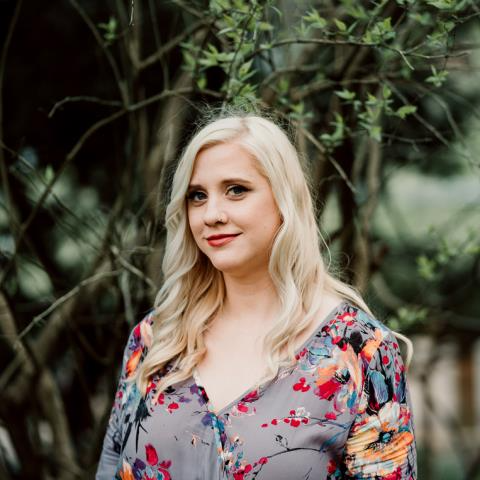 Meet first-generation graduate, Amber Kizewski
"We find ways to make it work"
Amber Kizewski is a first-generation graduate from the University of Wisconsin-Madison and was raised on a farm in Stevens Point, WI, along with her five siblings. 
Amber is the current Overdose Data to Action (OD2A) Project Director at the Kentucky Injury Prevention and Research Center (KIPRC), housed at the University of Kentucky's College of Public Health. 
She holds her MA in Sociology and is currently a PhD candidate in Educational Policy Studies and Evaluation at the University of Kentucky. Her research interests include investigating the evolving nature of the continuum of care as it relates to substance use disorders and evaluating evidence-based and evidence-informed practices, programs, and community interventions. 
As a first-generation graduate, Amber provides her story and advice to other first-gen learners, students, and future scholars. 
Navigating the college experience 
For many first-gen students, navigating the college experience can be challenging psychologically, academically, financially, and socially.  
"For me, this started with deciding where to go to college and understanding what (if any) financial resources were available to me," says Amber. "In fact, I, like many other first-generation students, did not understand I was first generation well into my first year of college." 
Beyond these challenges, fitting in and finding where you belong among your peers can be an added stressor. 
"Once I entered the university setting, it became evident that a lot of my peers had a foundational understanding of the university experience whereas I did not," says Amber.  

"Because of the knowledge their parents were able to impart on to them, many of my friends that went to the same university as I immediately understood how to become socially integrated into a campus setting by joining campus-based social events. This led to feelings of anxiety, and in some sense, shame, and feeling like an imposter." 
First-gens are resilient and savvy 
First-gens typically do not have the same shared advantage as others, but what they do have is a shared strength from overcoming challenges. 
"I believe that because many first-generation students come from less financial advantaged backgrounds, they are resilient and savvy," says Amber. "Although the system may not be 'built' for us, we find ways to make it work." 
Research your college options 
First-gens are self-reliant and find themselves, in many cases, having to do their own research when it comes to the larger investment projects in life – such as that important college decision. 
"Research the schools you are interested in that support first generation students during their academic journey, in their first year and beyond," says Amber. "This goes beyond just providing financial support, but also provides a suite of programming to help you connect socially." 
First-Generation Student Services at UK 
The University of Kentucky has a dedicated team, services, and programming for our first-generation population, which can be found at uky.edu/firstgeneration.