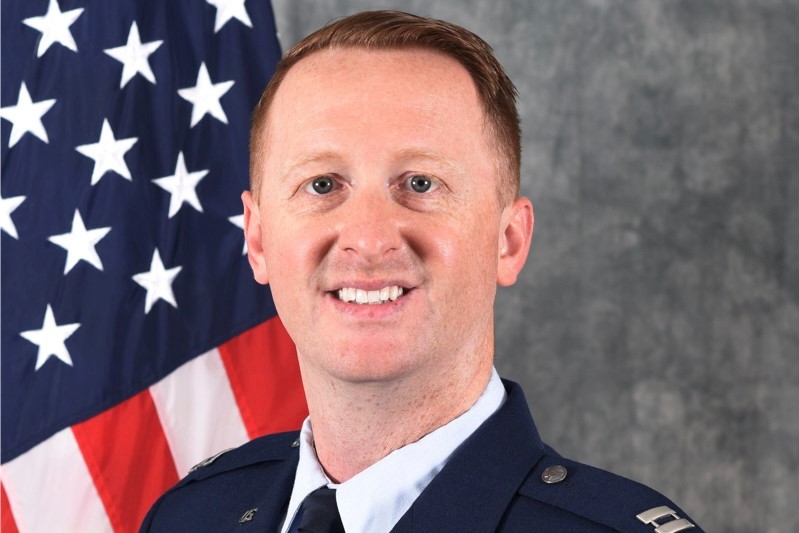 UK alum promoted to Air Force Major, prepares for new role at the Pentagon
On April 1st, 2023, alum Marcus A. Hincks, MHA, CHFP, was promoted to Major (Maj.) in the United States Air Force in a special ceremony attended by friends, family, and colleagues at Sheppard AFB, Texas.  
Beginning in July, Maj. Hincks is assuming a new role as the Fellow, Air Force Budget Programs at the Pentagon in Washington, D.C. Working in the Corporate Branch within the Office of the Air Force's Deputy Assistant Secretary for Budget (FMB), their mission is to formulate, build, defend, and execute funds aligned to achieve Department of the Air Force priorities and the National Defense Strategy. 
"Through this yearlong experience, I will gain tremendous insights and knowledge regarding financial management at the highest level of the Air Force, which I will then apply when I assume my follow-on assignment executing Defense Health Program funds at Defense Health Headquarters," says Maj. Hincks. 
Originally from Louisville, Ky., sports and competition were --- and continue to be --- initial drivers for Maj. Hincks that eventually led to meaningful leadership attributes in this career.  
Maj. Hincks claims to be the Intramurals Wiffleball Home Run Derby Champion while attending the University of Kentucky in 2009 and has a two-year-old French Bulldog named Griffey (named after the baseball player, Ken Griffey Jr.). 
Furthermore, Maj. Hincks' original baseball coach, Coach Scott, provided valuable mentorship from an early age through his teenage years. 
"He fostered my competitive spirit and taught me the importance of discipline, preparation, teamwork, and resiliency," says Maj. Hincks. "These are all attributes one must possess to succeed in any leadership role in any industry." 
Merging education in business and healthcare 
Maj. Hincks' higher education journey began at the University of Kentucky where he graduated with an undergraduate degree in Finance from the Gatton College of Business and Economics in 2010.  
After graduation, Maj. Hincks challenged himself to pursue a graduate degree because he wanted to be more competitive in the workforce. While researching different graduate programs and exploring different industry sectors, a classroom peer informed Maj. Hincks about the growing demand for healthcare and business.  
At that time, Maj. Hincks started exploring healthcare administration careers, which led him to the Master of Health Administration (MHA) program at the University of Kentucky College of Public Health (CPH). 
Reflecting on the MHA experience, Maj. Hincks enjoyed the group projects and working collaboratively with the other students in the program.  
"Getting used to working collaboratively with others as a student prepared me for life in the workforce," says Maj. Hincks. "Collaboration within your unit as well as with other departments is essential for success. I enjoyed the brainstorming process because of the intellectual stimulation that arises from listening to different perspectives and debating." 
Maj. Hincks became a Graduate Research Assistant during his final year in the MHA program, which he found a valuable experience. 
"I got to know the MHA faculty on a more personal level and collaborate with the professors on a variety of different tasks," says Maj. Hincks. "Establishing meaningful rapport with the faculty was the greatest benefit honestly and found them to be great mentors. Today, mentorship remains a big component of my leadership style." 

Maj. Hincks also enjoyed the camaraderie with his classmates – playing basketball at the Johnson Center, spending countless hours studying at the William T. Young Library on campus, or travelling to Chicago to attend the annual American College of Healthcare Executives (ACHE) Congress. 
The MHA capstone project experience also prepared Maj. Hincks to be career-ready and solve real-world problems. 
"I partnered with a local clinic to address their challenges, while applying Lean Six Sigma principles," says Maj. Hincks. "The approach of 'exploring the root causes, picking a course of action, and executing' is still my problem-solving mindset today." 

Academically, Maj. Hincks reflects positively on the faculty at CPH. 
"I owe everything to the professors of the MHA program," says Maj. Hincks. "Each of them left lasting impressions on me that helped propel me into the workforce. I always had a sense that the MHA faculty was invested in me as a student and genuinely cared about me as a person, which just furthered my sense of confidence."
Public health career 
After graduating in 2012 with a MHA degree at the University of Kentucky, Maj. Hincks began applying his education in both business and public health starting as an Administrative Fellow at SCL Health, which is now Intermountain Health, a leading non-profit organization and health system. 
"I found success early on by tackling some projects related to corporate governance restructuring and business development; however, I still characterize this entire experience as my most challenging professionally," says Maj. Hincks.  
"I learned a valuable lesson in resiliency. Experiencing adversity early on in my career was valuable because it taught me the importance of receiving and adjusting to constructive feedback as an employee as well as the importance of caring enough about your team to give them constructive feedback as a manager."  
In 2013, Maj. Hincks joined The Advisory Board Company (ABC) as a Senior Analyst, one of the largest healthcare research and consulting firms in the country.
"This role involved supporting the organization's healthcare industry clients (i.e., companies that produce healthcare-related products or services) stay current on healthcare industry trends and address any challenges they may be facing," says Maj. Hincks.  
"Over two and half years, I sharpened my critical thinking skills and applied some of the root cause analysis techniques I learned from graduate school. One of my managers once shared that the biggest compliment a client can give you is more work because it means they trust you. This still resonates with me today and especially as I have grown into management roles." 
A military calling 
Reflecting on what happened on 9/11 while in eighth grade, he flirted with enlisting at that time. Over the years, this desire to serve his country never ceased and a "calling" eventually happened. In 2015, Maj. Hincks made the important decision to join the military in the United States Air Force.
Maj. Hincks first learned of the Air Force's Medical Service Corps (MSC) (i.e., the officer corps for Air Force healthcare administrators) from a fellow MHA classmate, who commissioned after earning their MHA and impressively served over the next ten years. 
"Walking into that recruitment office in 2015 was one of the scariest moments of my life," says Maj. Hincks. "I am very grateful I made the transition because I truly believe this is where I am meant to be." 
Maj. Hincks has been an MSC for over seven years currently. Originally stationed at Dover Air Force Base in Delaware, he worked primarily in two units: Medical Logistics and Medical Readiness. Medical Logistics is the supply chain function of military healthcare facilities and Medical Readiness is the emergency management function.  
He deployed to Afghanistan during this period (where he also was baptized) and worked as the Executive Officer to the Task Force Medical-Afghanistan Commander, which is like a Chief of Staff position, according to Maj. Hincks.
From 2020 to 2022, he worked in Resource Management, which is the finance function of the clinic, and twice implemented a $16.5M operations budget. Since 2022, Maj. Hincks has worked in Patient Administration, which oversees the implementation of the TRICARE entitlement for the 15K beneficiaries residing in the Texoma region.
"Through these MSC roles, I've had a significant amount of experience in public speaking, conflict management, critical thinking, process improvement, human resource management, discipline, and more," says Maj. Hincks. "I have worked for some incredible people and have partnered with some very insightful mentors along the way. I have every intention of paying it forward as I go further down this military path." 
One of Maj. Hincks' biggest influences while servicing the military is Brigadier General Norman West, the commanding officer during the deployment to Bagram Air Base, Afghanistan. Originally, a standard six-month deployment, this changed quickly due to the COVID-19 pandemic. 
"The pandemic changed everything. It became the responsibility of the organization I worked for to develop the policies and procedures for the rest of Operation Resolute Support and Operation Freedom's Sentinel to adopt," says Maj. Hincks.
"As the Executive Officer to the Task Force Medical-Afghanistan Commander, I had a front row seat to observe how Brigadier General West and his team of senior leaders addressed the unique challenges of tackling an invisible enemy in an active war zone," Maj. Hincks adds. "He personified a purposeful leader and follower who welcomed all perspectives throughout the decision-making process and harped on the importance of resiliency during especially trying times." 
Promotion and Pentagon 
Previously a Captain, a special ceremony recently took place to promote Marcus. His uncle, Lt Col (retired) David Hincks, was the Presiding Officer, giving the oath of office and being the first salute as a new Major. 
Leading up to this military milestone, Maj. Hincks was awarded the Bronze Star Medal by General Austin Scott Miller – the highest-ranking military officer in Afghanistan (at the time) and the Commander of NATO's Resolute Support Mission.
"It was a surreal and humbling moment," says Maj. Hincks. "It will serve as a differentiator on my résumé throughout the remainder of my military career considering how rare it is for an MSC to have earned one, especially as a younger officer."
Most recently, Maj. Hincks achieved another major career milestone by completing all the Healthcare Financial Management Association's requirements to become a Certified Healthcare Financial Professional, identifying his interest in focusing on resource management to the MSC Developmental Board ((i.e., the senior officers in charge of appointing applicants to these competitively selected positions).
Career advice 
Maj. Hincks shares that he has no regrets pursuing a career in healthcare administration. In addition, Maj. Hincks added there's increased demand for healthcare professionals because of not only the COVID-19 pandemic but also a rapidly aging population.  
"There is tremendous job security in the healthcare sector, and it is ever-changing, so you will also never be bored," adds Maj. Hincks. 
Maj. Hincks believes that the military is not as intimidating as it may first appear. With that said, you must understand the importance of what it means to raise your right hand and take the oath. 
When joining any organization or team, Maj. Hincks advises to "build rapport" and "credibility" first. Get to know the people (especially your immediate leadership) and understand the process, before deciding to change things. Your reputation matters as well, so be a good human being and treat others with respect and integrity.
"Bloom where you are planted," says Maj. Hincks. "If you are placed in a department or overseeing a project you aren't necessarily interested in at first, it is still important that you maintain a positive attitude and give it your best effort. No one, especially senior leaders, wants to work with (or for) a complainer, so buckle up and do your best to learn." 
Being a health champion 
At the University of Kentucky College of Public Health, the mission is to develop "health champions," conduct multidisciplinary and applied research, and collaborate with partners to improve health in Kentucky and beyond. 
"There are two facets to being a 'health champion': one centers around helping others, and the second centers around leading by example," says Maj. Hincks. "Someone who ensures access to high-quality healthcare services is certainly a health champion because they enable healthcare delivery for others. A health champion is someone who actively lives a healthy lifestyle and helps motivate others to be healthier." 
Lastly, Maj. Hincks is the epitome of a girl-dad, raising three young daughters with his wife Samantha who continues to show her support by complimenting the "unwavering confidence" he shows his family, career, education, and military service. 
To learn more about our programs, people, and passion for public health, visit cph.uky.edu.