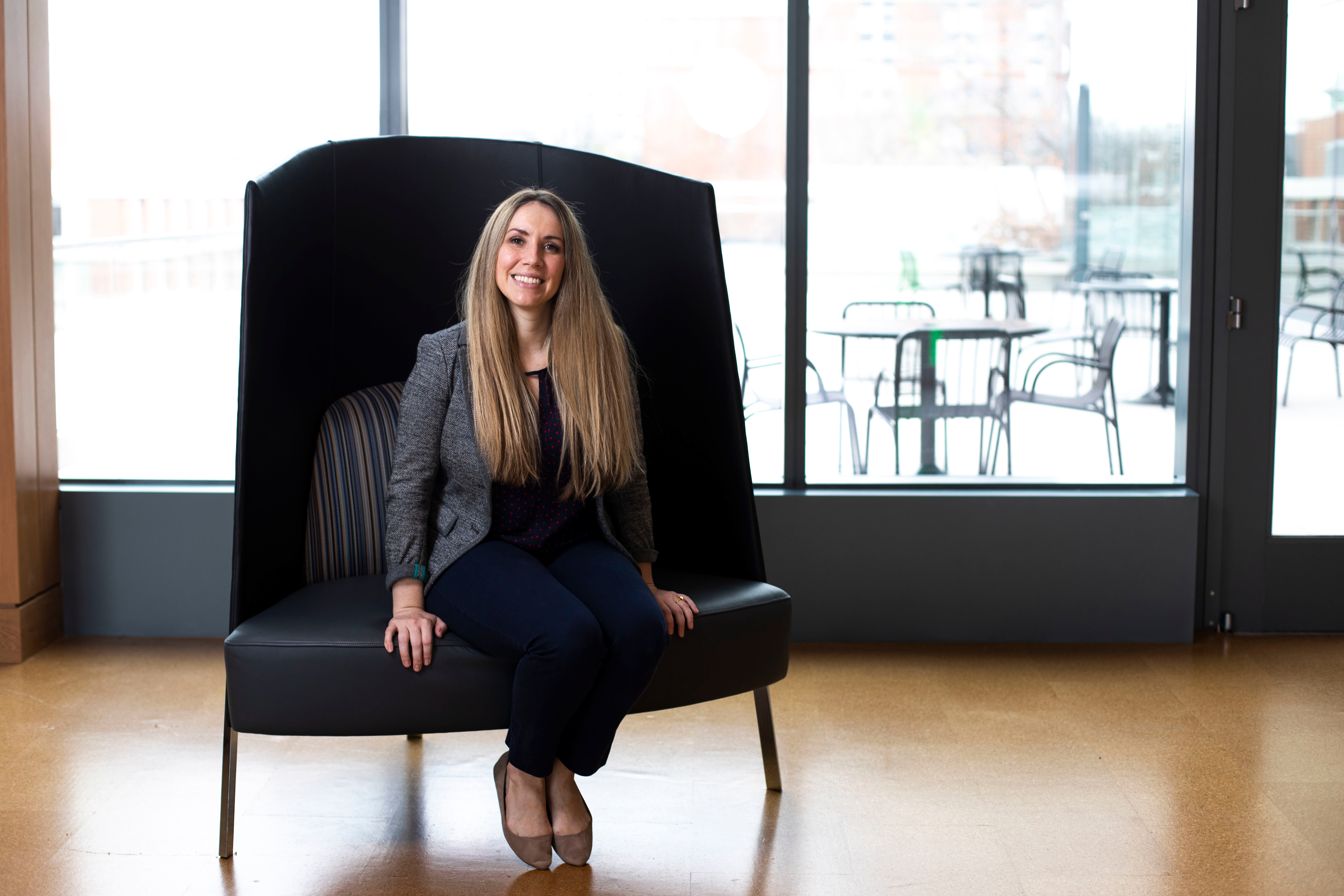 UK researchers to study COVID's illicit fentanyl market spike in Eastern Kentucky
The perfect storm brought on by the influx of illicit fentanyl combined with the COVID-19 shutdown in March 2020 resulted in a 49% spike in the number of drug overdose deaths in Kentucky compared to the same period in 2019. Kentucky's spike in overdose deaths is one of the greatest increases nationwide.
To understand how this happened — and help prepare should similar conditions happen again — University of Kentucky researchers are studying the changes in the illicit fentanyl market that occurred around the time of the COVID shutdown in Eastern Kentucky by going to the source: collecting data from and interviewing law enforcement, harm reduction specialists, and people who sell and/or use illicit drugs. 
Principal Investigator Rachel Vickers-Smith, Ph.D., assistant professor in the College of Public Health Department of Epidemiology and Environmental Health and co-investigators April Young, Ph.D., epidemiology and environmental health professor, and  Katherine Thompson, Ph.D., statistics associate professor in the College of Arts and Sciences, see Kentuckians directly involved in the sale and use of illicit drugs as uniquely capable of providing insight into how to protect the community during times of crisis. 
Focusing primarily on rural Eastern Kentucky, the study, "Dealers, Detectives, and People Who Use Drugs: Triangulating Perspectives to Understand COVID-19's Impact on the Rural Appalachian Drug Market and Mitigate Downstream Overdose Risk," will pair qualitative interviews with analysis of data spanning the pre-/post-COVID period to identify factors that put rural residents who use drugs at higher risk of experiencing harmful effects, such as overdose, as a result of changes in the illicit drug market.
They are also interested in understanding what people do to keep themselves safe from experiencing those harmful effects. Additionally, the researchers will explore participants' attitudes toward potential harm reduction strategies such as peer- and dealer-driven distribution of fentanyl test strips.  
"We're talking with people who use drugs, who are the ultimate experts of their experience. We are also talking with law enforcement who interact with the drug market through drug seizures, arrests, etc. They have a really good idea of what's going on at the ground level in terms of the street drug market," says Vickers-Smith. "We're also talking with harm reduction program staff who are interacting with people who use drugs on a regular basis so that they can share with us what they've seen pre- and post-pandemic." 
"We're trying to get information in their words, on what they saw, along with their experiences, so we can blend the survey data with interview data to get a richer picture of what's going on," Vickers-Smith adds. "What we mean by triangulation is that we are getting information from multiple sources. To answer the question of how the COVID period impacted the illicit drug market in Eastern Kentucky, we're asking law enforcement, harm reduction, and people that use drugs; thus, triangulating these perspectives." 
Partnerships and Collaborations 
For the National Institute on Drug Abuse-funded study, Vickers-Smith, Young and Thompson are recruiting from cohorts of people who are already involved in other UK studies, such as CARE2HOPE, and have expressed interest in being contacted for future studies. 
"Researchers have been working throughout Eastern Kentucky building relationships so that it's really a partnership," Vickers-Smith says. "The people who are involved in the studies see that they're contributing to their community, but that takes a long time for that trust to be built."  
The study team is drawing on the expertise of the CARE2HOPE Community Advisory Board, a group of people who draw on their drug use experience to advise on substance use research. The board will help the investigators not only with what questions to ask but also how to ask them in a way that is sensitive and inclusive. 
Vickers-Smith hopes that the advisory board members, as well as the study participants, can share in the results of the two-year study. In fact, she sees the collaboration itself as important as the information gleaned from the study.
In addition to the insights that the study will reveal about ways that people can protect themselves when there are changes in the drug supply, Vickers-Smith hopes the study will help her and other researchers in Kentucky build stronger partnerships with people who use drugs.  
"We don't want to just collect data, say thanks, and then the community never knows what comes of it," says Vickers-Smith. "I really want to have a feedback loop with the community to say this is what we found in collaboration with members from your community.  I want to create space for the community to be engaged in the research process, because I think the most impactful information comes through that partnership. They're critical partners." 
About the Team 
Vickers-Smith is a substance use epidemiologist whose research focuses on identifying and preventing adverse outcomes and harms related to changing patterns in the drug use landscape, particularly among veterans and rural people who use drugs. Her work was among the first to identify gabapentin as an emerging drug of misuse in the U.S. and is cited frequently in studies of gabapentinoids. Vickers-Smith uses mixed methods in many of her studies and is a strong advocate of interdisciplinary science and regularly collaborates with colleagues in genetics and medicine.  
Young is a professor in the Department of Epidemiology and Environmental Health and faculty associate with the Center on Drug and Alcohol Research. She has been conducting substance use research in rural Kentucky for more than 10 years and has led several studies on substance use in Eastern Kentucky, including CARE2HOPE, which was funded by a cooperative agreement under the National Rural Opioid Initiative. 
Thompson is an associate professor of statistics in the College of Arts and Sciences, associate director of the Predictive Analytics and Data Science Hub (formerly the Applied Statistics Lab), and director of graduate studies for the Dr. Bing Zhang Department of Statistics at UK. Her research interests include developing relevant statistical methods for analysis of large health care data sets, in particular health care claims data and/or health outcome data; deriving interpretable quantities for use in predictive modeling for large sample sizes and/or numbers of variables; and developing methods in statistical genetics, in particular methods for phylogenetic analysis with applications in cardiovascular health. 
Young, Vickers-Smith and Thompson also are among the team of researchers at UK involved in the HEALing Communities Study in Kentucky, funded by a historic $87 million grant awarded to UK to reduce opioid overdose deaths. 
Research reported in this publication was supported by the National Institute on Drug Abuse of the National Institutes of Health under Award Number R21DA055028, UH3DA044798 and UM1DA049406. The content is solely the responsibility of the authors and does not necessarily represent the official views of the National Institutes of Health.