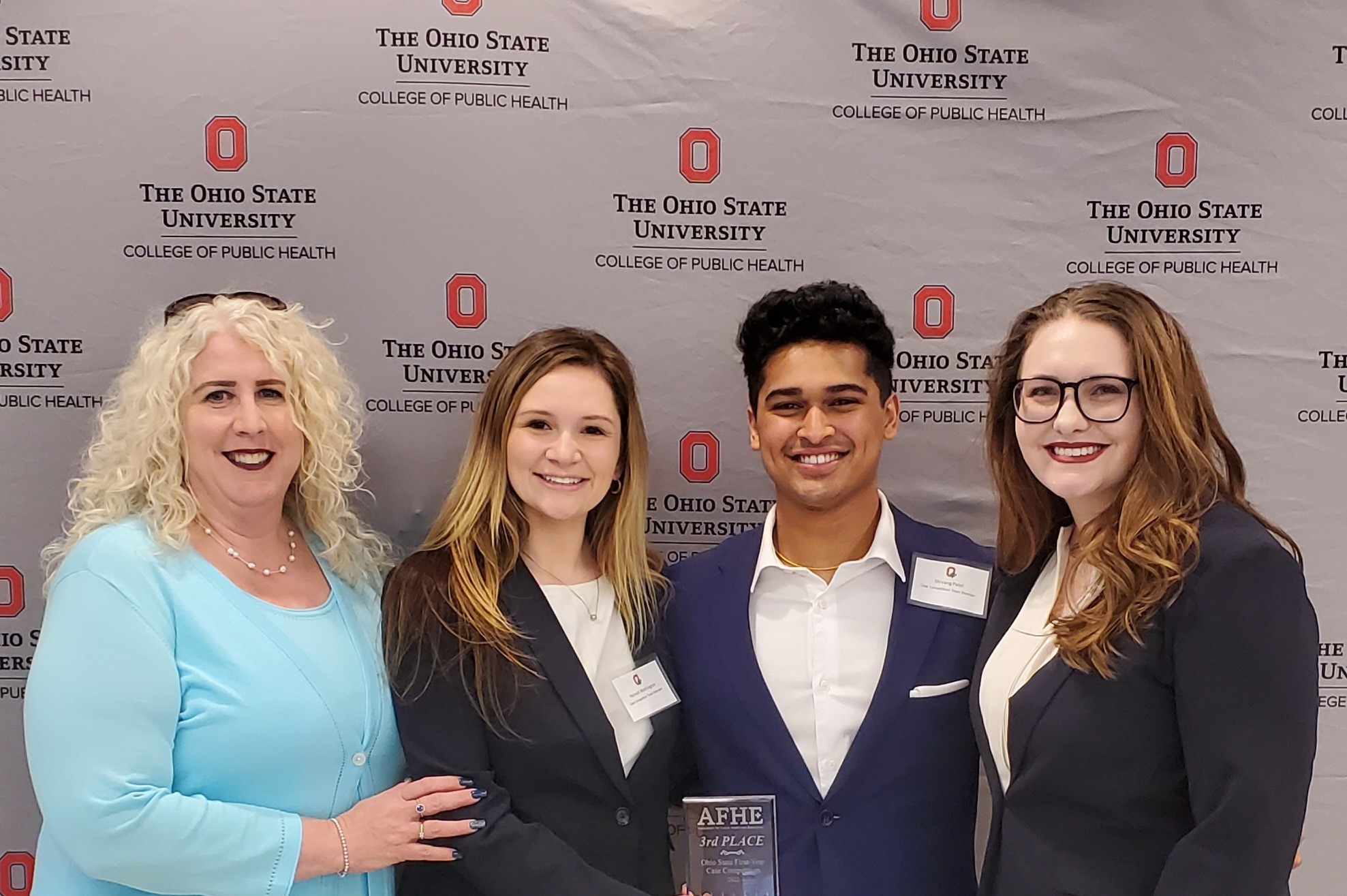 University of Kentucky MHA student team places third at the Ohio State Case Competition
The University of Kentucky College of Public Health Master of Health Administration (MHA) student team of Hannah Wethington, Shivang Patel, and Shelby Watkins recently placed third at the 2022 Ohio State Case Competition.
"I am so proud of this team and our MHA program here at the University of Kentucky," says Dr. Maureen Jones, MHA Program Director, and Associate Professor at the UK College of Public Health. "The students showed true teamwork, grit, and determination."
This competition provides first-year graduate students from health administration programs across the country an opportunity to put what they have learned into practice with a real-life case. 
"This case competition taught me so much about the healthcare industry, but also taught me so much about myself," says Patel. "It was an honor to represent the University of Kentucky at the Ohio State Case Competition. I want to thank Dr. Jones and the rest of our faculty for mentoring and teaching us all the tools necessary to be successful."
"I not only grew academically, but also personally as a future healthcare leader," says Wethington. "I gained confidence in myself and learned how to lean on the people around me when things got difficult. The opportunity for personal growth, networking, and academic expansion made this experience one that I will cherish throughout my career."
This year's case competition gave the 21 participating teams an opportunity to recommend interventions to reduce emergency department overcrowding at Massachusetts General Hospital (MGH). The final judge's panel, who chose the winners, included the COO, Sr. VP, and an Executive Director at the MGH.
The UK MHA program is designed to help individuals assume leadership positions in a variety of health services organizations. The mission is to provide students early in their careers with competencies that support their success in managerial and leadership positions in complex healthcare organizations and provide a solid foundation for their career development.
"Our students don't leave here with just a degree," says Dr. Jones. "They leave here with a set of relevant leadership skills they can apply right away. Graduates accept positions across Kentucky and the country at UK HealthCare, Norton, Ascension, Duke, the Veteran's Administration, UC Health, Rush, Mayo and more. But in the process of getting meaningful positions, they are making differences in their communities."
Learn more about the UK MHA here.