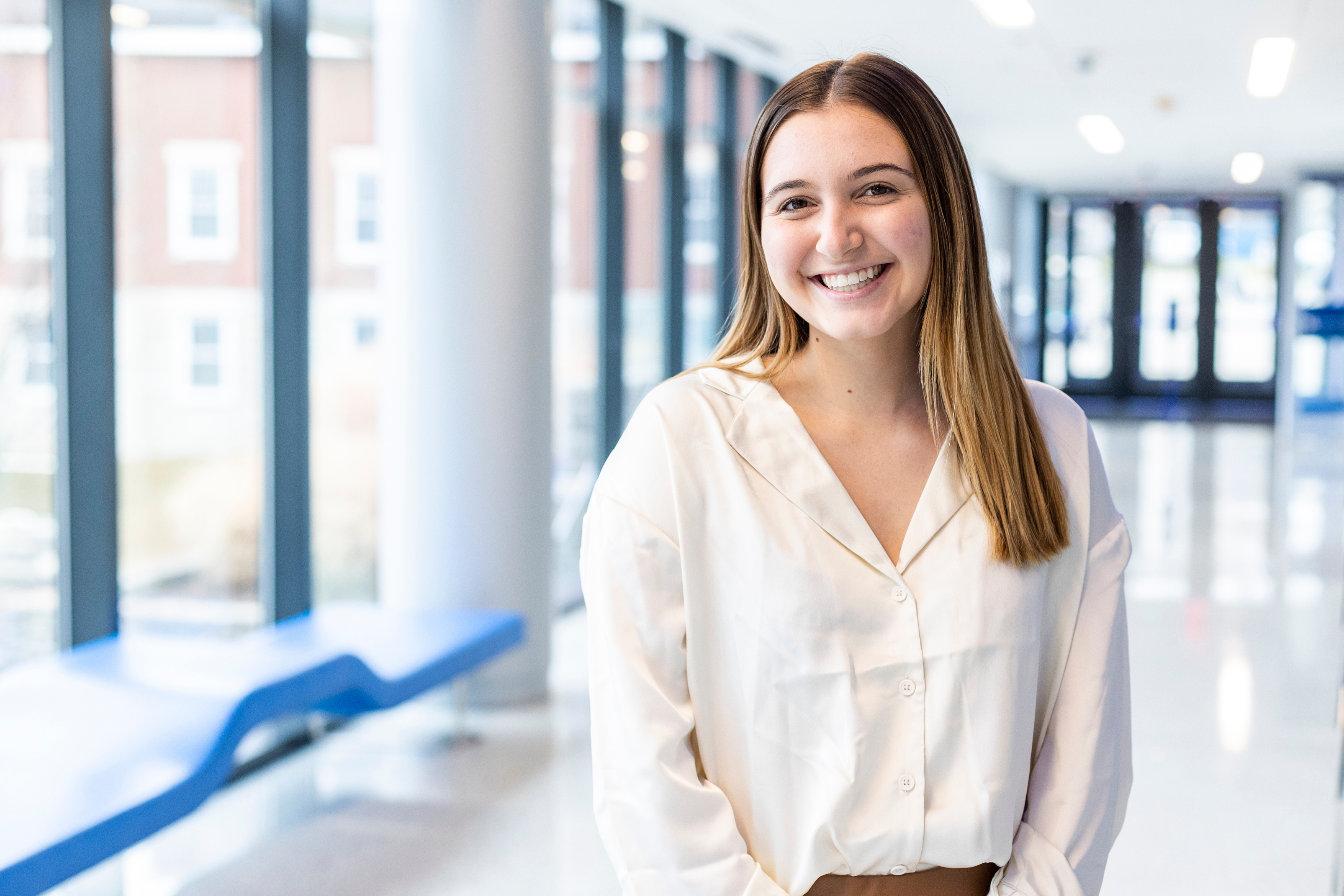 Alyssa Hargis comes full circle with her degree in public health
Growing up outside of Cincinnati, first-generation college graduate Alyssa Hargis kept seeing patterns of chronic disease among her family and friends.
Her grandmother passed away from breast cancer, her pre-school friend died from an aggressive brain cancer, and she watched as others within her community battled chronic illnesses.
"I thought the exposure to illness was normal because of how I grew up and what I was exposed to," Hargis said. "But when I came to college and I started making connections with my friends, I realized that is not how life should look. You should not have an abundance of connections to people that have severe chronic illnesses."
It was a University of Kentucky College of Public Health (CPH) course that helped the College of Arts and Sciences Environmental & Sustainability Studies student begin to understand how and why the health disparities she witnessed growing up develop and how they can be mitigated.
"I was like, this makes so much sense," she said, thinking back to the CPH class that led her to pursue a bachelor's degree in public health (BPH) in addition to her environmental and sustainability studies. "So, I added the BPH, and it really balances out great.
"In my environmental classes, I'm learning about factors that influence well-being in people's attitudes toward their natural environments. Then, in my public health classes, we take it a step further and learn about the social determinants of health."
During her time at UK, Hargis rounded out her studies with a service-learning trip to Santo Domingo, Ecuador, through UK's Shoulder to Shoulder Global program and an internship with the Kentucky Cabinet for Health and Family Services.
She served as president of Gamma Phi Beta sorority, as a UK College of Arts and Sciences student ambassador, and as a Student Wellness Ambassador. She has also served on the UK Student Philanthropy Board.
In 2021, Hargis received UK's Emerging Leader Award, and this year she was named UK Undergraduate Intern of the Year for her work at the Kentucky Environmental Public Health Tracking Network in the Kentucky Department of Public Health, where she led Kentucky's participation in a nationwide Centers for Disease Control and Prevention pilot study to examine patterns in cold-related illness mortality.
"It came full circle for me," she said of the internship experience. "That's what I was originally trying to do with my environmental degree. The whole internship was a really awesome opportunity.
"I think it just established my confidence in myself that I know I can do whatever I set my mind to. I feel so lucky that I got that opportunity because it really solidified that this is what I wanted to do when I move forward in my career. It was a great opportunity."
Hargis said she's beyond thankful for all the help she received from faculty and staff, especially navigating college as a first-generation student and as a Pell Grant-eligible student.
"When I started college, I felt my friends and my peers had all these tips from their parents on what you need to do to get your four-year degree," she recalled. "And my parents were just happy I was here, so they didn't have any tips for challenges. But I would say it definitely brought me a fresh perspective on how to get involved quickly, because I was figuring it all out myself.
"I feel like I've rounded my support system in college, through getting involved in different organizations. That's where I met a lot of people and established a community. But I definitely think the biggest challenge was feeling already a step behind my peers, when in reality I knew that wasn't true."
As a first-gen student, she also didn't know how to navigate paying for the cost of college, but the financial aid team at UK proved highly beneficial.
"They are so nice, and they never make you feel like the question you're asking is too much," Hargis said. "They were so supportive of me and made sure that I got to my educational goal of graduating.

I'm just thankful for all the different offices throughout UK whether it's the College of Public Health, the College of Arts and Sciences, the financial aid office, the first-generation office—all of them have been integral to my success here, and I couldn't have done it without their support."
Hargis, who was one of two student representatives to speak at the UK December 2022 Commencement Ceremonies, plans to pursue her Master of Public Health (MPH) in Health Behavior/Community Health and become a leader in health initiatives and program interventions in underserved communities throughout the world.
"I really want to study health behavior and understand why people make the health decisions they do based on the natural environments that they live in," she says. "And continue to answer that question of why the people around me in my life had all those disparities just because of where we lived."
At the UK College of Public Health, our vision is to be the catalyst of positive change for population health. Our mission is to develop health champions, conduct multidisciplinary and applied research, and collaborate with partners to improve health in Kentucky and beyond.
Learn more about our people, programs and passion for public health at cph.uky.edu.