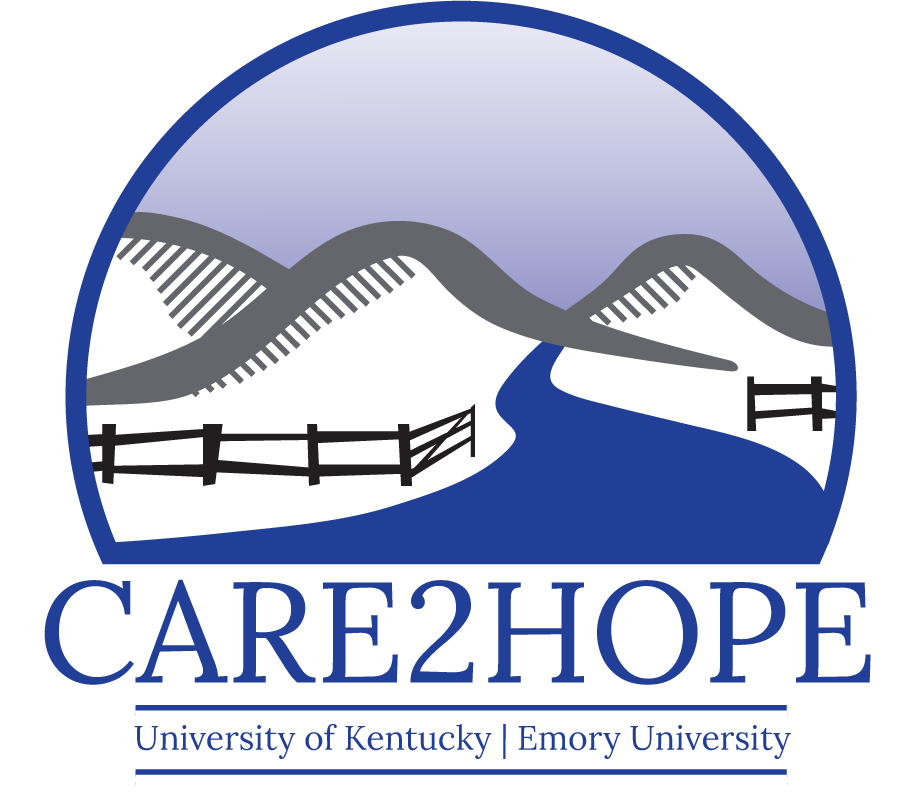 CARE2HOPE project honored with APHA's 2023 Public Health Practice Award
The CARE2HOPE project, a collaborative effort between the University of Kentucky College of Public Health and Emory University's Rollins School of Public Health, has been named the winner of the American Public Health Association (APHA) Epidemiology Section's 2023 Public Health Practice Award.
The Public Health Practice Award honors those who creatively apply epidemiological methods to enhance public health. The award will be presented at the APHA Annual Meeting in Atlanta on Nov. 13.
CARE2HOPE, led by April Young, PhD, Professor of Epidemiology and Environmental Health at the University of Kentucky College of Public Health, and Hannah Cooper, ScD, Professor of Behavioral, Social, and Health Education Sciences at Rollins, addresses harms related to substance use and the criminalization of substance use in Eastern Kentucky communities. The project integrates epidemiological methods to gather data and insights necessary for addressing and preventing harms like overdose, hepatitis C, and HIV risk.
In this effort, the team collaborates extensively with local health departments, state governmental partners, community members, and advisory board members who have lived and living experience with substance use. These partners have been key to the project's success, as has the expertise of the community-based staff who have earned the trust of local people who use drugs and treated them with the compassion they deserve.
"I am deeply honored that the APHA has recognized the outstanding achievements of the CARE2HOPE project team," said Dr. Young. "This award emphasizes the dedication of countless individuals in the effort to reduce drug-related harms in Appalachian Kentucky and highlights the essential role of epidemiology in shaping innovative public health solutions. My gratitude extends to the staff, state and local partners, CARE2HOPE advisory board, and our community-academic partnership groups."
The UK team members involved in this project—Jennifer Havens, PhD, Carrie Oser, PhD, Michele Staton, PhD, Michelle Lofwall, MD, Shanna Babalonis, PhD, Patricia Freeman, PhD, and Laura Fanucchi, MD—serve as faculty associates in the UK Center on Drug and Alcohol Research. Their expertise covers a range of areas, including substance use disorder treatment, hepatitis C and HIV risk reduction, and intervention within the criminal legal system.
These experts from the University of Kentucky are nationally recognized for their expertise in substance use research and have established a track record of successful collaborations with federal, state, and local partners in Kentucky communities.
About CARE2HOPE
The CARE2HOPE (Kentucky Communities and Researchers Engaging to Halt the Opioid Epidemic) project began in 2017 and operates in 12 counties within rural Appalachian Kentucky. CARE2HOPE is one of a select few projects funded by the National Institutes of Health as part of the National Rural Opioid Initiative.
"CARE2HOPE is a testament to the remarkable ability of local communities to effectively address drug-related harms, said Dr. Cooper, emphasizing the project's significance. "Preliminary findings demonstrate that the intervention successfully reduced drug use frequency, lowered hepatitis C and HIV risk behaviors, and increased accessibility to naloxone."
To learn more about our people, programs, and passion for public health, visit cph.uky.edu