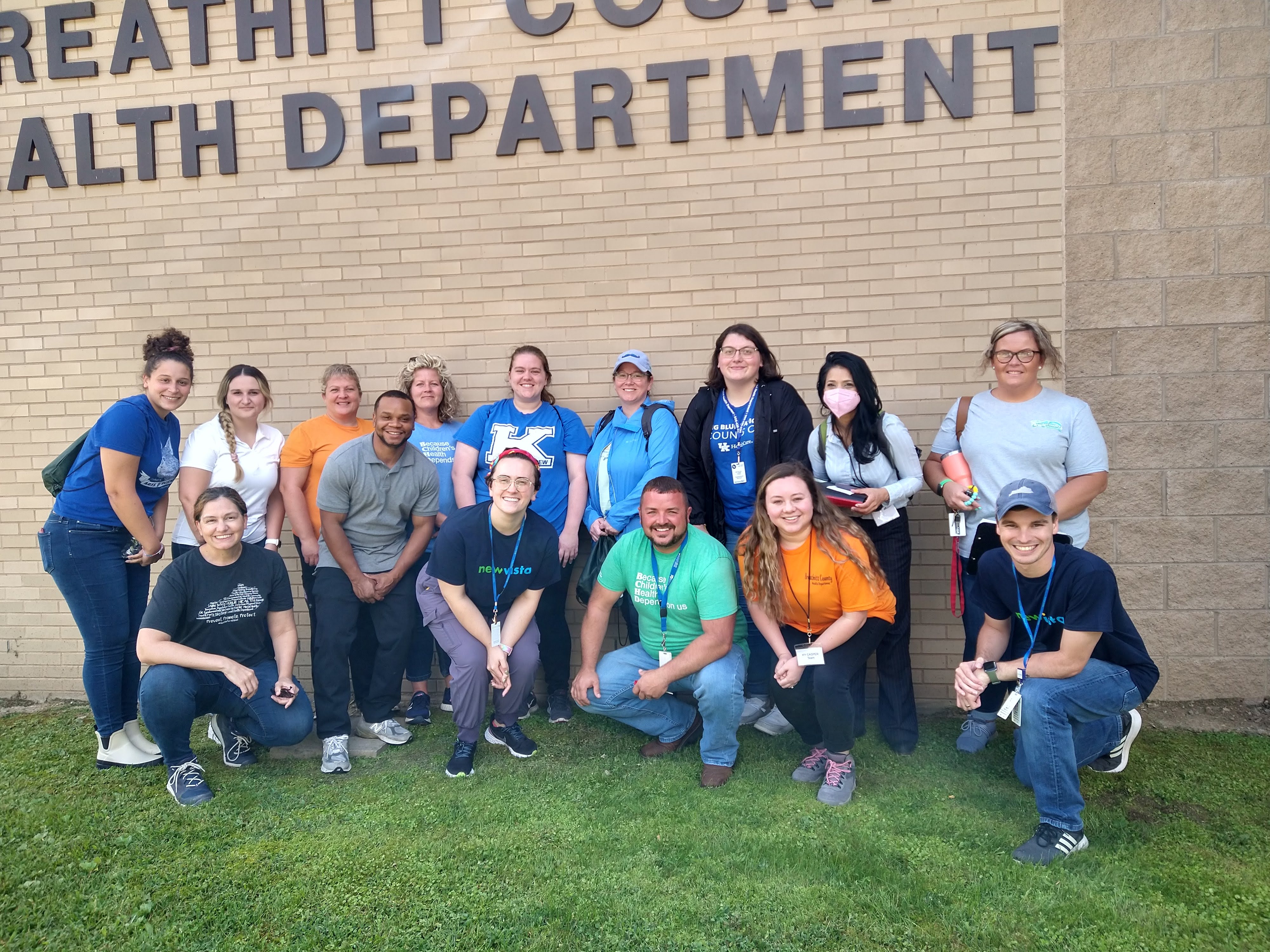 College of Public Health partners with practitioners to engage communities through CASPER
In response to the devastating flooding in Eastern Kentucky, a group of University of Kentucky College of Public Health (CPH) students recently contributed to public health preparedness and response by assisting agencies across the state's tiered preparedness system through the Community Assessment for Public Health Emergency Response (CASPER). 
CASPER are rapid needs assessments that bring together local and state health departments and the U.S. Centers for Disease Control and Prevention (CDC) to facilitate disaster response and recovery, assess emerging needs in the community, identify information gaps, and initiate public health action.  
Over a five-day period, Janie Cambron, CPH's associate dean for practice and workforce development, led a support team comprised of CPH undergraduate and graduate students, faculty, and staff to recruit, coordinate, and deploy a response team to support public health practice partners implementing this time-sensitive epidemiological exercise. 
According to Dr. Kathleen Winter, state epidemiologist and assistant professor in epidemiology and environmental health at CPH, multiple agencies collaborated to field the CASPER on an extremely short timeline.  
"Disaster response is often very rapid, with many moving parts. Coordination and collaboration are key," says Winter. "A statewide planning team was created as part of the incident command structure." 
Local health departments and the Kentucky Department for Public Health (KDPH) worked with the CDC to pull together resources for the CASPER assessment and rapidly deploy teams so that information about household needs within the community could be obtained. CASPER surveys can be used in disaster or non-disaster settings and are a fast, relatively inexpensive way to gather data.  
"Having real time data will assist these communities in their efforts to rebuild, ensure they have basic needs met, as well as potentially bring more resources and funding back to these areas," says Winter. 
CASPER in Action
Upon arriving at the Floyd County Rescue Squad Training Facility, the support team joined more than 60 public health, emergency preparedness, and mental health experts from across the state for a four-hour, Just-in-Time Training session.  
During the training, CDC, state, and local officials discussed the CASPER methodology, which involves teams conducting in-depth interviews with households across a 30-cluster sampling frame.  
Due to the size of the flooded area, two CASPERs were conducted simultaneously: the first focused on the Kentucky River District Health Department service area, and the other focused on surrounding counties, including Clay, Floyd, Breathitt, and Pike.  
The support team were assigned to groups and partnered with local experts to target specific clusters across the region. Over the course of three days, students fulfilled numerous support roles, from visiting homes to conduct the assessment, listening to community member's needs, reviewing, and cleaning data to supporting mental health professionals at CASPER headquarters.  
These experiences drew from and built on their experiences in CPH classrooms. 
"It really helped me to put the information learned in class in perspective and see the importance of it. It was helpful to see how classroom concepts apply to the real world," says Mary Beth Begley, current Master of Public Health student at CPH. 
In addition to being part of public health in action, seeing the affected region in person while learning more about physical and mental health needs of Kentucky's vulnerable populations affected students on a personal level. 
"People in the communities appreciated our efforts to help. Talking to them and hearing their stories made me even more passionate about public health and emergency response. I have only learned about emergency response in class, but seeing it in action was a wonderful experience," says Delaney Bond, current Master of Public Health student at CPH. 
State and local public health officials have shared their appreciation and enthusiasm for students' efforts in the field.  
"I think it was an amazing experience for [the students] and our leadership team," remarked Kristy Bolen, an epidemiologist with the KDPH. "I can't tell you how much joy it brought me to hear our leadership team explaining practicum ideas to the students and actually adopting their ideas during the week." 
Upon conclusion of the CASPERs, preliminary data were shared with team members who conducted the work in advance of a formal report that will be issued in the future. 
"Among the most pressing challenges public health officials face during and after a disaster is the need to make critical decisions with limited data," asserts Dr. Anna Hoover, assistant professor in epidemiology and environmental health. "CASPERs provide an opportunity for public health and emergency management officials to better understand physical and mental health resource needs, as well as communication gaps, in communities that have experienced a disaster."  
Data that students helped generate from these CASPERs will better enable local organizations to meet immediate needs while also laying groundwork for building community preparedness and resilience before the next disaster arrives. 
Engaging in real-world opportunities is a keystone of public health education, and this experience exemplified CPH's commitment to real-world learning and application. 
According to Cambron, "I saw many light bulb moments during the week with the students. They asked a lot of great questions. They were productive members of their response teams and took advantage of the opportunity to network with many public health professionals at the federal, state, and local level." 

Cambron continues, "Unfortunately, disasters continue to be part of the landscape of Kentucky public health. Seeing how the public health workforce is part of prevention, response and recovery is integral to the student experience.

When these students enter the workforce in the next few years, we are confident that these experiences will help shape and mold them into better-prepared public health champions. Building infrastructure for student experiential learning and public health response capacity is important to CPH."  
Partnerships and Support
We are thankful for our direct partnership with the Kentucky Department for Public Health, our local health department, and the CDC.
We are especially grateful for our partners within the UK College of Agriculture, Food, and Environment and the Central Appalachian Regional Education and Research Center for their support and funding for this endeavor.