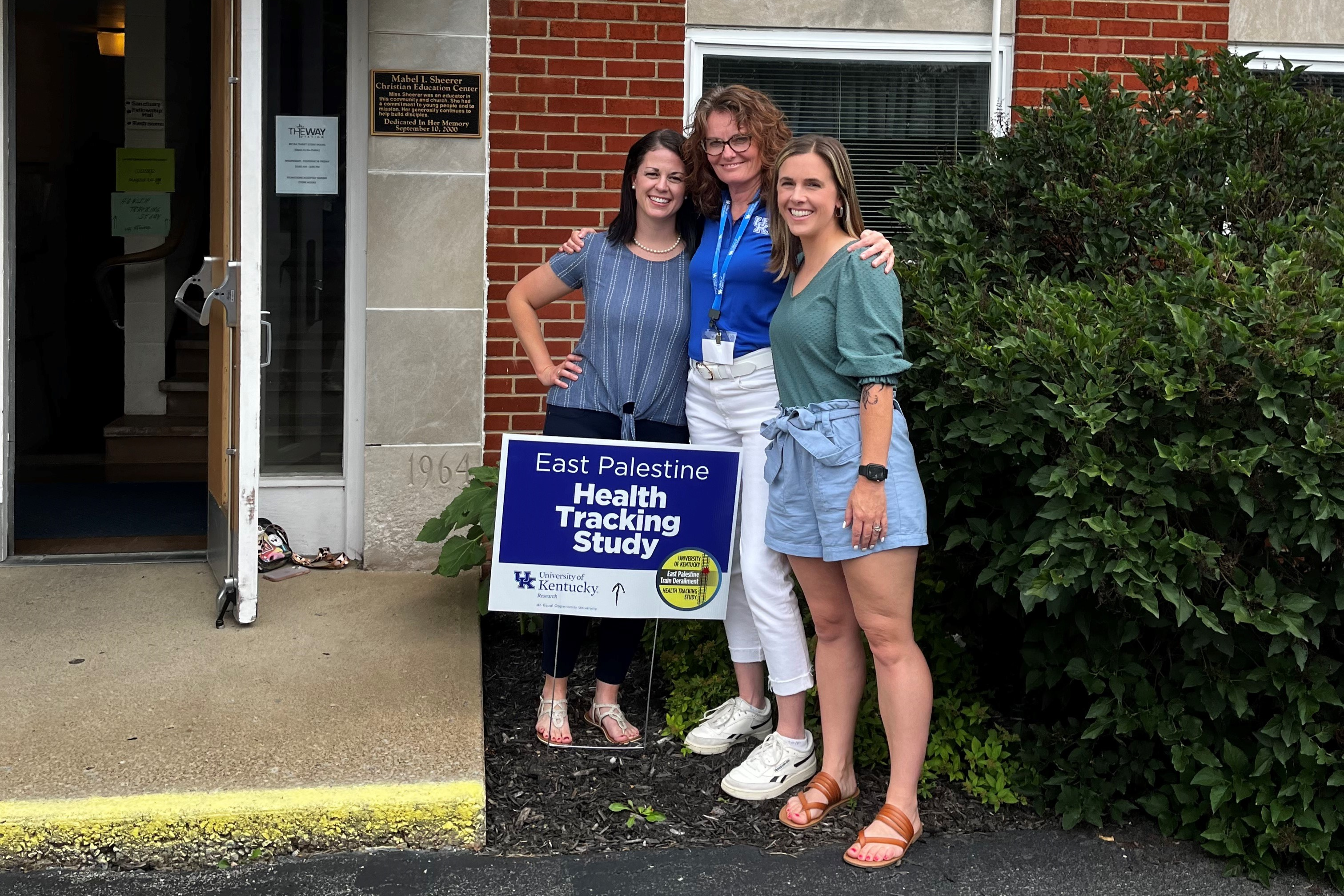 Dr. Erin Haynes Conducts Health Tracking Study in East Palestine
The University of Kentucky College of Public Health launched a health tracking study led by Dr. Erin Haynes, the Kurt W. Deuschle Professor of Preventive Medicine and Environmental Health and the chair of UK's Department of Epidemiology and Environmental Health, to uncover potential long-term health effects of residents following the East Palestine, Ohio, train derailment on February 3 of this year. The train was carrying hazardous materials, which has raised concern about short- and long-term effects they might have on East Palestine residents' health. 
"This research is an important step in determining levels of exposure to chemicals related to the derailment and the cleanup," said Dr. Haynes. "The results from this exploratory study will inform the direction for larger-scale studies." Dr. Haynes anticipates that this pilot study will point the direction for additional research funding for large-scale biological sampling.
"My team is in this for the long term. We are committed to the community and will work with them to identify their exposures and any health outcomes associated with those exposures," she added. 
The first phase of the study began in April with an online health tracking survey, open to residents aged 18 or older in Columbiana, Mahoning, Stark, Carroll, and Jefferson counties in Ohio, Beaver and Lawrence counties in Pennsylvania, and Hancock County in West Virginia. Participants were asked about their experiences during the evacuation, their concerns about exposures, and any health symptoms they have noticed, including stress.
A subset of survey participants was invited to participate in a study funded by the University's Center for Appalachian Research in Environmental Science (UK-CARES), a National Institute of Environmental Health Studies Environmental Health Sciences Core Center. Dr. Haynes and her team traveled to East Palestine to distribute wristbands that absorb chemicals from the environment and to collect blood and urine for testing.
The wristbands were distributed to 80 residents and were to be worn for seven days. Provided by the Human Health Exposure Analysis Resource, a centralized network of exposure analysis services and expertise, the wristbands absorb chemicals in the environment as the residents go about their daily routines. They will be analyzed for polycyclic aromatic hydrocarbons and chlorinated dioxins by Duke University's Dr. Heather Stapleton.
"I participated in the wristband study and it was a great experience! The wristband was non-invasive and the entire process was seamless. I am so grateful for Dr. Haynes' presence in our community. Her entire team treated participants with empathy and were vested in being part of this project. I was treated as a unique person and not merely a human test subject," shared Misti Allison a participant in the health tracking study.
Twenty survey respondents were invited to participate in a pilot biological exposure study where samples of blood and urine would be collected to be analyzed for chemicals associated with the derailment.
Urine samples from four members of Dr. Haynes team were also collected before the team members arrived in East Palestine and just before they returned home to determine pre- and post-exposure levels of chemicals related to the derailment. Passive air devices measured air quality during their visit to the area.
Urine samples will be screened for metabolites of vinyl chloride, acrolein, butyl acrylate, and 2-ethylhexyl acrylate by the Center for Leadership in Environmental Awareness and Research (CLEAR) lab at Wayne State University, led by Dr. Judy Westrick.
The Centers for Disease Control and Prevention will analyze the blood serum for dioxins and furans; immune function will be measured by Dr. Ilhem Messaoudi, professor and chair of the Department of Microbiology, Immunology and Molecular Genetics at the University of Kentucky College of Medicine.
Results from this exploratory pilot program will be available in the coming months and will be used primarily to identify areas where further investigation is necessary. "I hope this study reveals the answers our community has been seeking. This is groundbreaking research and I'm hoping this will afford data that will help our community and others in the future. I am hopeful and praying that Dr. Haynes is able to obtain additional grant funding so we can know if it is safe to be here long-term," shared Misti Allison.
The health tracking survey is still open, and the team is offering a chance to win $100 each month to those who take the survey. To learn more, visit https://cph.uky.edu/research/cares/east-palestine-train-derailment-health-tracking-study.
To learn more about our people, programs, and passion for public health, visit cph.uky.edu.