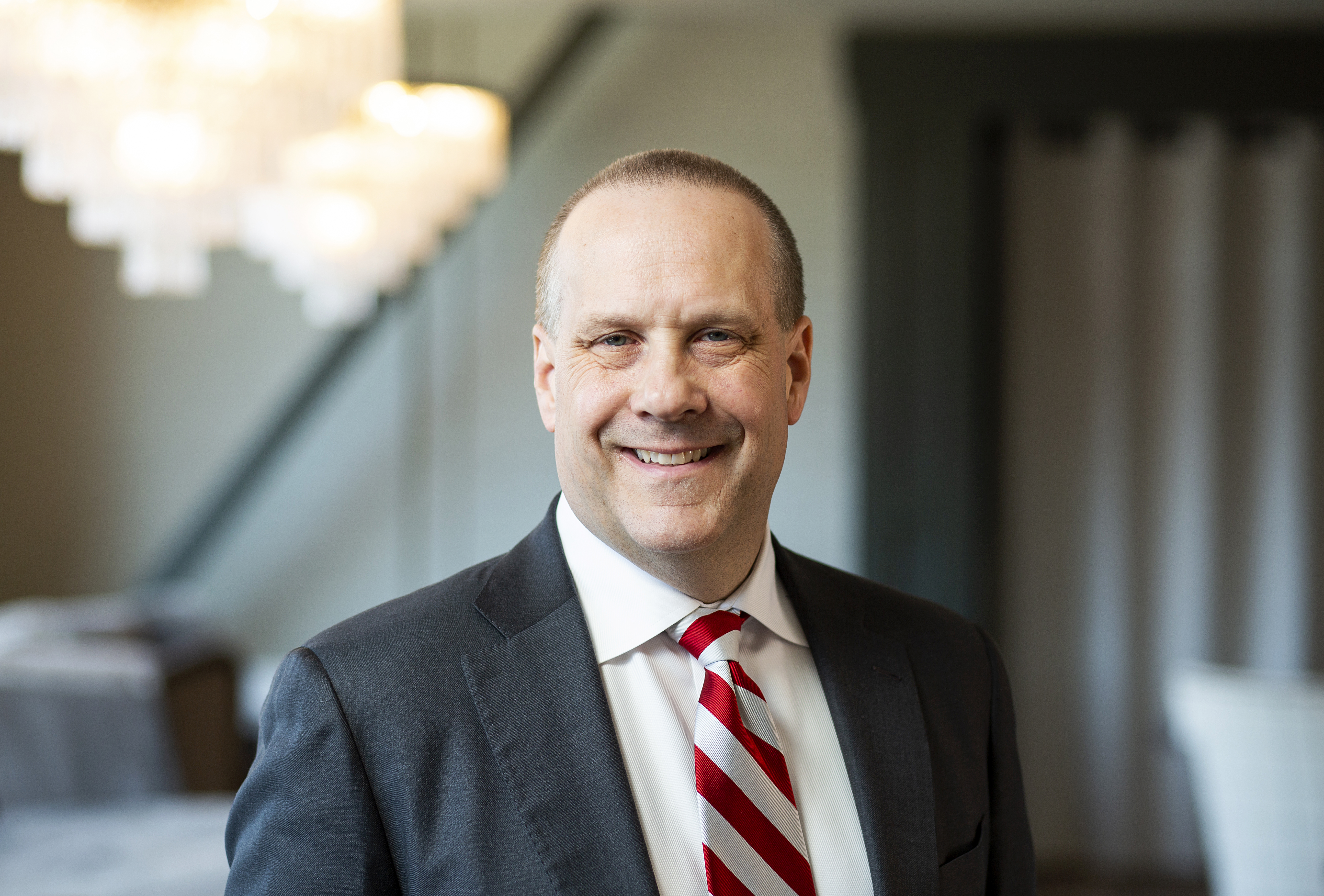 Meet Alum Kirk Strack, Assistant Chief Financial Officer at UofL Health
Building on 26 years in healthcare and finance
Even from a young age, Kirk Strack (MHA '96) knew he wanted to be in healthcare. He always thought that he would be a pediatrician, but his journey took a different path. 
Strack says he was the kid who went to see the doctor for routine checkups and the visits would last an hour as he'd ask the doctors so many questions. 
"I've just always been around healthcare and been kind of drawn to it," says Strack, who is the assistant chief financial officer for UofL Health. "I cannot think of a time where I didn't want to be in healthcare." 
In his current role at UofL Health, Strack works with the chief financial officer to oversee system-level financial operations to include general accounting, reimbursement, and care coordination. 
After Strack graduated high school, his father told him if he wanted to pursue a biology degree that he'd have to go to a Kentucky college. Naturally, Strack did the opposite and went to the University of Alabama, where he received a Bachelor's degree in Management with concentrations in healthcare and managerial accounting. 
Strack did return to Kentucky for graduate school, though, completing his Masters of Health Administration (MHA) at the University of Kentucky.  
"I chose the MHA route in lieu of an MBA because of my interest in the management side of healthcare and my educational training in accounting," he says. "For the record, I never intended on my career being in finance as I wanted to be on the operations side." 
It was after graduation that Strack landed a position at Ernst & Young that set him on the path he is still traversing with a stop at Clark Memorial Hospital in Indiana and now UofL Health. To him, it is because he has always been drawn to helping people. 
"I think people who go into healthcare, regardless of their specialty, have an amount of compassion and sympathy and empathy for their fellow human beings," he says. "I tell people all the time, students in particular, that once you get healthcare in your blood, I couldn't do anything else. I can't think of any way that I would have been fulfilled like I am with my 26 years of healthcare." 
Strack even took a sabbatical in 2017 to see if there was something beyond healthcare that would pique his interests. He says it was a time to look at other industries and see if he wanted to make a change. 
It was during an interview with a consulting firm in New York City that he realized healthcare was who he was and where he was meant to be. 
"They were interviewing me as I was wanting to be a consultant and it struck me like, 'Oh, yeah, I'm not a consultant anymore. I'm a healthcare guy. I'm a healthcare finance guy,'" he recalls. 
As his career path took him on varying routes that he never expected, he tells students that they too may take numerous paths to get to their ultimate goals, but they should enjoy the ride. 
Strack also says networking is one of his biggest lessons learned along his journey. 
"It's how you use your network in mentorship and development that's key," he says. "I mean I still reach out to people I worked with throughout my career. I still have mentors who opened the door for me years ago, and I've taken that to heart, and I try to open doors for people now." 
While his path took him on a different journey than he expected originally, Strack says he is happy and could not imagine being anywhere else. 
"I just can't envision myself doing anything else honestly," he says. 
UofL Health is a fully integrated regional academic health system with more than 12,000 team members, seven hospitals, four medical centers, 200+ physician practice locations, 700+ providers, Frazier Rehab Institute, Brown Cancer Center and the Eye Institute.