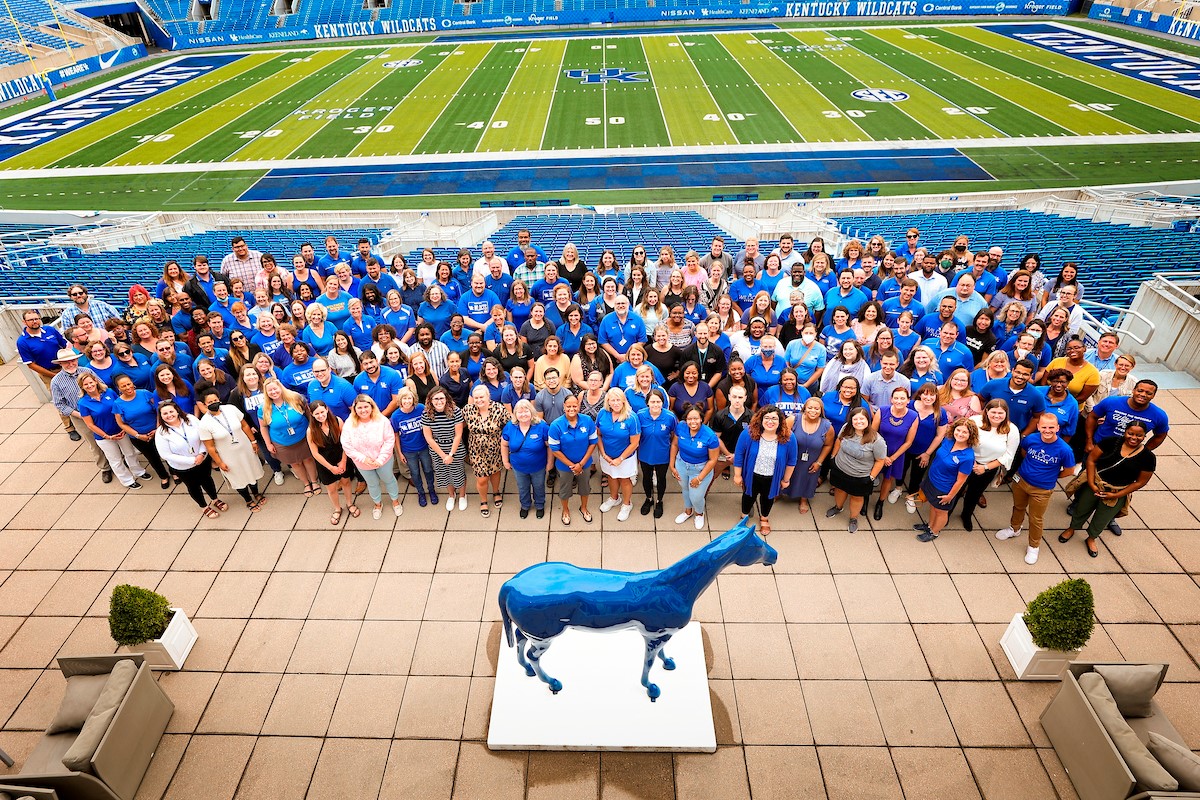 A Public Health Mission to Help UK Students' Wellbeing
"It's okay to admit that I'm not okay."
In a recent survey, 69.2% of adults aged 18 to 24 reported symptoms of anxiety, depression, or both, according to the Anxiety & Depression Association of America.
This figure, theoretically, represents a number of students and young professionals currently attending the University of Kentucky, where a record number of incoming first-year students recently started the Fall 2022 semester. 
Building on the university's commitment to student success, in January 2021, Dr. Corrine Williams was tapped to help lead student well-being efforts on campus. 
Williams is the current associate vice president for student well-being at the University of Kentucky's Office for Student Success and is an associate professor in the Department of Health, Behavior & Society in the College of Public Health (CPH). 
Addressing student health needs
"The University of Kentucky is like operating a small health department when you have approximately 32,000 students and approximately 600 student organizations," Williams said. "These numbers can be overwhelming in a sense. That is why we must create a point of connection for our students and help them find their place and purpose on campus." 
Mental health and student well-being have been a top priority of the administration of UK President Eli Capilouto, who reorganized student service offices in 2020 to enhance student well-being by forming the Office for Student Success. President Capilouto also established a mental health task force in 2019 — before the COVID-19 pandemic — to address this need. 
Williams believes the university is on the leading edge with servicing the mental health needs of its population, but she recognizes students are carrying more anxiety and stressors than in prior academic cycles as they return to a "new normal" following COVID. 
"This is a period of huge development and transition for our students," Williams said. "During COVID, many students went from an isolated college experience to now being back on campus. Developing relationships, becoming independent and figuring out how to socialize again — for both new and returning students — can lead to high anxiety and stress." 
To support and serve the overall well-being of the students, UK has seven student support units that report directly to Williams: Student Financial Wellness Center; Violence Intervention and Prevention (VIP) Center, Disability Resource Center (DRC), Campus Recreation; UK Counseling Center; along with two new units that are new this fall, TRACS (Triage, Referral, Assistance, and Crisis Support) and POWER (Prevention, Outreach, and Wellness Education Resources). 
TRACS, POWER, and new mental health apps
TRACS is the new "one-stop shop" where students can come for a quick referral to support services or receive direct clinical support for a range of mental health needs and crises. Services are offered in person and virtually, Monday through Friday from 8 a.m. to 5 p.m. Visit go.uky.edu/tracs.
"We must reimagine our mental health services and give our students easier access to interface with support systems and licensed professionals," Williams said. "When in doubt, TRACS is the best place to start for our students who are unsure of where to begin. TRACS will get you where you need to go."
POWER is a centralized, primary prevention unit that focuses on health education and wellness promotion. UK community members can access POWER when they have requests related to prevention programming and training, particularly related to mental health.
"POWER will offer a more consistent health and wellness promotion approach with better health communication strategies, which are centralized and targeted to the needs of the overall student community and targeted to sub-populations," Williams said.
In addition to these programs, the university has recently introduced new mental health apps to better support students' mental health and wellness needs.
For example, Kognito is a 45-minute web-based training simulation to train students, faculty, and staff in recognizing signs of mental health issues, distress, and suicide, as well as how to communicate with and refer at-risk students.
"Our hope with these apps is that we put mental health resources, quite literally, in the palms of students for them to use them when the need arises," Williams said. "We understand there are a variety of barriers to accessing mental health resources for our students and these new partnerships are aimed at decreasing those obstacles and increasing student well-being."
Reaching students where they are
According to Williams, many people struggle in first identifying and acknowledging they need help.
"We need more collective acknowledgement that it's okay to admit that 'I'm not okay,'" says Williams. "When you get into a car accident, you go to the ER. With mental health, you need to ask for help. People need intervention and support. That is why we are here. Show up and start with us. If we cannot meet their needs for any reason, we will work with our partners."
Partners include University Health Service at UK Healthcare, Health Corps, the Dean of Students Office, and many more.
Launched recently is a new partnership with Talkspace, a digital behavioral technology healthcare company, offering more expansive services to students who cannot afford longer-term therapy solutions.
"Some of our students have greater needs, but can't afford longer term solutions," Williams said. "We must be revolutionary for our students during these times, and our partnership with Talkspace shows our commitment to finding affordable solutions and effective solutions."
Access to the student health and well-being services is free for all UK students.
"We know that we will not meet every single need, but we are working hard every day to meet more students where they are," Williams said. "This is a safe place, and everyone is welcome here."
After engaging with these health and well-being services, UK students on average are showing stronger academic performance, which is part of Student Well-Being's mission — developing academically successful students through engagement and collaboration while improving overall health behaviors. 
Regarding what we all can be doing better for our own well-being and mental health, Williams says: "Figure out what restores you and brings joy to your life. Once you find it, make sure that it's part of your constant schedule. Make that investment in yourself."