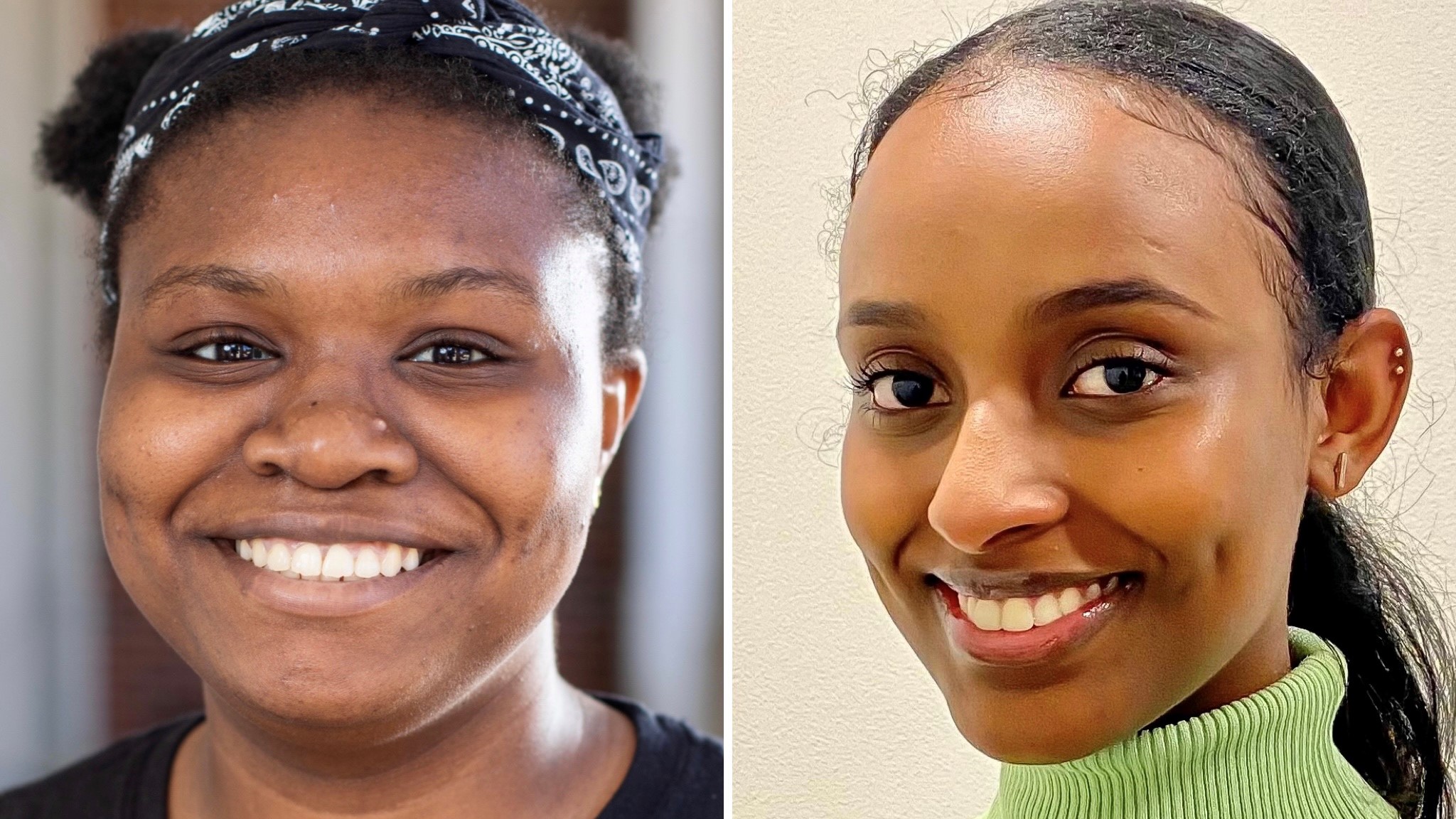 Two UK College of Public Health Students selected for SPARK Program
Princess Magor Agbozo (pictured left) and Meron Lemma (pictured right), undergraduate students enrolled at the University of Kentucky's College of Public Health, were both recently selected to participate in this year's SPARK program (Students Participating as Ambassadors for Research in Kentucky).
A collaboration between the University of Kentucky's Center for Health Equity Transformation and the Office of Undergraduate Research, SPARK trains undergraduate students from underrepresented backgrounds in how to conduct research, from designing a study and submitting Institutional Review Board (IRB) applications to presenting their findings at a conference. Out of the six students selected, two represent the UK College of Public Health.
Accepted participants, called "SPARKlers," design, implement, analyze data, and present findings from health equity research in their home communities with training and mentorship from UK experts and community partners. SPARKlers also receive a generous stipend for their summer research work, in addition to funding for their research.
Princess and Meron share similar motivations in how they found themselves wanting to pursue an education (and future career) in public health. The journey began in their home countries when they noticed an obsolete and inequitable health care system.
Growing up in Ghana, Princess experienced first-hand family members that were ill and not getting the appropriate health care in their West African country. A few years later when Princess moved to Qatar, which had a more modern approach, she was able to compare two completely different health systems. Intrigued by this discovery, Princess asked herself some powerful questions.
"I asked myself how other governments and countries are approaching the health and safety of their people," says Princess. "I also believe that there's a lot of misinformation being communicated. I want to get the right information and be an advocate for a better health care system."
In Ethiopia, Meron had similar experiences growing up and noticed a disappointing health system in East Africa. This motivated Meron to set a course in obtaining the education and global perspective to make a difference.
"Developing countries deserve better," says Meron. "My career goal is to make an impact on global health systems and bring more education and resources to these areas of the world."
Princess and Meron eventually decided to pursue their education at the University of Kentucky. In the beginning, they both were taking numerous science classes. Through speaking with advisors and faculty mentors along the way, they made the choice that public health was the best combination of their passions for science, health, and helping people.
"It's not just about understanding the science behind health, but how it impacts people's lives," says Princess.
Through the SPARK program, Princess and Meron can now advance their passions for researching global health equity and environmental health to make sure that all communities have equal access to care and how factors in the environment affect human health and disease.
"SPARK's research focusing on minorities and disadvantaged communities really intrigued me," says Meron. "Most research is based on the majority, but there are social determinants of health that impacts the minority disproportionately. This research is a wonderful opportunity to make on impact on health equity and learn from mentors."
At the UK College of Public Health, we build "health champions" every day that improve the lives of everyone in Kentucky and beyond through robust research, transformative learning, and service.
When asked what a "health champions" means, Princess says, "It's about action and advocacy. Champions must use their knowledge to inform and educate everyone." Meron adds, "It means producing ideas and policies that impact global health. Health champions must help developing countries and that is what I plan to do in my career."
Princess and Meron are very thankful for their advisors, student ambassadors, and professors at the UK College of Public Health who were all there to give them timely advice, get acclimated, and provide mentorship for success. Meron recalled one of her favorite professors, Dr. Rafael Pérez-Figueroa, who helped her learn more about the SPARK program and provided an inspirational perspective in her global health class.
"In his class, I felt understood and he plugged me in to so many opportunities on campus," says Meron. "I am very thankful that I had the opportunity to learn so much from him while he was a professor at the University of Kentucky."
When communicating the value of an education and a career in public health, it begins with wanting to help people; however, it is more than just science according to Princess and Meron.
"Look at your strengths and how you can best serve others," says Princess. "Then get out in the community and see what others are seeing every day. Start surrounding yourself with others that have the skills and knowledge."
Meron is a junior double majoring in Public Health and Environmental Sustainability Studies. After graduating, she plans to pursue a master's degree in Global Health and work on global health and environmental sustainability. Her professional goals include careers impacting health equity and environmental justice.
Princess is a sophomore and is also on the pre-medical track. Her academic goals include earning MD and MPH degrees. For her career, she wants to work in the global health field to improve healthcare accessibility for impoverished and underserved communities.
Learn about us, the programs, and our "health champions" at cph.uky.edu.