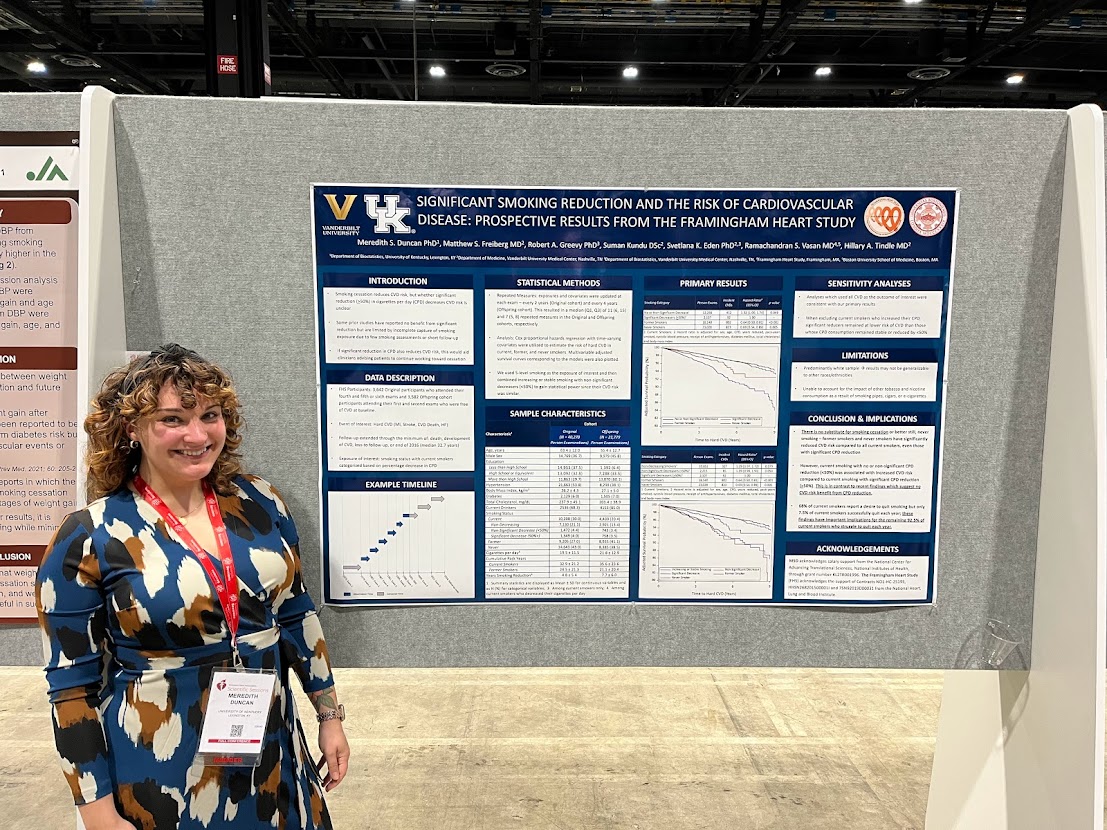 UK College of Public Health faculty and staff present research at AHA Scientific Sessions
University of Kentucky's College of Public Health (CPH) and department of biostatistics faculty member, Dr. Meredith Duncan, assistant professor and director of graduate studies in the PhD in Epidemiology and Biostatistics program, and Kory Heier, biomedical data science assistant at CPH, recently presented their research posters at the American Heart Association's (AHA) 2022 Scientific Sessions in Chicago, IL.
AHA Science Sessions attracts a global network of medical professionals and researchers that participate in lecture and discussions about basic, translational, clinical and population science.
"I love attending the AHA Scientific Sessions meeting each year," says Duncan. "It is a fantastic opportunity, especially for an early career scientist like myself, to connect with giants in my field and catch up with colleagues at other institutions."

"It is one of the largest cardiovascular meetings in world, so it can be a little overwhelming," Duncan adds. "But that also means that you are guaranteed to learn a lot and have several meaningful conversations with other scientists about your work."
Duncan presented an ongoing research project entitled "Significant Smoking Reduction and the Risk of Cardiovascular Disease: Prospective Results from the Framingham Heart Study."
This research found that current smokers, who reduce their cigarettes per day by 50% or greater, have a 24% lower risk of cardiovascular disease (CVD) than current smokers who do not decrease their cigarettes per day or decrease consumption by 50%. However, those who significantly reduce their cigarettes per day remain at increased risk of CVD compared to former or never smokers.
"These findings have important implications for smokers who struggle to quit," says Duncan. "While smoking cessation is preferred, providers can encourage their patients to cut their smoking by at least 50% as a first step toward risk reduction and eventual cessation."
Heier presented research entitled "Cardiovascular Disease Risk and Outcomes Among Veterans by Sexual Orientation" conducted with Dr. Duncan and colleagues at Boston University and Yale University.
In this study, researchers used the largest US sample of LGBT adults and demographically similar non-LGBT adults. Observations show that sexual minority veterans have greater prevalence of CVD and non-traditional CVD risk factors (depression, anxiety, alcohol use disorder, homelessness) than their non-sexual minor peers. This suggests a pathway to CVD which is consistent with the minority stress model.
"It was such a phenomenal experience being able to attend and present at the American Heart Association Scientific Sessions in Chicago," says Heier. "Due to the pandemic, this was the first professional conference I have attended, and it was well worth the wait. The ability to present, receive feedback, and learn about new developments in the field at such a large, respected conference is such a valuable opportunity for a young scientist."
In addition, Duncan moderated the Ancel Keys Memorial Lecture in which former University of Kentucky College of Public Health Dean, Dr. Donna Arnett, was honored.
Sponsored by the Council on Epidemiology & Prevention, this lecture was established in 1990 by the Council on Epidemiology (now the Council on Epidemiology and Prevention) to honor Dr. Ancel Keys — founding member of the council with a distinguished scientific career in the study of cardiovascular diseases.
The next AHA Scientific Sessions event is scheduled for November 11-13, 2023, in Philadelphia, PA.
The mission of the Biostatistics department at CPH is to provide quantitative expertise and training for promoting the adoption and use of optimal methodologies in public health and biomedical research as team scientists.
To learn more about our programs, people, and passion for public health, visit cph.uky.edu.