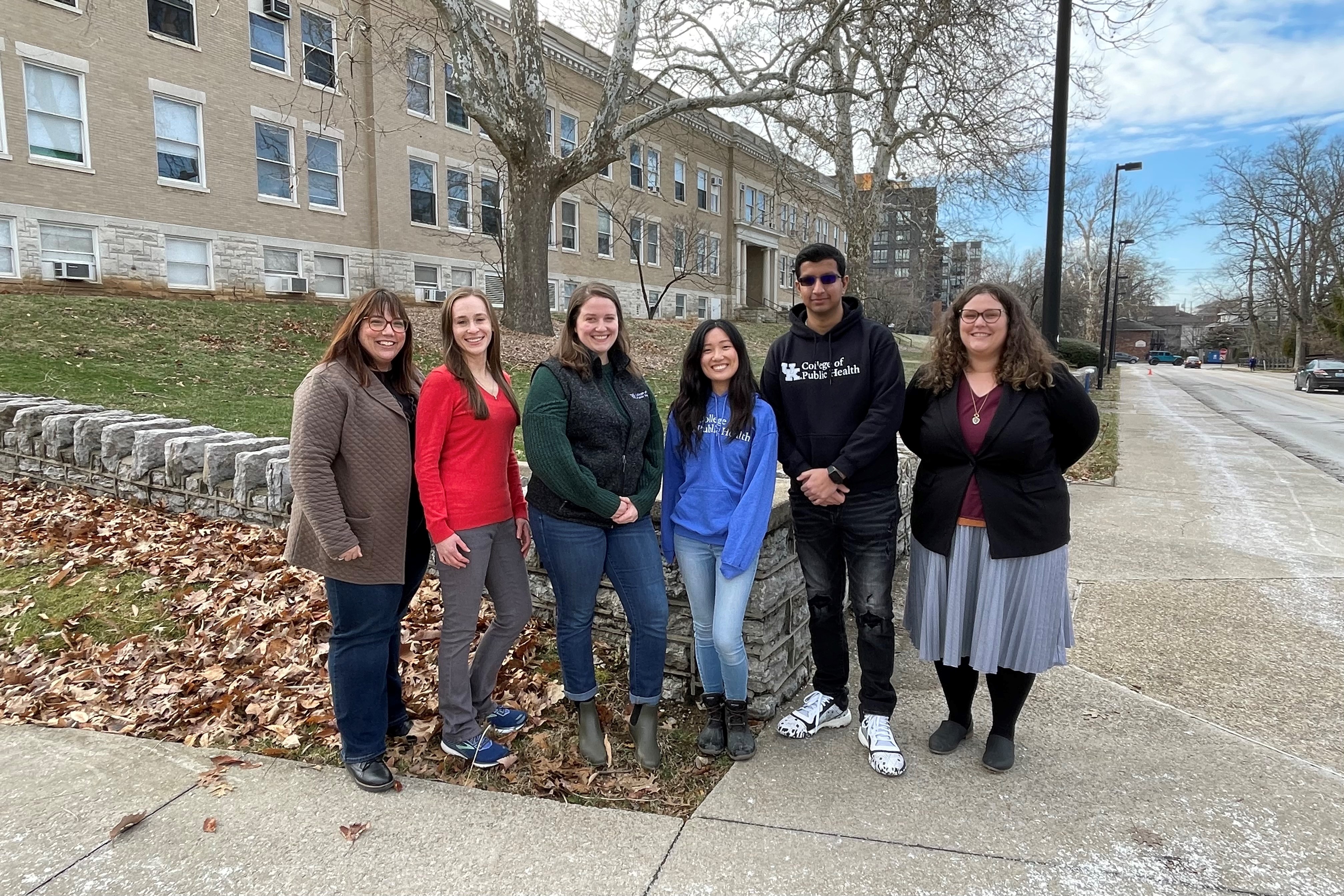 Introducing the MS in Biostatistics program and inaugural cohort at the UK College of Public Health
Learn more at upcoming information session
In response to public health and industry demands, the University of Kentucky's College of Public Health (CPH) recently launched a new Master of Science in Biostatistics (MSBST) program in the Fall of 2022, producing highly trained, in-demand biostatisticians for the Commonwealth of Kentucky, the region, and beyond. 
The 33-credit, two-year MSBST program equip students with the knowledge and methodological skills that will drive better decisions for public health, health care, and biomedical research.
This inaugural cohort includes Ashton Miller, Sarah Jane Robbins, Caitline Phan, and Shubh Saraswat (pictured) along with Dr. Heather Bush, Acting Dean, and Dr. Amanda Ellis, Vice Chair for the Department of Biostatistics and Director of Graduate Studies of the MSBST program. 
Candidates learn how to design studies, create analysis plans, and develop methodologies to answer the most complicated and critical public health questions to improve population health. 
Each MSBST student in this first cohort brings a unique perspective, background, and career aspirations into the MSBST program along with what they are enjoying most about the program. 
Sarah Jane Robbins, first-generation graduate, and a staff biostatistician at CPH, is enjoying applying what she is learning directly to her current career. 
"I can take what I am learning in the classroom and immediately apply it back into my current career," says Sarah. "This not only includes being able to perform statistical analysis with greater confidence but being able to effectively communicate statistical approaches to collaborators with varying statistical backgrounds. This combination results in me being a better collaborative team member across UK's campus."  
Shubh Saraswat values the real-world application and working as a research assistant with Dr. Douglas Zhang, biostatistics professor at CPH, and assisting Dr. Zhang with several projects over the semester including analyzing big data. 
"I initially chose the MSBST program because prior to graduate school, I was only exposed to general statistics and lacked applying this to real world problems," says Shubh. "UK's MSBST program is more specific in the public health care system, and I can still apply my statistical skills to the real-world problems while learning more specific topics related to health care."  
Caitlin Phan appreciates the comradery of her classmates, accessibility of her professors and the attention that the MSBST cohorts receives in preparing them for their careers. 
"My professors are accessible outside of class, and the department looks for opportunities for its students outside of the classroom. There is a clear focus on getting students ready for the workforce with marketable skills and real-world application," adds Caitline.  
The MSBST curriculum consists of valuable core biostatistics courses and customizable electives in areas of programming, data design and data mining, methodology, modeling and more.
In addition, the capstone experience will give students the experiential learning opportunity to have real-world experiences through unique collaboration practices in interdisciplinary research teams.  
The symbiotic relationship between CPH's departments of biostatistics and epidemiology trains MSBST students to work as "team-scientists" to fill an emerging workforce gap in the intersection of these two fields. 
"The MSBST program provides excellent instruction in biostatistical theory and methodology as well as the opportunity to gain valuable experience analyzing data in biomedical and public health research," says Ashton Miller, current MSBST student.
The University of Kentucky's MSBST program offers a unique mix of core and electives courses, real-world projects, experiential learning/training opportunities, and strong campus partnerships to prepare graduates to make an impact in the Commonwealth of Kentucky, the region, and beyond. 
To learn more about the MSBST program visit cph.uky.edu/MSBST or attend the upcoming MSBST virtual information session on Friday, February 10th by registering here.