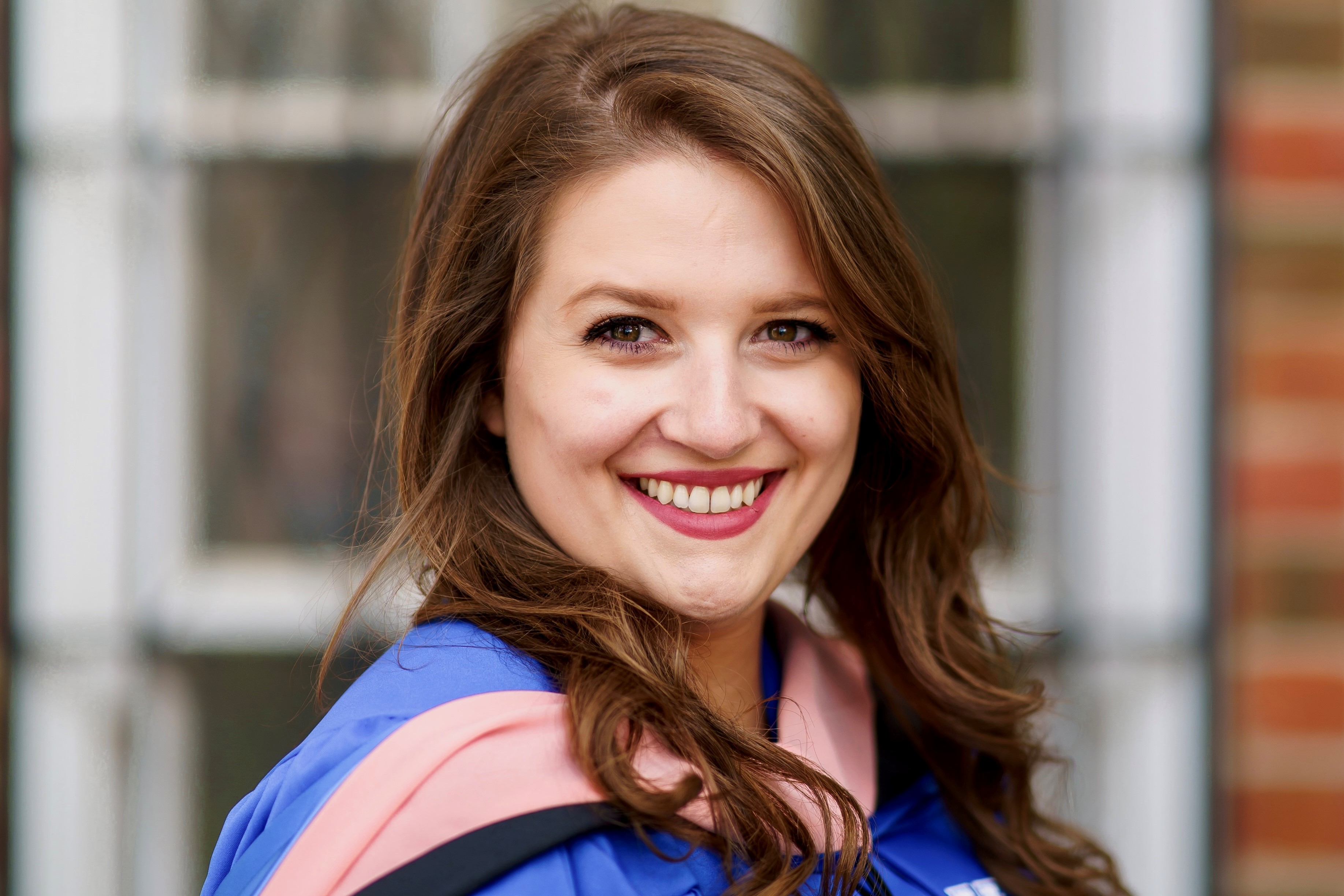 Meet MS in Biostatistics candidate, Sarah Jane Robbins
"I'm applying what I'm learning in my current career"
In response to public health and industry demands, the University of Kentucky's College of Public Health (CPH) recently started a new Master of Science in Biostatistics (MSBST) program that launched its first cohort in the Fall of 2022, producing highly trained, in-demand biostatisticians for the Commonwealth of Kentucky, the region, and beyond. 
One of the current MSBST candidates is first-generation student and staff biostatistician at CPH, Sarah Jane Robbins. Originally from Nicholasville Kentucky, Sarah received both her Bachelor of Public Health (BPH) in 2020 and Master of Public Health (MPH) in Epidemiology in 2021, which is part of the University Scholars 4+1 program, from the University of Kentucky. 
"While my background is in epidemiology, I knew I needed more foundational and applied knowledge in the field of biostatistics to progress in a career of translational science and interdisciplinary research," says Sarah. "The MSBST has a curriculum intertwined with career and research skills that are invaluable to someone like me who works with collaborators across multiple disciplines and multiple research studies."
The 33-credit, two-year MSBST program equip students with the knowledge and methodological skills that will drive better decisions for public health, health care, and biomedical research. 
Candidates learn how to design studies, create analysis plans, and develop methodologies to answer the most complicated and critical public health questions to improve population health.
"I can take what I am learning in the classroom and immediately apply it back into my current career," says Sarah. "This not only includes being able to perform statistical analysis with greater confidence but being able to effectively communicate statistical approaches to collaborators with varying statistical backgrounds. This combination results in me being a better collaborative team member across UK's campus." 
The MSBST curriculum consists of valuable core biostatistics courses and customizable electives in areas of programming, data design and data mining, methodology, modeling and more. In addition, the capstone experience will give students the experiential learning opportunity to have real-world experiences through unique collaboration practices in interdisciplinary research teams. 
"Every class, that I've currently taken, has a pedagogy of learning theory and statistical practice, and then performing it with statistical coding," says Sarah. "We are not only learning, but we are also applying it which is valuable. This concept of professional development built into the educational curriculum is completely unique to the MSBST program."
One of the biggest strengths for the MSBST and CPH students, is leveraging the college's partnerships, comprehensive expertise, and knowledge with the other health colleges and research centers at the University of Kentucky. Along with the other experiential learning and professional development opportunities, students are in a competitive position to advance their current or future careers. 
"Currently, the MSBST is allowing me to progress in my own job and I'm also considering a PhD afterwards," says Sarah. "The MSBST would allow me to pursue my PhD with confidence and to be a strong applicant. The MSBST gives you a skillset and knowledge that makes you a unique candidate and professional."
Sarah joined the inaugural class in the Fall of 2022, which carries a certain level of pride, curiosity, and wonderment for many being the "first" in any major commitment in life. Sarah is a current first-generation student and graduate, and thus, understands some of the shared challenges and opportunities that come with being in this first MSBST cohort with her peers.
"It is something I am happy to say I am a part of," says Sarah. "The biostatistics department is incredibly proud of this program and its students, and I feel that pride every day inside and outside of the classroom."
To learn more about the MSBST program visit cph.uky.edu/MSBST or attend the upcoming MSBST virtual information session on Friday, February 10th by registering here.