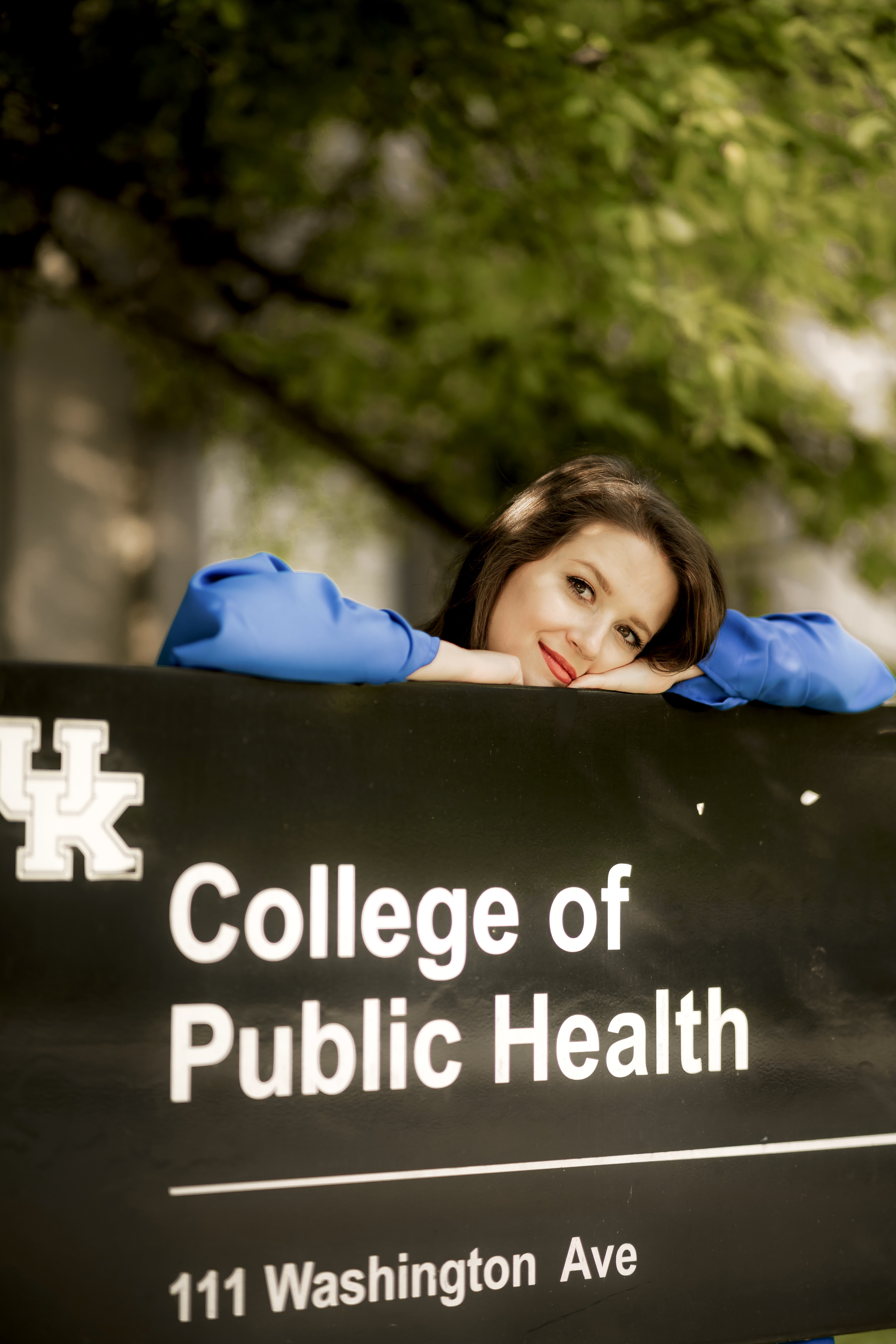 Meet Sarah Jane Robbins: "I'm Sarah and I am first generation"
Meet Sarah Jane Robbins, first-generation and recent graduate of the Bachelor of Public Health (BPH) and Master of Public Health (MPH) 4+1 program with an epidemiology concentration from the University of Kentucky College of Public Health (CPH).  
Sarah is a current CPH staff member as a biomedical data science assistant and previously a part-time instructor for biostatistics (BST 230). In addition, Sarah is also currently enrolled in the new Master of Science in Biostatistics (MSBST) program at CPH. 
First-Generation Discovery 
Going back to when Sarah began exploring college, she recalls finding out that she was first-generation during a major step in the application process for many candidates. 
"I didn't know I was first-generation until filling out the FAFSA (Free Application for Federal Student Aid) application," says Sarah. 
Both of Sarah's parents started college but were unable to graduate due to financial and personal responsibilities in their lives. 
"I understand why my parents didn't tell me," says Sarah. "They probably didn't want me or my college experience to feel 'different'." 
Ironically, when Sarah attended her commencement ceremony for her MPH degree, she saw a much more supportive response from her friends and peers nearby. 
"At graduation, I remember being asked for all first-generation students to stand up and be recognized," says Sarah. "My friends did not realize I was first-generation until I stood up. They pulled me aside afterwards and were so supportive." 
Sarah also speaks about some of the shared challenges among first-generation learners, along with what makes them unique and resources they can take advantage of at the University of Kentucky (UK). 
What are some common challenges that first-generation students experience?  
We experience the added pressure of being the first 
"We all do not want to be treated differently, but we know that education is a determinant of success. For first-generation students, you feel this pressure to succeed because you are the first. This can feel like an immense weight and the fear of failure, and sometimes normal struggles, can feel like an added burden to first gens." 
We can feel vulnerable 
"As an instructor, when I see my first-generation students facing challenges, I know that they have added vulnerabilities that can be hard to speak about. I let them know that I am here for them, and all my students, and that I am accessible. I encourage them to keep the communication lines open with me and we find ways to work together to help them be successful in my class." 
What are some special traits or unique abilities that first-generation students bring?  
Adaptation! 
"Resilient, determined, and a unique ability to adapt to moments of adversity and trials. First generation students are incredibly adaptive; they are problem-solvers and bring a real-world perspective that is invaluable inside and outside of the classroom." 
What is your best advice for prospective first-generation students as they consider where to attend college?  
Look, compare and explore 
"Look at all possibilities, compare them to each other, and really step into the opportunities that they give you. Explore your college and explore yourself. When you explore the college atmosphere and environment, you will build yourself, skills, and hobbies that may not have been available prior to college." 
What resources would you recommend for first-generation students at UK?   
 "These are all great places to start for educational, writing, and technical support needs," Sarah adds. 
"For professional development and support, along with career and networking opportunities, this is where you need to go," Sarah adds. 
"The DRC offers services for academic accommodations such as extended time on tests and assignments. Additionally, the Counseling Center is a free service to students with several options to help student mental health. You can schedule a chair massage appointment in the relaxation room at the UK Counseling Center – another great benefit!," Sarah adds. 
"LLPs was a wonderful experience for me to live, learn and build community on campus. You can also build your support network outside of campus housing, such as getting involved with student organizations. For example, CPH has the Student Public Health Association, CPH Ambassadors, and MHA Student Association." Sarah adds. 
"The SEAS team is an excellent resource and liaison to your professors," says Sarah. "Additionally, you should talk to your professors! CPH faculty are receptive to students and are dedicated to students inside and outside of the classroom." 
Sarah recalls a time when she spoke with Dr. Heather Bush after class about research opportunities to work with her in the biostatistics department. This conversation ended up with Sarah being recruited to be a research assistant, both in undergrad and graduate school.  
First-generation pride 
Sarah feels immensely proud to be a first-generation graduate, current student, instructor, and staff member at the College of Public Health and the University of Kentucky. 
"I am proud that being first-gen is one identity that defines me, but like most first-gens, it's not the only identity," says Sarah. "I'm Sarah not because I'm first generation; I'm Sarah and I am first generation."