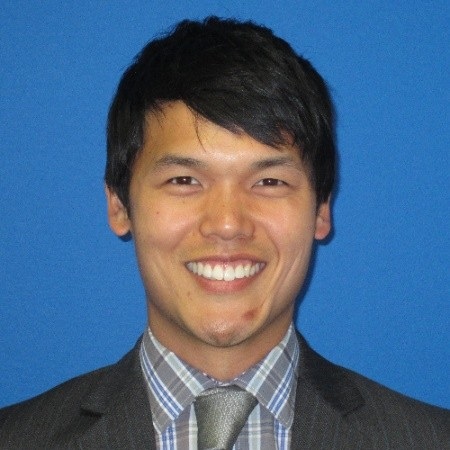 MHA alum, George Zhang, leads as a Hospital Administrator for two St. Vincent Health hospitals
George Zhang ('15) is an accomplished young alum. George is a graduate from the Master of Health Administration (MHA) program at the University of Kentucky's College of Public Health (CPH) and has quickly climbed the ladder to become a Hospital Administrator for both Ascension St. Vincent Clay and St. Vincent Dunn hospitals.
Ascension St. Vincent is a member of Ascension, the nation's largest not-for-profit Catholic Healthcare System and is Indiana's largest healthcare employer, with 22 health ministries serving 47 counties in central and southern Indiana.
Raised in Lexington, Kentucky, some of George's biggest influencers growing up was his Chinese heritage, his father, and later his Catholic faith.
George was a biology major and ran cross-country and track at Centre College in Danville, Kentucky. While at Centre, he participated in an internship at the Danville Physical Therapy Clinic, which provided George with his first glimpse of interacting with patients.
After George graduated from Centre College in 2011, he worked at Baptist Health as a rehabilitation technician while enrolling in post- baccalaureate classes at the University of Kentucky.
This is the moment when George's life changed after interacting with a patient that had a stroke. The patient was in her mid-30s and lacked the strength to stand up on her own.
While George was taking the patient's blood pressure, which was extremely low, George asked if she was a runner. The patient smirked and said, "I can barely walk, what makes you think I can run?"
George, knowing the patient as he did, understood this reaction as a lighter, more positive outlook on life.
"This moment was humbling for me and that's the type of environment that we should be providing for all patients," says George. "I decided that I wanted to make an impact for not only one patient at a time, but a community and population of people."
George started exploring MHA programs and found himself connecting with Dr. Martha Riddell at the University of Kentucky's College of Public Health. Dr. Riddell, at the time, was the Director of the MHA program.
With Dr. Riddell's help and guidance, George recalls getting his application submitted just in time to start in the Fall semester of 2013.
"I was very impressed with the level of prestige and experience with my professors, like Dr. Riddell, Dr. Julia Costich, and Dr. Larry Prybil." says George. "They have earned credibility, genuinely care, and want you to succeed."
While enrolled in the MHA program, George was part of the MHA Student Association and held a 4.0 GPA. He was also a Graduate Assistant at UK HealthCare.
When it came time to choose a fellowship, George received two offers for fellowships at organizations that both happened to be Catholic. George chose St. Vincent Health.
"God always has a plan for us," says George. "Relationships matter, and this prestigious fellowship at St. Vincent happened because of faculty like Dr. Riddell and Dr. Prybil. They go to bat for you."
George joined St. Vincent Health in 2016 and has held various leadership positions including Administrative Specialist, Director of Business Operations, Interim Hospital Administrator, and his current role as Hospital Administrator (Clay and Dunn hospitals) – which he started right before COVID-19.
"Leading our facilities through that time of uncertainty was challenging," says George. "We have a dedicated passionate team, and we were able to be nimble and agile, placing new processes that changed frequently to ensure the safety of our patients and our associates."
George is always reminded, and motivated, by the organization's mission, which involves serving everyone with special attention to the poor and most vulnerable.
"We are here to serve a population that is, at times, underserved," says George. "We provide an economic impact to our community, which is so important to our community's viability."
Going forward, George, and his team at Ascension St. Vincent, continue to look forward to serving their community.
Over the years, George has been a generous alum and has given back in several ways including professional development, helping with etiquette dinners, and more.
"I want our MHA grads to come out and make a good impression," says George. "The MHA program at the University of Kentucky is right there with some of the best programs in the country and I want to do my part in making sure that these students are getting the best opportunities to lead."
Public health, to George, is everything and it is everywhere. It involves us all.
To learn more about our programs, people, and passion for public health, visit us at cph.uky.edu.