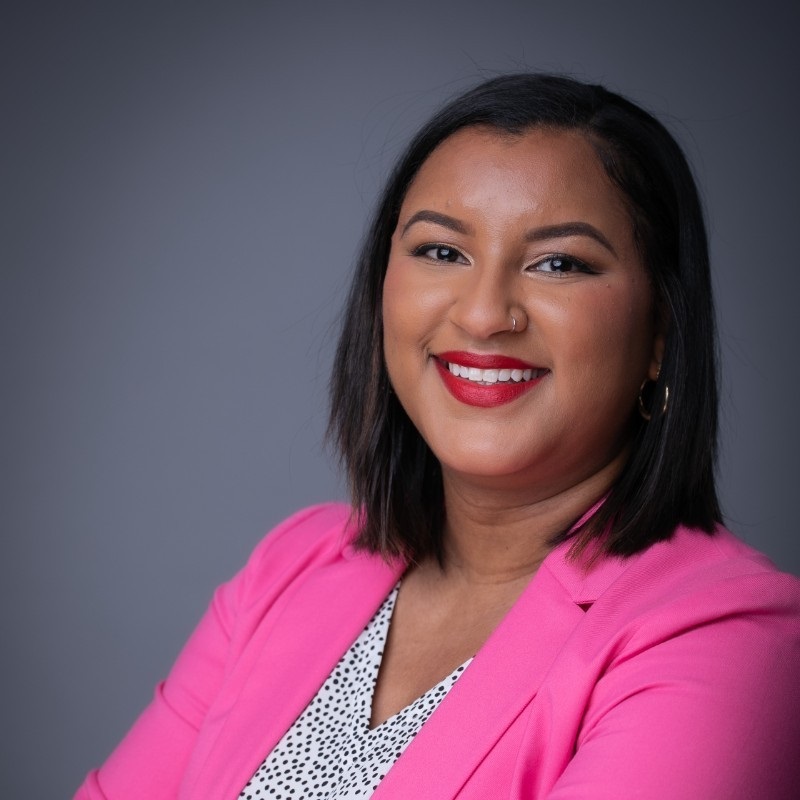 Olivia Ramirez aims to demystify public health through career in communications
For University of Kentucky alumna Olivia Ramirez (MPH '19), communications are an essential part of public health. 
In her current role as director, public affairs at M Booth Health, she applies the skills and knowledge she gained studying at the UK College of Communication and Information and College of Public Health to help health messages reach those who need them.
Olivia's interest in health started in the small town of Kingsburg, California, the home of Sun-Maid. Growing up without insurance and watching her older brother struggle with addiction and schizophrenia were formative experiences that gave her a unique perspective on health.
"If you don't have health insurance it's hard, getting sick becomes that much more stressful," says Olivia. "My family didn't let adversity get in our way, but I knew I wanted to do something to improve access to health care for others, to help people understand mental illness and addiction, and to help people like my brother."
It was during these early years that Olivia developed an interest in history and politics. Her mother studied history at Fresno State and Olivia remembers watching her walk across the stage to receive her degree. Additionally, Olivia learned to love U.S. history from her grandfather who is an avid reader and history buff.
While attending Kingsburg High School Olivia's passion for politics, civics and government continued to be nurtured by her civics teacher Mark Jensen and AP Government teacher Dina Siebenaler.
Beginnings of a career in public health 
Olivia's career in health began at the Markey Cancer Center. She worked on the administrative staff for Director Dr. B. Mark Evers and in that role had the opportunity to meet and hear from clinicians, researchers and health leaders at UK Healthcare.
"At Markey, I met faculty members who were conducting public health research," says Olivia. "I realized that public health was an interest of mine and that led to a new direction with my education and career."

She continued, "I am especially thankful to have worked for Dr. Evers. I learned so much from him and respect and admire his passion for helping people and addressing cancer disparities in Kentucky and Appalachia."

"My experience at Markey showed me I wanted to work to improve population health and the important role of policy in that effort," says Olivia. "Pursing an MPH and concentrating on health policy just felt right, and the best use of my passion for health and communications."
Deciding to pursue public health 
In 2016, Olivia decided to pursue a Master of Public Health (MPH) degree with a concentration in health management and policy at the University of Kentucky College of Public Health (CPH).
"I wanted to expand my knowledge and learn about health beyond the clinical side," says Olivia. "I wanted to use communications to speak to people who are left out of the health conversation and help people get the information they need to make decisions about their health." 
While pursuing her MPH degree, Olivia worked full-time in the Office of Public Relations and Strategic Communication at the University of Kentucky. This gave her the opportunity to apply what she learned in the classroom in a professional setting immediately and helped her understand how the work done at UK Healthcare could improve health across Kentucky and beyond. Working was also essential in her pursuit of an advanced degree.
"Having the flexibility to work full-time while pursuing the MPH was essential for me; I wouldn't have pursued a graduate degree if not for UK's employee education program," says Olivia. "CPH faculty were incredibly supportive too, it felt like they wanted me and others to succeed and helped me hone my interests in public health. I'm especially thankful to my capstone committee Rick Ingram, Julia Costich and Kathi Harp."
It was no surprise Olivia focused her studies on understanding addiction and addressing the U.S. overdose epidemic. That culminated in her capstone which focused on harm reduction strategies to address the U.S. overdose epidemic, specifically the benefits of overdose prevention centers in reducing rates of HIV, hepatitis C virus and overdoses. 
"The MPH program was a great experience, I met lifelong friends and expanded my personal and professional support systems," says Olivia. "I was also impressed with how much access I had to the Dean [at the time], Dr. Donna Arnett, who was one of my professional references when I moved to DC. I also met policymakers I admire including former Kentucky governor Steve Beshear, and current Kentucky governor Andy Beshear." 
A career as a health communicator 
After graduating with her MPH degree in 2019, Olivia moved to Washington, D.C. and became a communications officer at the National Academy of Medicine (NAM), where she provided communication support on the Healthy Longevity Global Grand Challenge and Action Collaborative on Countering the U.S. Opioid Epidemic. She was also an account supervisor for Edelman, global communications firm. 
In July 2022, Olivia joined M Booth Health, A full-service health communications agency built to challenge norms, drive results and improve health as a Director of Public Affairs.
In that role, Olivia supports the American Society of Clinical Oncology (ASCO) the world's leading professional organization for physicians and oncology professionals caring for people with cancer and Kaiser Permanente one of America's leading health care providers and nonprofit health plans. 
"I entered public health to help the average person," says Olivia. "I love Kentucky so much and cancer is unfortunately very prevalent in the Commonwealth and as a Californian (and former Kaiser Permanente member) I have seen how Kaiser Permanente's integrated care model helps people navigate the health care system more easily."

"I am extremely excited to work for an organization like M Booth Health that is committed to making a difference in public health by supporting public health organizations' PR and communications efforts and to support two organizations that work to address issues that are important to me," adds Olivia.
Future endeavors 
As Olivia explores her future, she remains interested in harm reduction and destigmatizing addiction and drug use. She is particularly interested in how these issues impact communities of color and strategies to increase access to harm reduction services for marginalized and underserved populations.
She said, "I'm very proud to be a Black and a Mexican American woman and want to use my knowledge and skills to help people in my community."
She is involved with the organization Honoring Individual Power & Strength (HIPS), which advances the health rights and dignity, of people and communities affected by sex work and drug use by providing non-judgmental harm reduction services, advocacy, and community engagement led by those with lived experience. She also spends time volunteering for Planned Parenthood to improve access to sexual health information and reproductive services.
Olivia admitted talking about her brother and his struggles with addiction and mental illness can be difficult because of the stigma associated with both.  
"Through my job at UK I met a lot of people in recovery, and I saw how life-changing sharing their stories could be," Olivia said "My brother was always a person who stood up for people who were different or smaller or got bullied; he inspires me to do more to defend people that are marginalized or unheard." 
What is public health? 
For Olivia, public health is about ensuring people have the information they need to make decisions that impact their health. It is about demystifying health information, using language they can understand and enacting policies to make "good" health decisions easier.
"We communicate healthy habits like exercising and walking, but what if people don't have sidewalks in their community?" says Olivia. "We want people to eat healthier, but many communities don't have access to fresh foods at their local grocery stores or they're expensive. We need to make going to the doctor more affordable. This is all public health."
To learn more about our programs, people, and passion for public health, visit us at cph.uky.edu.