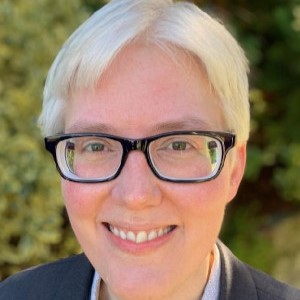 Alumna receives 2022 Cesar Augusto Caceres Award for Technology in HIV Practice
Dr. Jennifer Jones-Vanderleest (MSPH '95) was honored with the 2022 American Academy of HIV Medicine's Cesar Augusto Caceres Award for Technology in HIV Practice. She was honored alongside collaborator Dr. Hillary Liss for their innovative telemedicine partnership, which improves the care of people with HIV incarcerated in the King County (Wash.) Jails.
The award recognizes persons "who have created, adapted, and/or used innovative technology in their HIV practice and to share that technological knowledge with others in the practice of HIV medicine to improve patient care."
"We are grateful to be recognized by the American Academy of HIV Medicine and the Institute for Technology in Health Care for our work," Dr. Jones-Vanderleest said. "We are committed to developing creative approaches to better serve incarcerated people with HIV, and we look forward to collaborating with others who work with this vulnerable and underserved population. We will be hosting a live webinar to share our best practices and discuss program outcomes, as well as publish our findings."
Providing direct patient care since January 2019 via weekly telemedicine sessions, Drs. Liss and Jones-Vanderleest, situated at the Madison Clinic and the jail medical clinics respectively, collaboratively see incarcerated patients, often involving HIV case managers at both sites. This is paired with a weekly videoconference that brings together a multidisciplinary team to assist with adherence, outreach, linkage/engagement/retention in care, and transitions to community or prison.
Dr. Jones-Vanderleest said she and Dr. Liss identified an opportunity for improving HIV care for people in the King County Jails through providing more expeditious, comprehensive, and coordinated care. She said they worked to build authentic and informed relationships with their patients, adding the program promotes health equity for incarcerated people.
"People with HIV are incarcerated at disproportionate rates in U.S. jails, with many missed opportunities for diagnosis, treatment, linkage to care, re-engagement into care, and help with transition into the community. In King County, we know that many of the least medically engaged patients with HIV cycle through the jails," she said.
Prior to the establishment of the program, Dr. Jones-Vanderleest said incarcerated people who required specialty HIV care were transported to an outside facility, which involved a number of challenges including: the stigma of being transported from jail, confidentiality concerns, short jail stays that precluded an opportunity to arrange and attend appointments, and the cost of patient transport and associated staffing, which limited the number of patients who could be brought to the outside clinic.
As an undergraduate at the University of Kentucky, Dr. Jones-Vanderleest studied the bacteria Campylobacter jejuni, which causes bacterial foodborne diarrheal illness, for her Honors Thesis. While doing so, she realized that she was more interested in the disease and how to prevent people from getting sick from it, rather than cellular iron transport mechanisms.
"Studying public health was the perfect next step for me, and I enrolled in the MSPH program in 1993," she said. "I studied with Dr. Arthur Frank, who blended population health with clinical medicine and expertly modeled the benefits of training in both.
"I had not considered becoming a physician before working with Dr. Frank, but it was a logical next step to allow me to be able to do the work I wanted to do. My entire clinical and teaching career has been focused on caring for and partnering with highly marginalized and medically underserved people at the interface of personal and public health."
Dr. Jones-Vanderleest is an attending physician in the Public Health-Seattle & King County Jail Health Services Division and a clinical associate professor in the Department of Health Systems and Population Health at University of Washington School of Public Health.
In October, Dr. Jones-Vanderleest will be speaking in Las Vegas at the 2022 National Conference on Correctional Health Care which is touted as the largest correctional health conference in North America.