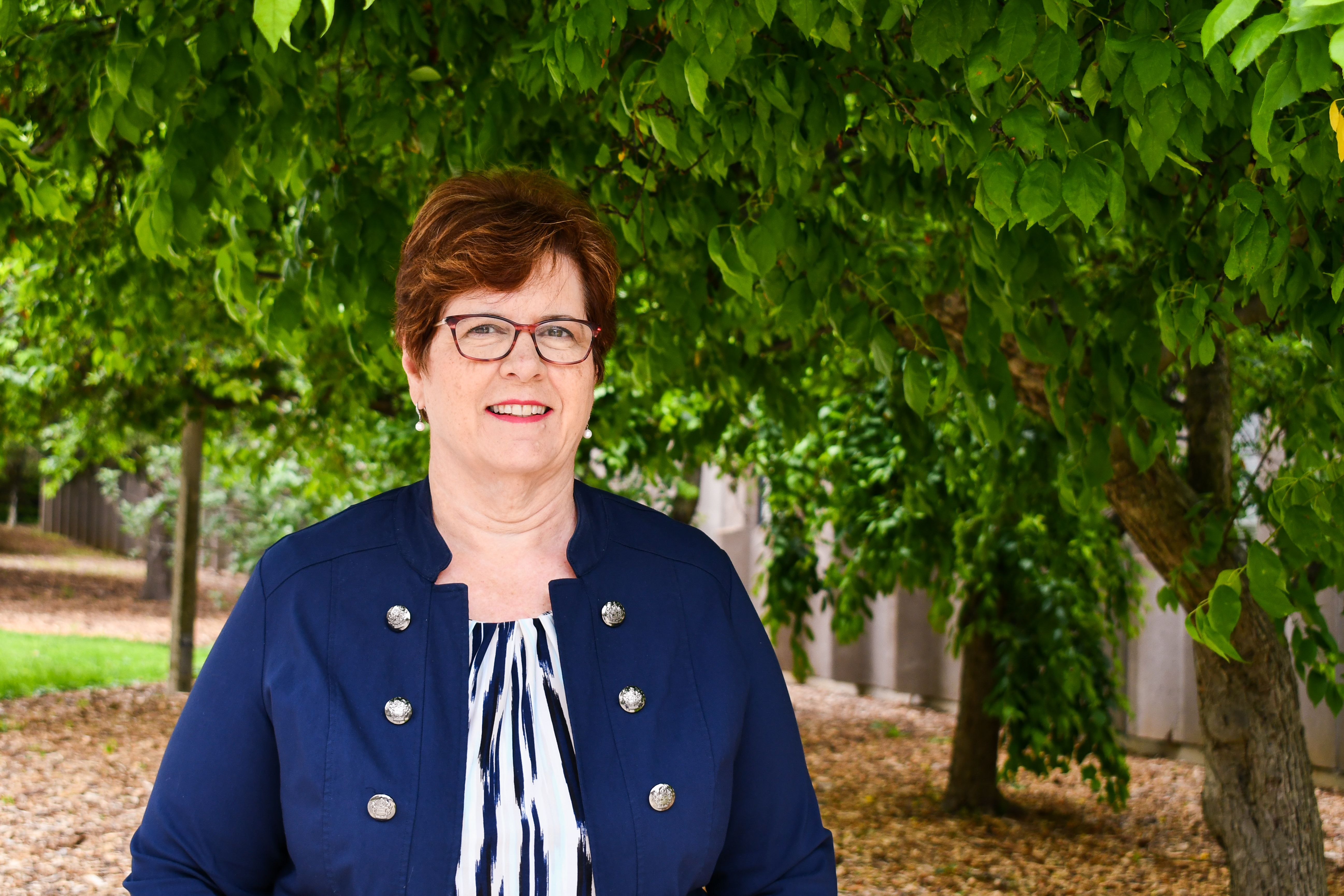 UK alum connects nursing and public health through infection prevention control
Are patients and communities healthy? Are people being taken care of in their communities? Are you going to be helping others live healthier?
University of Kentucky (UK) and College of Public Health (CPH) alum Andrea Flinchum, MPH, BSN, RN, CIC, LTC-CIP, FAPIC, has spent many years in answering some of these questions.
For Andrea, it's quite simple. It's all about helping people, building trust and partnerships, and doing better (for others) than what you did yesterday.
Andrea Flinchum MPH, BSN, RN, CIC, LTC-CIP, FAPIC, is currently the manager for the Healthcare-Associated Infection/Antibiotic Resistance Prevention Program at the Kentucky Department for Public Health (KDPH), furthering their mission of preventing and eliminating healthcare-associated infections and antibiotic resistant organisms.
Early career and influences
Andrea started her healthcare and public health career as a bedside nurse at the University of Kentucky Albert B. Chandler Hospital in 1988. After 17 years, she changed careers to become an Infection Preventionist with the Infection Prevention and Control Program at the hospital.
While at the hospital, she enrolled in the Master of Public Health (MPH) program at CPH at UK, realizing what a connection there was between infection prevention and public health.
Originally from Louisville, Ky., one of Andrea's biggest influences growing up was her grandmother.
"My grandmother was gifted with the ability to make every person feel like they were the most important person in the world and loved everyone unconditionally," says Andrea.
Another influence was Andrea's friend and co-worker Eulene Boyle at the hospital.
"We worked together at the bedside for many years, and she taught me to never stop working when it came to patient care," says Andrea. "It did not matter if your feet hurt or you were tired, these patients needed their nurse, and as that nurse, you give yourself unselfishly."
When Andrea returned to school to pursue her MPH degree as a non-traditional student, her advisor in college, Bill Pfifle, also played a key role.
"I needed the extra push and pep talks he gave me to help overcome any insecurities or apprehension coming into graduate school at my age," says Andrea. "I was older than some of my professors and a little self-conscious. While not impossible, graduate school after 50 was certainly challenging."
Finding public health through nursing
After Andrea secured her associate degree in nursing (ADN) in 1988 and her bachelor of science in nursing (BSN) degree in 2007, Andrea made the difficult, yet calculated, decision to go to graduate school at the University of Kentucky.
"After my BSN, I knew I wanted to go to graduate school," says Andrea. "Someone told me that I should keep up the momentum and keep moving.  When considering a program, I decided quickly that a degree in public health best suited what I was doing."
During this time, Andrea was working in Infection Prevention and Control in the hospital, and she realized that her role in infection prevention was public health.
"My community was all the patients and employees in the hospital," says Andrea. "I had moved from caring for one or two patients, or more, to the entire population. I did surveillance on population health and was involved in every aspect of patient care from the ICUs, operating room, wards, kitchen, construction, air handling, water issues, and more. It was the perfect fit and I have not regretted that decision."
That perfect fit was Andrea enrolling in the MPH program   and some of her best moments included connecting with her student peers, learning from faculty, and engaging with the community.
One of her best memories was her class in rural public health, taught by Robin Vanderpool. The class took a field trip to Wendover, in Hyden, Ky, the home of Mary Breckenridge -- an American nurse midwife and the founder of the Frontier Nursing Service in 1925, which provided comprehensive family medical care to the mountain people of rural Kentucky. Hyden was the place where Breckenridge's base of operations took place.
"These nurses helped deliver babies all over the region, often being awakened in the night to leave on horseback to go to the mothers and babies who needed them. They often had to cross the fork of the Kentucky river that runs in front of Wendover, any time of year. There are many pictures of them holding up their saddle bags to avoid getting wet. Mary Breckenridge became my nurse hero and the trip there was quite moving for me," adds Andrea. 
Day in the Life
Each day being a healthcare-associated infection (HAI) coordinator at the KDPH can look different. Mixed with a blend of routine and randomness, it's definitely "not boring," according to Andrea.
"I will get a random call or email from one of my staff or another department, with a problem or issue – it could be a cluster of infections related to an organism that I have never heard of or an organism of public health interest," says Andrea. "On the other hand, a facility calls, and they have an outbreak that may turn into a large investigation. I consult frequently with our sister programs in the Infectious Disease Branch, the regional epidemiologists across the state, and local health departments."
Some time-consuming projects can include payroll, contracts, budgets, and grants, but Andrea values her team that helps with impromptu calls dealing with facilities or health departments that ask for assistance.
"I have a great team that handles a number of these calls, and they keep me involved," says Andrea. "I follow our grant metrics and work on planning for the program.  Even with this, I have a lot of help now as our programs have grown over the years."
"I still make site visits to healthcare facilities. Our team meets weekly to keep up with everyone's activities. There are always many webinars to attend on different topics related to our work and special projects with CDC and others. Some days are packed full right from the start and some days fill up as we go. There's also never a dull moment!" adds Andrea.
In Andrea's role, she believes that "building bridges" between public health and healthcare are vital. Furthermore, it is about building trust between state health departments, healthcare, and the people that they serve.
"Building bridges is important because we are all in this together," says Andrea. "We are part of the continuum of care in that we can assist facilities with resources and information to ensure that they have the tools necessary to provide safe care. If we don't have bridges, we have big gaps and that is not safe for anyone. It is also about building trust between the state health department and healthcare.  We are non-regulatory and really are here to help."
Building bridges certainly materialized with their current strong relationship with Appalachian Regional Healthcare (ARH), a not-for-profit health system that improves health and promote swell-being of all people in Central Appalachia in partnership with their other communities.
"Our relationship now with ARH is a story about perseverance to help a facility," says Andrea. "I had worked with the Infection Preventionist and wanted to make a personal site visit.  This was a matter of building trust with leadership to know that I was not there to judge or penalize, I was there to help. It took about three years to get invited to the facility and now we have a great working relationship because of that first visit."
Career inspiration for more public health nurses
To Andrea, public health nursing is a wonderful career and offers so many different professional possibilities.
"I love that I can impact a large group or a population with my knowledge and skills," says Andrea. "It is taking nursing to a larger scale rather than one or two patients.  Nurses play a key role in public health, whether it is in a local health department or state health department. There are opportunities to teach, work in Infection Prevention and Control, and more!"
Furthermore, Andrea believes that nursing is the "safety net" for many regardless of the setting and public health
"In the healthcare setting, particularly in hospitals, nurses care for patients 24/7," says Andrea. "It is the nurse who may be the first to notice changes in condition, encourage those interventions that help us heal, and support our families in critical situations."
"In public health, on a local level, the nurse is the heart of the health department, wearing many hats including delivering patient care. We have a much larger audience. We must assess the population, understand the issues, and help healthcare facilities solve problems for the best outcomes for their patients," adds Andrea.
Biography
Andrea is nationally board certified in Infection Control and Epidemiology and is a fellow of the Association of Professionals in Infection Control and Epidemiology. After five years working in the Infection Prevention and Control program, she joined the Kentucky Department for Public Health in 2011.
She began in the Healthcare-Associated Infection Prevention/Antibiotic Resistance (HAI/AR) Prevention Program at the Kentucky Department for Public Health in 2011 and became the program manager in 2012, providing support to infection preventionists across the state in all types of healthcare settings.
Through her tenure with the program, she worked to craft language to make HAIs/AR organisms reportable conditions through regulation, furthering the understanding of this prevalence and responding to organisms of public health interest.
In 2023, the Kentucky Public Health Association at their annual conference in Bowling Green, Ky., announced Andrea as the 2023 Outstanding Public Health Nurse Award.
Andrea also is currently the President-Elect for the Certification Board of Infection Control and Epidemiology (CBIC®) which provides pathways to demonstrate and maintain competence in infection prevention and control.
Andrea is an alum and current staff member at the University of Kentucky College of Public Health. To this day, Andrea's inspiration comes from her daughters, Heather and Jennifer.