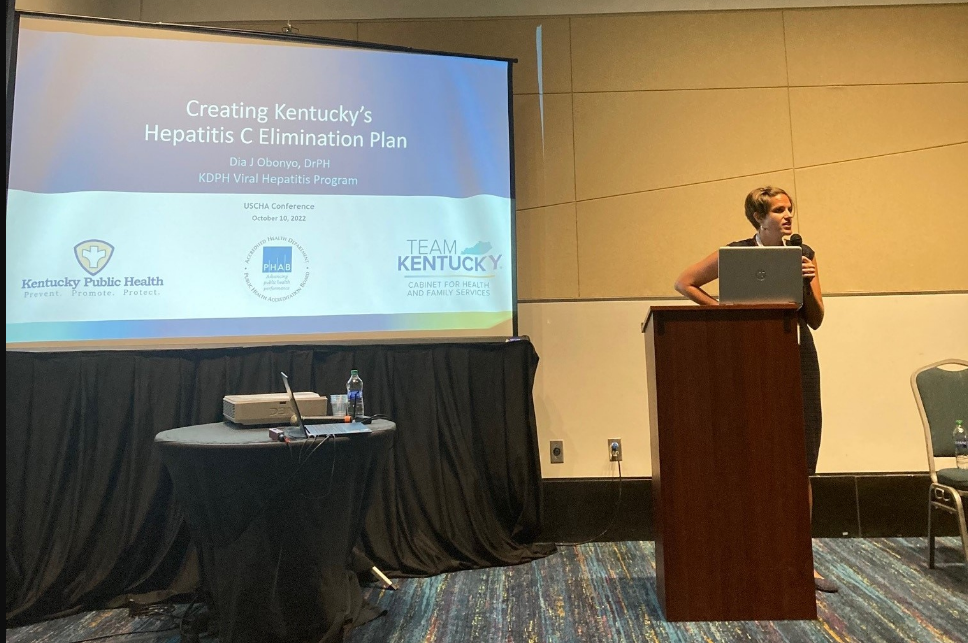 Alum Dr. Dia Obonyo, leader in the creation of Kentucky's first Hepatitis C Elimination Plan
The Kentucky Department for Public Health (KDPH) Viral Hepatitis Program (VHP) has created the first Hepatitis C Elimination Plan in the Commonwealth of Kentucky. 
Through collaboration and working together with multiple and diverse partnerships, the plan's mission is to eliminate the hepatitis C virus (HCV) in Kentucky through reducing stigma, empowering citizens to know their status, and ensuring equitable access to quality care and treatment. The vision is creating a Commonwealth free of hepatitis C. 
The statewide Viral Hepatitis Program is responsible for the prevention efforts and enhanced surveillance for adult hepatitis B, adult hepatitis C, and now perinatal hepatitis C for Kentuckians. 
University of Kentucky College of Public Health's alum Dr. Dia Obonyo, VHP's prevention coordinator, was instrumental in the development of the Hepatitis C Elimination Plan.  
"Kentucky is one of the most impacted states by hepatitis C.," says Dr. Obonyo. "A statewide elimination strategy will save lives and improve the quality of life of Kentuckians across the Commonwealth and beyond." 
VHP works collaboratively with the Reportable Disease Section and the Immunization Branch at KDPH on other hepatidities and hepatitis activities, emphasizing the role of harm reduction and drug user health, and strives to center the voices of those with lived experience. 
"Our focus was to center the voices of those with lived experience and health equity," says Dr. Obonyo. "We wanted to provide a framework, for not only those who work in hepatitis, but also for and with people who use drugs, as they can and should guide and supplement our work." 
The goals and objectives of the Hepatitis C Elimination Plan include: 
Preventing new infections,
Promoting comprehensive HCV testing and treatment for overall improved health outcomes,
Improving hepatitis C surveillance and data usage; and 
Approaching hepatitis C elimination in the context of HIV, substance use disorders and other infectious diseases. 
"VHP has worked with a myriad of external partners and people with lived experience to create a thoughtful, comprehensive plan with achievable goals and objectives," adds Dr. Obonyo. Some of those valuable and collaborative partners include: 
AIDS Education and Training Centers (AETC) 
BCC Jail Linkage Coordinator (Ryan White) 
Centers for Disease Control (CDC) 
Community Action Council: Housing & Homelessness  
Community based HIV/AIDS orgs: AVOL; VOA  
Community-based Harm Reduction  
Dept for Behavioral Services, Developmental and Intellectual Disabilities  
Department for Medicaid Services  
Department of Corrections 
Foundation for a Healthy Kentucky 
Healthy Re-entry Coalition of KY   
Homeless and Housing Coalition of Kentucky  
KADAP Income Reinvestment Program (KIRP)  
KDPH Office of Health Equity  
KDPH: HIV, Harm Reduction 
Kentucky Equal Justice Center 
Kentucky Hospital Association   
Kentucky Jailers Association  
Kentucky Medical Association   
Kentucky Primary Care Association  
Kentucky Rural Health Association 
Kentucky Voices for Health 
KY Voices for Hope 
Local Health Department (LHD) Directors 
National Alliance on Mental Illness (NAMI-KY) 
National Alliance of State and Territorial AIDS Directors (NASTAD) 
National Viral Hepatitis Roundtable (NVHR) 
Patient Advocates; people with lived experience (PWLE) 
Syringe Services Programs (SSPs) 
University of Kentucky Center of Excellence in Rural Health (UK-CERH) 
University of Kentucky Specialty Pharmacy  
Walgreens Specialty Pharmacy 
Recently, Dr. Obonyo has presented the Hepatitis C Elimination Plan statewide and nationally, including the 2022 Kentucky Public Health Association Conference, the 2022 United States Conference on HIV/AIDS (USCHA) in San Juan, Puerto, and to the Centers for Disease Control (CD). Dr. Obonyo was also featured on WUKY's podcast "Dr. Greg Davis on Medicine" in July of 2022. 
Dr. Obonyo has spent more than 15 years in public health, healthcare, and social services positions working with immigrants, refugees, LGBTQ, low socioeconomic status, housing instability, limited English proficiency, and others experiencing barriers to care and services. 
She teaches global health as a current part-time instructor in the Health, Behavior & Society department at the University of Kentucky's College of Public Health where she received both her DrPH in Health Management and Policy and Master of Public Health (MPH) degrees. 
Dr. Obonyo has worked as the Prevention Coordinator at the Kentucky Department for Public Health Viral Hepatitis Program since early 2020. Prior, she spent five years working in HIV care as part of the Health Resources & Services Administration's (HRSA) Ryan White HIV/AIDS program.
Learn more about the University of Kentucky College of Public Health including our people, programs, and passion for public health at cph.uky.edu.