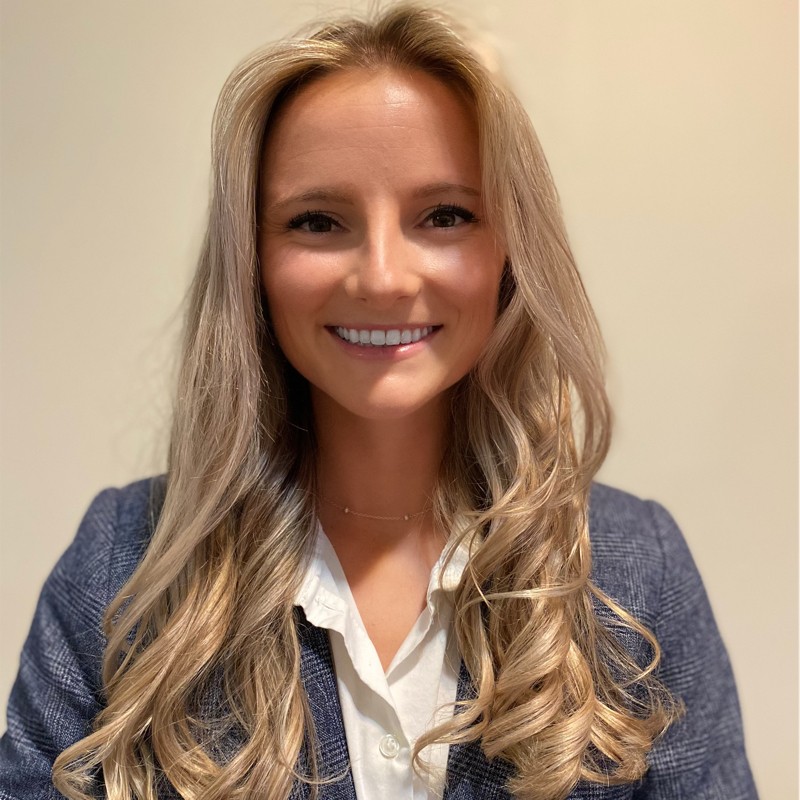 Ashley Carroll gains valuable practicum experiences at Kentucky Department for Public Health
"You can look at everything in your life and relate it back to public health"
Ashley Carroll is a current online student in the Master of Public Health (MPH) program with a concentration in Health Systems and Policy Analytics (HSPA) at the University of Kentucky's College of Public Health (CPH).
Originally from Harrisburg, Pennsylvania, Ashley currently lives in Murfreesboro, Tennessee, which is south of Nashville.
While getting her bachelor's degree in Applied Health Science from Messiah University in 2019, Ashley worked as a Community Health Integration intern for University of Pittsburgh Medical Center (UPMC) Pinnacle and helped promote their patient health portal and clinical information.
When Ashley decided to pursue her MPH, she was looking for a quality program that was 100% online and integrated community health, building on her previous experience at Messiah College and UPMC Pinnacle. She found her new home at the University of Kentucky in 2021.
"Everyone has been great in providing the resources I needed to make an informed decision," says Ashley. "My graduate coordinator, Benji Bryant, was extremely helpful in answering all my questions and helping me feel connected. The people here are all so passionate about public health and reinforces that I made a good decision to come to the University of Kentucky."
While enrolled in the MPH program at CPH, Ashley is satisfying her practicum requirement by gaining valuable experiential learning at the Kentucky Department for Public Health's (KDPH) Student Internship Program, while serving on their Workforce Development (WFD) Team.
"I am working with KDPH to help retain and train current staff, recruit students and graduates to public health, and support continued public health transformation through a dedicated workforce, says Ashley. "I am also helping to organize their public health Discovery Cohort Program, which is designed to educate a cohort of students on shaping their interest in public health."
The mission of the KDPH's Student Internship Program is to build the future of the public health workforce through education, training, and hands-on experiences.
"Ashley has been an essential member of our WFD team in the planning and implementation of our 2022 Discovery Cohort," says Lindsey N. Brewer, Student Internship Program Coordinator for the Division of Public Health Protection and Safety at KDPH. "She is a leader among her peers and collaborates confidently with other leaders in our department.

"Ashley took the lead on adapting a Social Determinants of Health exercise and created an infographic for students to reference during the activity with information, that may not be common knowledge, such as the national poverty level and qualifications for Medicare/Medicaid," adds Brewer.
Ashley is excited about continuing in her role at KDPH in the Fall. She will continue to work with the Workforce Development Team and plans to work on programs that provide scholarships for employees to further their education through the Educational Assistance Program. In addition, Ashley will be helping with the WFD assessment process.
The goal of the Public Health Workforce Development Program at KDPH is to improve the health and safety of people in the Commonwealth of Kentucky through a dedicated workforce. Through partnerships with local schools and universities, KDPH continues with programs and initiatives to attract a competent and diverse workforce.
"It's great to see our talented students, like Ashley, succeeding in their practicums and making an impact in public health," says Janie Cambron, Associate Dean for Practice and Workforce Development at the University of Kentucky's College of Public Health. "We are excited to continue and grow our partnership with KDPH moving forward."
Ashley is on track to graduate with her MPH in the Spring of 2023. After graduation, Ashley's career goals include continuing to work for the KDPH or another state/local health department.
Leading up to her graduation next year, Ashley is planning to advance her knowledge in data analytics and programming to become more confident in communicating discoveries to the public, providing more answers to the most pressing questions that can improve the health of everyone.
"Public health is our community, it is our neighbors, and involves everything around us. That is what motivates me," says Ashley. "You can look at everything in your life and relate it back to public health."
Regarding inspiring the next generation of public health leaders, Ashley believes that it starts with recruiting, retaining and training young people through programming.
"We need to start younger and help build the pipeline in order to establish a dedicated workforce," says Ashley. "We need to continue to listen to our communities, create partnerships, and make sure that the public has equitable access to improve their health.
Learn more about our people, programs, and passion for public health at cph.uky.edu.